🎉

2022 Shortlist
HOUSTON TEXANS BRING ARENA ACTIVATIONS TO MOBILE AND MOBILE TO ARENA ACTIVATIONS
Entrant: Houston Texans & Judo
NOMINEE ✨
Best App or Mobile Experience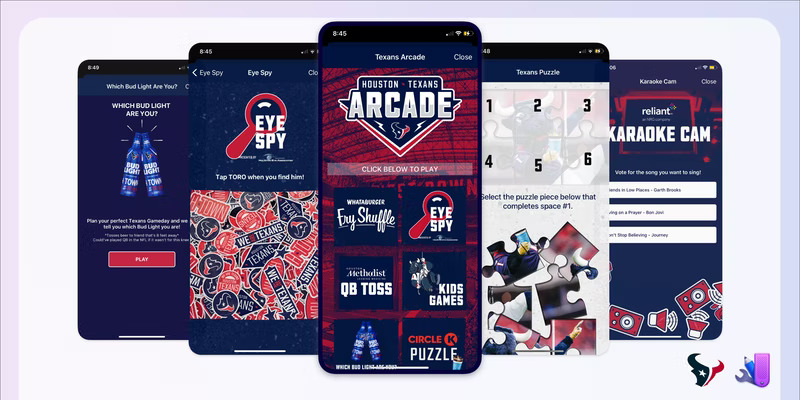 ABOUT THIS ENTRY
One of the top priorities for the Houston Texans last season was to drive forward their mobile app successes and to continue finding new and innovative ways to engage their fans on mobile. To accomplish this feat, they brought their in-venue activations into their mobile app, with campaigns such as their Texans Arcade, presented by Reliant, as well as by bringing mobile activations in-venue, as can be seen with their innovative Karaoke Cam mobile campaign.
How does this represent "Excellence in Engagement"?
The Texans Arcade is a best-in-class example of an organization expanding their reach to engage fans no matter the circumstance or fan's locality. Since launching, the industry has mirrored the Texans, putting a focus on app destinations for various themes such as kids games, fan zones, educational centers, and more.
While their Arcade was a leading example of an organization bringing the arena to mobile, their Karaoke Cam's innovative ability to bring mobile to the arena by linking app engagement with video board feedback has pointed the way forward like no other.
Overall, the Texans dedication to evolving the fan experience continues to push other teams to follow suit. The Texans have focused on the fluid fan, ensuring their activations are dynamic, evolving based on partner feedback and user engagement metrics, and continue to iterate to stay unique and fresh - a best-in class benchmark.
Objective: During the 2021-2022 season, with their fans' need for digital engagement stronger than ever before, the Houston Texans turned to their mobile app to create campaigns to engage their fans, drive app downloads, and capture meaningful data.
One of their most impressive mobile initiatives is their Texans Arcade, presented by Reliant, which featured a variety of gamified campaigns, including many fan-favorite video board activations. Now in its second year, the Arcade continues to incorporate brand new sponsored activations, all while turning make-good partnerships from the previous year into new sponsorship opportunities.
Finding success bringing activations from the video board to mobile, the Texans decided to flip the concept and bring mobile activations into the venue with their Karaoke Cam. This activation invited fans to scan a QR on the video board and vote in-app for songs that would be played later in the game. With results displaying on their video board in real-time, app engagement and app downloads were at an all-time high this past season.
Strategy & Execution: With the modern sports fan in mind, the Texans launched another season of their Texans Arcade, featuring a variety of fun games and activities. From the Whataburger Fry Shuffle to the Circle K Puzzle, each experience melded the team and partner branding while maintaining the Texans' focus on the fan experience. Each campaign felt organic, and evident by their participation data and completion rate, it's clear that fans love the opportunity to win a variety of prizes.
Promotion of these experiences also kept the modern sports fan in mind as the team understood that fans are global, delivering these activations across a variety of their digital platforms, including email, website, and social media.
Today's fans love recognition, which is why the Texans focused on this, engaging fans with real-time polling within their Karaoke Cam. Once a fan scanned the QR code on the video board and made a poll selection, the fan would not only see the polls responses instantaneously on their phone, but also on the video board as well.
Results: The Texans' primary focus for their Texans Arcade was to capture meaningful insights to inform the effectiveness of their campaigns. Using Judo, they were able to ensure experiences were rendered natively in their app, giving fans an easy user flow to engage with each experience. The team leveraged Texans app data and fan behaviors within Judo to retarget push notifications that enhanced fan participation and engaged fans with partner offers.
For their Karaoke Cam, the team achieved effective engagement by making participation easy through the use of the QR codes, announcing it over the stadium speakers and making the Karaoke Cam activation available on the app home page during the game.
The results truly speak for themselves. During the 2021 season, the Texans created 15 experiences within their Texans Arcade which garnered over 2.5M logo impressions and 165K page views. Their completion rate also averaged over 85%, meaning that if fans opened the experience, they were engaged, and completed it. Additionally, their Karaoke Cam, which was launched at each home game, also garnered over 29K experience opens, and had over 28K total votes.
Production
Houston Texans, Judo
Credits
Aynav Leibowitz
Senior Digital Media Manager and Content Strategist
Houston Texans
Jay McDevitt
Senior Director of TV and Digital Media
Houston Texans
Amanda Caffey
Digital Media Producer
Houston Texans
John Coombs
CEO & Co-Founder
Judo
April Whitzman
Sr. Manager, Sports Marketing & Content
Judo