🎉

2022 Shortlist
How the Detroit Lions Monetized the NFL Draft with Tagboard's Cloud Production Platform
Entrant: Tagboard
NOMINEE ✨
Best Broadcast or Stream Experience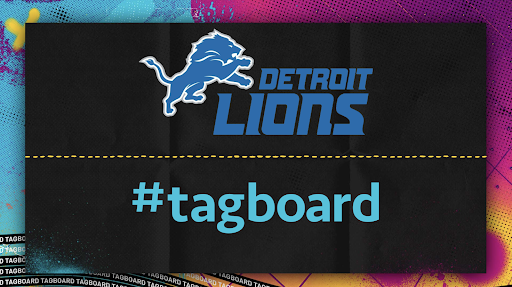 ABOUT THIS ENTRY
Tagboard's cloud platform and graphics engine empowered The Detroit Lions production team to reimagine and evolve its 2021 NFL Draft show and live stream. Using Tagboard's platform, the Lions production team was able to create custom graphics on the fly, conduct interactive polls with fans (via QR codes), and integrate real-time social content (in a fraction of time typically required to produce such content). The resulting interactive live streams drove stronger fan engagement, impressions and ROI for advertising sponsors.
How does this represent "Excellence in Engagement"?
**Tagboard's cloud platform empowered The Detroit Lions production team to reimagine and evolve its 2021 NFL Draft show, driving stronger fan engagement, impressions and ROI for advertising sponsors.
Why this matters:
Sports media organizations today face increased competition and pressure to produce content that drives viewership and measurable engagement, all while working with tighter budgets, time, and resources. Producers not only need to experiment with new interactive content formats, they also have an imperative to embrace cloud innovation to produce stories instantaneously, before the moment is lost.
Tagboard removes the complexity and cost of legacy production hardware, empowering producers to create shows from anywhere in the world. In just seconds, producers can use Tagboard to:
Surface live media and video content from every major source in real-time (across Twitter, Instagram, Snapchat, TikTok, etc.)

Create interactive graphics and polls with QR codes for cross channel engagement,

AND with one push of a button, syndicate that content across their media channels including broadcast, livestream, video on-demand, venue screens, website, and mobile apps.
For the first time ever, producers can seamlessly drag and drop interactive graphics, polls or user-generated content into any story they're producing in real-time.

Objective: Heading into the 2021 NFL Draft, the Detroit Lions had three main goals in mind:
Drive meaningful fan engagement within the show through direct interactive segments that give fans a voice in the programming.
Produce high-quality programming with a small staff that provides corporate partners valuable visibility.
Provide fans with an immersive, team-centric virtual experience around the NFL Draft, growing the audience from their 2020 NFL Draft show.
Strategy & Execution: To accomplish these objectives, and reimagine its 2021 NFL draft show, The Detroit Lions leveraged Tagboard's cloud-based production software and interactive graphics engine to produce two interactive livestream events distributed on Facebook and YouTube.
Using Tagboard's platform, Dustyn Blindert, Senior New Media Producer with The Detroit Lions, created a custom L-Bar frame complete with rotating partner logos, team merchandise promotions, and QR codes prompting fans to vote via interactive polls, as well as a full rundown organizing the show content.
Throughout the Detroit Lions NFL Draft live show, produced by Blindert and New Media Producer Derek Heitman, fans had the opportunity to contribute to the conversation by voting via poll questions as a part of "Play GM" segment. They could also add live commentary on a social ticker or ask questions of celebrities like Barry Sanders, who answered them live on air.
With just two control room producers and a six-person crew total, the Lions put together two highly engaging and entertaining shows that captured the attention of their fans while balancing strong value for presenting partners.
Results: The Detroit Lions interactive shows for the 2021 NFL Draft drove incredible results with a 76% year-over-year increase in impressions, as well as much stronger engagement across channels:
The Lions draft live streams garnered

54K total views

with an average watch time of 13min and 15min on nights 1 and 2, respectively (significantly longer than the watchtimes in 2020).
This drove

237K total engagements

and

292.6M Impressions

for the Lion on social media with its #OnePride hashtag promoted throughout the shows
More than 500 fans voted

via the interactive polls, which were promoted exclusively on the live shows
Last but not least,

the presenting brand sponsor accumulated 3 Million impressions as a direct result of shows — nearly doubling impressions from the 2020 draft show

(which was produced without Tagboard's interactive cloud-based graphics system)