🎉

2022 Shortlist
Jalen Ramsey x Porsche Mariachi Arrival
Entrant: Los Angeles Rams
Winner 🏆
Most Creative Partnership with an Athlete or Influencer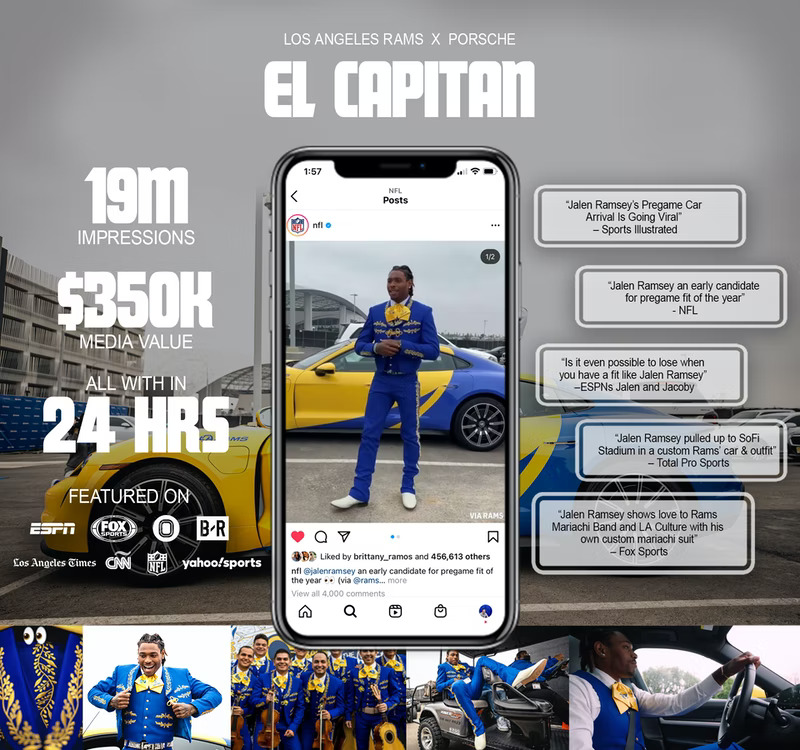 ABOUT THIS ENTRY
Jalen Ramsey mentioned to us how much he loves our Mariachi Band that we have play at each game and his desire to work with them in some way. As a leader in style, he also expressed his love for the suits we had custom designed for our games. So we worked with Jalen on how to bring this to life during our Vamos Rams game during Hispanic Heritage month.
How does this represent "Excellence in Engagement"?
Really it's all the pieces behind the arrival moment that make this special.
Having Ramsey work on this with us, because he wants to and then getting him to agree to tell us his story of the why. Keeping this all quiet leading up to that arrival, not sharing the fitting we did or the content.
Getting a partner on board helps us SO much make it feel like partners are partners. We could have had him arrive in an SUV, but we wanted to push this with Porsche and work together to bring the execution to life, which they did.
Objective: An overall objective we have as a brand is developing stories or ideas our players want to do, but also helps serve the brand. Insights into players become key for this all to work.
Jalen Ramsey is one of our most popular players socially and in the game. So when he came to us with this idea, so of course we quickly aligned of how we could do this in a cool way.
Our Mariachi band is unique to us and our LA market. Our fans love them, but we are always looking for ways to get them recognized outside our games. Especially during hispanic heritage month where Vamos Rams our theme targeting our LatinX fans.
Porsche is our luxury car brand that aligns with players best and had been thinking about how we could do this organically.
Strategy & Execution: Once we knew we could get him the suit for our Vamos Rams game custom made, we started to think about how we could bring this to life.
Arrival to the game for all players is a moment in itself on social. Fans love to see the style and what the guys are wearing. So we talked to Jalen about the reveal happening that way to our fans... making it feel like a larger moment. Especially for our Vamos Rams theme home game, hitting a targeted audience for us.
We needed to be able to tell the story behind the arrival, so we worked with football side to have Jalen actually drive himself in our matching Porsche from the hotel to the game and have a camera with him telling the story of the first time he looked up and saw the Mariachi band playing and how cool he thought it was. Something he said no other team has.
Porsche worked with us to get a car wrapped and matching the suit.... all leading up to this moment.
Results: Arrivals rarely take over the social world when other big games are going on at same time, that is usually just the plays happening in other game....but this did that. His Arrival went live right away on every big sports platform there is socially and digitally.
So 3 hours before the game, the Rams and Ramsey were already controlling the conversation creating heavy engagement across all channels.
Ramsey himself posted tagging Porsche, the suit and our team.
Just in 24 hours
19M Impressions
$350k media value
And still one of the best pre game fits of the year.
Production
Los Angeles Rams
Porsche
Jalen Ramsey
Credits
Lexi Vonderlieth
VP, Partnership Marketing
Los Angeles Rams
Tyler Potts
Director, Partnership Sales
Los Angeles Rams
Jacques McClendon
Director, Player Engagement
Los Angeles Rams
Emma McVay
Player Marketing
Los Angeles Rams