🎉

2022 Shortlist
JOY RIDE
Entrant: Quad Media, Inc.
NOMINEE
Best Use of Music or Pop Culture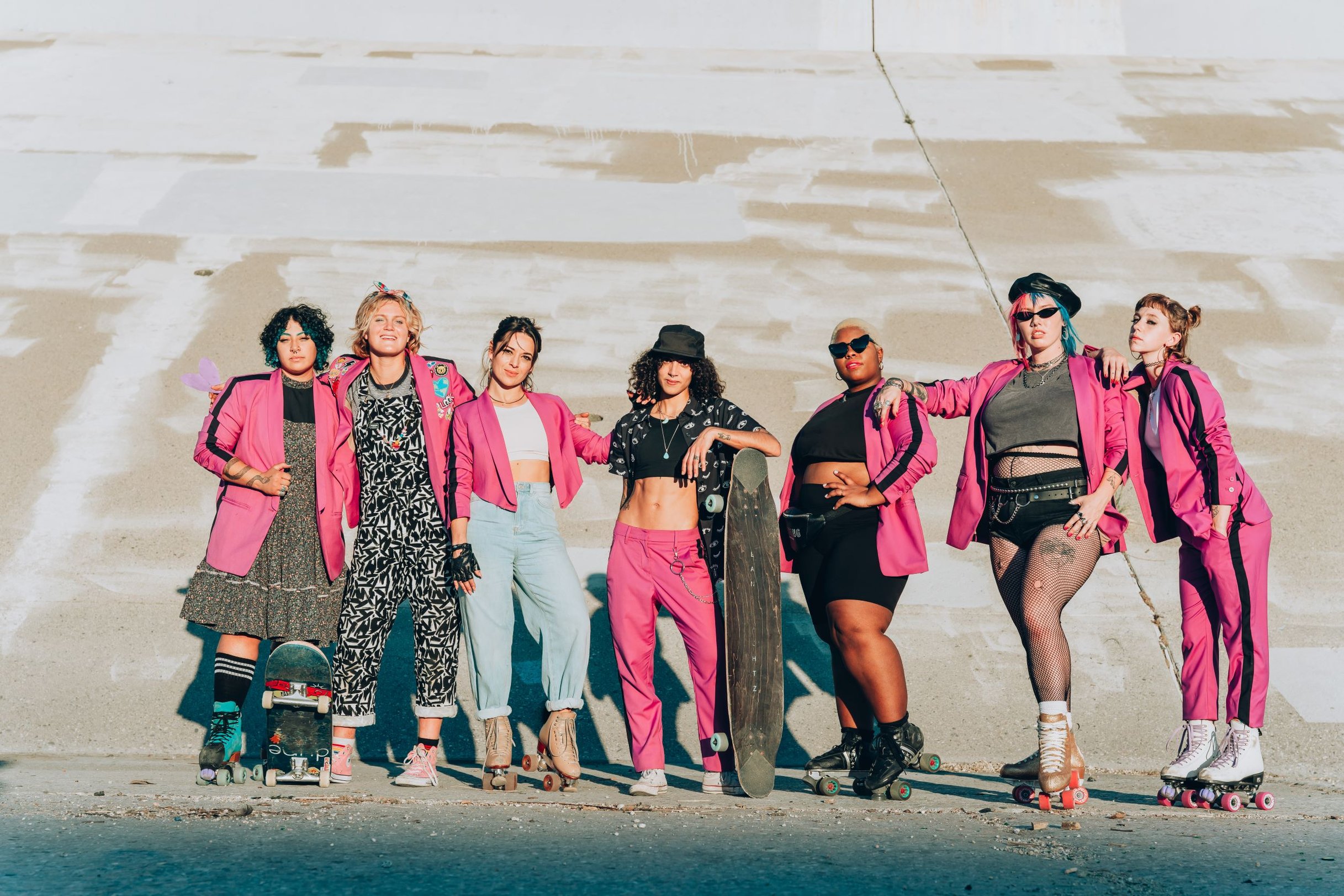 ABOUT THIS ENTRY
In February 2022, Wildfang Clothing partnered with Quad Media, Inc., a production company born out of roller skating, to produce "JOY RIDE," a celebration of the rich diversity of nontraditional skate culture through a spring digital campaign featuring seven amazing athletes on wheels. JOY RIDE juxtaposes the TikTok-era pop culture movement of roller skating videos with 80s skateboarding videos, and adds Blondie's generation-blending and iconic "Dreaming." The resulting collab showcases Wildfang's Empower Colorblock suit collection in striking "Orchid," worn by risk-taking, rule-breaking women and nonbinary skaters who have been historically excluded in skateparks and traditionally masculine skating spaces. The campaign joyfully smashes these conventions featuring tricks from athletes and influencers like pro roller skaters Candice Heiden and Ivey Rose and Wasserman-repped USA Skateboarding star Bryce Wettstein. The resulting campaign elevates what's possible for the future of women and nonbinary athletes in skate culture.
How does this represent "Excellence in Engagement"?
It's no cooincidence that Wildfang chose the Blondie song "Dreaming" as the sountrack for "JOY RIDE." Wildfang believes the song, licensed through BMG US, underscores our hopes and dreams around creating a better future for equity and representation in sport and fashion. Australian academic Brigid McCarthy shared in her 2019 paper Who unlocked the kitchen, "white male dominance exists at the core of the skateboarding industry and its power structures, and informal gendered gatekeeping continues within skating traditions." Additionally, roller skating in skateparks has begun to develop competitive pathways that re-envision what athletes can do on wheels. Together, Wildfang and Quad Media are championing a new culture around sports marketing content in which women, nonbinary, and genderfluid athletes can flourish and enjoy traditionally white, masculine spaces like skateparks, gridirons, or basketball courts. It is our hope that we're inspiring a generation to get out there and dream along with us, and that the sports media landscape begins to grasp the value of these talented contributors to our shared spaces. Together, Quad Media and Wildfang have creates an exciting blend of pop culture skate trends, generation-spanning music, and unconventional athleticism to show the world that inclusion is always in fashion.
Objective: Wildfang Clothing and Quad Media, Inc. wanted to put together a production that asked audiences to rethink gender norms, especially in traditionally masculine sports spaces like the skatepark. Founded in 2012 by Henry Crown Fellow Emma McIlroy and creative maven Taralyn Thuot, both Nike, Inc. alums, Wildfang has been working to champion gender-noncomforming fashion, showcasing masculine, feminine, and everything in between. Born out of the Women's Flat Track Derby Association's (WFTDA) successful broadcast program, Quad Media, Inc. was established in 2019 by Officer and WFTDI CEO Erica Vanstone as a way for roller derby's inclusive values, rooted in the LGBTQ+ community, to codify around broadcast and video production. Women-owned, Quad aims to share what's possible if content-creators nurture historically under-represented athletes and creators in sport--in front of and behind the camera. Produced by Quad Media, Inc., the JOYRIDE production showcased women, nonbinary, genderfluid, and transgender crew and cast, many of whom are BIPOC skaters and artists. With more than 10 years of experience producing content for athletes on wheels, Quad's natural commitment to inclusion and expertise around skating led to shared values around creating content for "JOY RIDE." The result was an impactful, infectious campaign celebrating our unique perspective.
Strategy & Execution: At both Wildfang and Quad Media, Inc., we believe the future is inclusive, and that modern fans are becoming more diverse. A 2021 Outsports survey shares that roughly 40% of women and nonbinary members of the LGBTQ+ community are passionate sports fans. Additionally, these community members are social media users: A 2020 Deloitte report found that WNBA fans–in line with our target demographic–were 50% more likely to stay engaged on social media.Therefore for "JOY RIDE," Wildfang wanted to leverage its extensive social networks, with nearly 200,000 followers on Instagram, to call attention to women and nonbinary skating athletes while promoting their spring collection. Our approach was to activate the pop culture moment around pandemic-era roller skating, while using the generational call-back of Blondie's "Dreaming." Bustle reports that in 2020 alone, more than 500 million viewers watched roller skating videos on TikTok. Quad Media's task was to create video and digital assets that spanned generations, mediums, and genders. Shot in 4K, our videos were purposely de-saturated and given an 80s' skateboard video aesthetic, with a completely modern cast. The result creates a bold and empowering shared experience between roller skaters and skateboarders, blending styles, genres and genders with Blondie.
Results: Our measurable outcomes include both traditional engagement metrics, and the increasingly-important emphasis on making the production itself an important expression of our business values. "JOY RIDE" launched on February 28, 2022, and incorporated a mix of organic posts and paid advertising, across Facebook, Instagram, TikTok, and YouTube. In the month that followed, Wildfang saw more than a 20% increase in CTR on digital ads across all platforms, with organic reach leading to a total 272,000 video views, 508,000 people reached, and over 14,000 Wildfang website visits. This was an incredibly successful spring campaign that is still in progress for Wildfang. Just as important as sales, Quad Media, Inc. and Wildfang set a new standard for what representation can and should look like in sports and fashion content creation. 67% of our "JOYRIDE" cast and crew identified as women; 32% identified as genderfluid or nonbinary. 43% of our cast and crew were BIPOC, including positions in key leadership roles, such as our still photographer, our choreographer, and our director. And nearly half of our cast and crew, 48%, also identify as LGBTQ+ community members. The authenticity of a production that honored representation truly resonated with Wildfang audiences.
Production
Quad Media, Inc., Wildfang Clothing, Wasserman, BMG US
Credits
Emma McIlroy
CEO
Wildfang
Erica Vanstone
Senior Producer + Officer, CEO WFTDI
Quad Media, Inc.
Taralyn Thuot
Chief Product and Creative Officer
Wildfang Clothing
Yulin Olliver
Sports Agent
Wasserman
Jay De Hoyos
Manager, Synch Licensing
BMG US
MJ Johnston
Director/DP
MJ Johnston Films
Orel Chollette
Photographer
Chollette Photography