🎉

2022 Shortlist
JUST WOMEN'S SPORTS
Entrant: Just Women's Sports
NOMINEE ✨
Best Women's Sports Content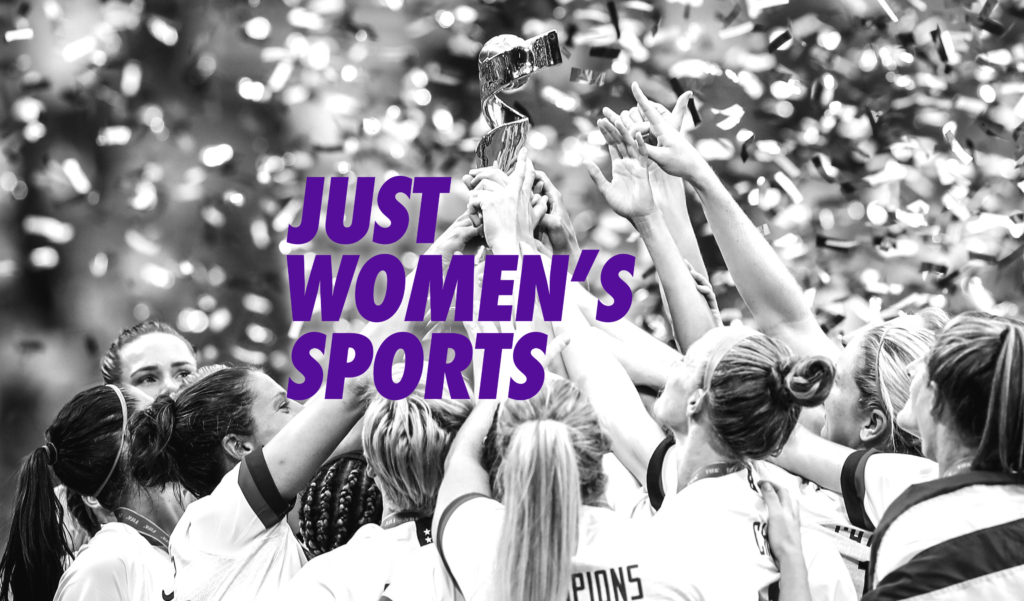 ABOUT THIS ENTRY
Haley Rosen founded Just Women's Sports in 2020 to change the game for women's sports coverage. What started as an Instagram account is now the leading multimedia platform dedicated exclusively to women's sports, providing fans with in-depth coverage across multiple channels. From highlights, analysis, editorial and social content to live programming, podcasts, video series, a bi-weekly newsletter, and a first-of-its-kind live scoreboard, we bring fans everything they need to see and know in women's sports.
Following a year of explosive growth, JWS now reaches more than seven million passionate women's sports fans on a monthly basis, with 400% growth in audiences year-over-year in the company's first year.
How does this represent "Excellence in Engagement"?
Our growth across our platform and channels shows that people are hungry for this type of content, which subsequently proves the value of this content to brands and advertisers.
For too long, women's sports haven't been given the opportunity to show that they can thrive. Just Women's Sports is here to shine a sportlight on these incredible athletes, serve new and existing fans, and prove to advertisers that women's sports can be monetized.
We're making it easier to be a women's sports fan through several key products:
We launched a first of its kind women's sports scoreboard. This is a revolutionary product in the space that enables women's sports scores across the WTA, WNBA, LPGA, and NWSL to be updated in real time on our home page.
We've automated and continued to expand the capabilities of our schedule page (a fan favorite!). Fans regularly use this page to see which games are happening and where / how to watch.
Overall, the growth we are seeing across all of our channels is proof that a lucrative and growing market exists for women's sports content.
Objective: Haley Rosen played soccer in college, which was followed by a brief professional career in the U.S. and abroad. Afterwards, for the first time, she found herself on the outside of women's sports looking in. She wanted to follow her friends, coaches, and the teams she had been on, and she genuinely couldn't do it.
The games weren't easily accessible, and analysis was hard to find. None of this made any sense to Rosen. She had played in packed stadiums, had interacted with enthusiastic fans, and just kept asking herself, 'Why doesn't the media coverage reflect the excitement that's out there?'
Then she found out that just 4% of sports media coverage is dedicated to women's sports.
Just Women's Sports was founded to fill that gap by creating a comprehensive platform for athletes and fans of women's sports, one that delivers the hype, analysis, personalities and stories that make women's sports so awesome.
Today, Just Women's Sports is the leading multimedia platform dedicated exclusively to women's sports, providing fans with in-depth and groundbreaking coverage across all major digital channels.
Strategy & Execution: Women today are 50% of all sports participants. Since the passage of Title IX, there has been a 990% increase in women paying high school sports and a 545% increase in women playing college sports.
Yet they only receive 4% of all sports coverage. This massive discrepancy in media attention is more than just a disadvantage to athletes who play women's sports — it's a disservice to fans, who are only ever exposed to half of all sports stories.
Until recently, women's sports fans that have been siloed into sport-specific communities with little exposure to other likeminded fans. That hasn't stopped the space from seeing dramatic growth in recent years:
2020: NWSL viewership grew 493% and WNBA viewership grew 49% since 2020.

2021: Women's College World Series drew 60% more viewership than the Men's.

2021: US Women's Open Final outdrew the men.

670K watched the 2020 NCAA Volleyball Finals, +28% from 2019.

1.12B watched the 2019 Women's World Cup, +54% increase from 2015.
Women's Sports is on track to be a $200B industry in the next decade, and Just Women's Sports is establishing itself as the go-to platform within the space, one that's uniquely positioned to serve the modern sports fan.
Results: This year at Just Women's Sports, we saw explosive growth across social, web, and audio, notching triple-digit growth across almost every metric, all while having the fastest growing Instagram and Twitter accounts in the space.
Year-over-year metrics:
Website users: +673%
Email subs: +72%
Podcast downloads: +106%
Total engagement: +139%
Total audience: +142%
Total impressions: +396%
From Q1 to Q4 we saw a +894% increase in revenue and partnered with 22+ brands, including Nike, Mastercard, Cisco, the WNBA, Athletic Greens, and Warby Parker.
JWS hosted its first-ever live pregame show, 'The Warm Up' on TikTok Live, ahead of the 2021 NWSL Championship, in partnership with Nike and TikTok, driving over 117k unique viewers.
JWS expanded it's industry-leading audio network, adding three podcasts during the eligibility period:
Snacks: co-hosted by USWNT stars Sam Mewis and Lynn Williams, which debuted at #5 in Sports on Apple.
Tea with A & Phee: The popular basketball podcast hosted by 2020 WNBA MVP A'ja Wilson and 2019 WNBA Rookie of the Year Napheesa Collier.
NETLIFE: with the legendary Dawn Staley, which premiered at #6 in Sports on Apple podcasts.