🎉

2022 Shortlist
LaLiga North America's Multicultural Content Strategy
Entrant: LaLiga
NOMINEE ✨
Excellence in Multicultural Storytelling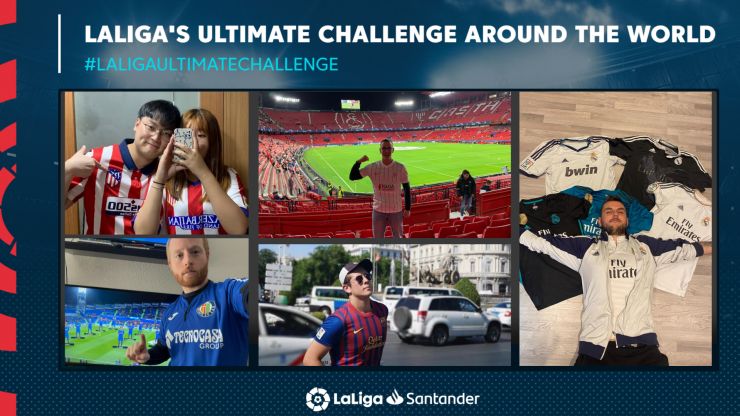 ABOUT THIS ENTRY
Entering the North American market in 2018 through a joint venture with Relevent Sports Group, LaLiga launched LaLiga North America and made digital content a core component of its growth strategy in the region. Understanding the diversity of the American soccer fan, LaLiga designed its content strategy to have a multicultural focus and created content to appeal to various demographics within the larger fanbase.
How does this represent "Excellence in Engagement"?
LaLiga's multicultural content strategy represents excellence in engagement through the stories it tells and the diverse audience that it reaches. Its success across LaLiga channels has led to high interest from sponsors, allowing us to monetize the content and generate revenue back towards the joint venture and the studio. The validation from brands across the U.S., in addition to other content producers like John Skipper and Dan Le Batard's Meadowlark, who have recently doubled down on creating multicultural content for Hispanic sports fans, proves the value of this type of multicultural content strategy and should inspire the industry to move forward to replicate the approach.
We've also set a new standard of excellence through the diverse talent roster that serves as the face of all of our content. This includes media personalities such as Rodolfo Landeros (Mexican American FOX Sports and FOX Deportes commentator), Wera Kuri (Mexican soccer personality), Mando Fresko (Mexican American media personality), Melissa Ortiz (former Colombia international soccer player), RatedHugo (Mexican American gamer), and Aaron West (soccer personality) among others.
Objective: Entering the North American market in 2018 through a joint venture with Relevent Sports Group, LaLiga launched LaLiga North America and made digital content a core component of its growth strategy in the region. All LaLiga matches are played in Spain and though the league has a large following in the U.S., Mexico, and Canada, until recently, fans have been limited in how they have been able to engage with their favorite Spanish soccer clubs. Knowing this, LaLiga North America designed a localized, always-on content strategy aimed at bridging the gap with fans residing in North America.
Hispanic Americans are the predominant consumer of soccer in the U.S., yet currently few teams or leagues are creating content designed specifically for this audience. In LaLiga, for example, Hispanic Americans made up 81% of the league's American television viewers in previous seasons - a trend that is consistently high across other leagues.
Current Hispanic American LaLiga fans range from first, second, to third generation, which often determines the type of content they'll watch and preferred language in which they will consume content. Knowing this, we tasked ourselves with creating a multicultural social and digital media strategy to appeal to our Hispanic American fanbase and their diverse content preferences.
Strategy & Execution: To execute this strategy, LaLiga North America created an in-house content studio based in Guadalajara, with the goal of fulfilling this multicultural content strategy.
Through weekly digital shows in Spanish and English, our studio creates content and shoulder programming that offers these fans expert commentary, highlights, predictions, and more. This season, our content roster expanded to more than 20 weekly shows (9 in Spanish, 8 in English, and 3 bilingual).
With a dedicated team of 20+ people that includes seasoned soccer journalists and multimedia experts, our studio has continued to build off of the initial content strategy set in 2018. The studio also includes audience development and analytics personnel who work closely with the marketing and sponsorships team to ensure that all content created has value both for fans and brand partners.
With the goal of continuing to build out LaLiga's multicultural strategy, the studio selected a diverse roster of talent who were representative of the audience LaLiga was trying to reach. Each talent resonates with a key soccer fan demographic, helping strengthen the connection with those that live across our first, second, and third generation Hispanic American fan base while bringing new fans into the fold.
Results: Last season (20-21), LaLiga North America's multicultural content strategy achieved more than 123 million impressions, 113 million in reach, and 17 million video views. All content has been published across our own social channels and cross-promoted across talent, club, and other media accounts, including Gas Station TV, which is a strategic partner of LaLiga in the U.S.
In the first half of this season (21-22), we've already exceeded last year's results having earned over 130 million impressions, a reach of 119 million, and 17 million video views from August 2021 through the end of January 2022. By doubling down on our multicultural content strategy and launching new pieces of content tailored to members of each Hispanic American generation (such as La Cultura - a LaLiga lifestyle show created for third generation Hispanics and the general market), we're on pace to double last season's results. Collaborating with our new broadcasting partner ESPN has helped as well as we've been able to promote our multicultural content strategy across ESPN and ESPN Deportes accounts.
Production
LaLiga North America
LaLiga North America Studios
Credits
Adrian Segovia
Head of Content and Distribution
LaLiga
Itzel Ubiarco
Managing Editor, LaLiga North America Studios
LaLiga
Rafael Gomez
Director, LaLiga North America Studios
LaLiga
Catherine Lavoie
Delegate Canada
LaLiga
Boris Gartner
CEO
LaLiga North America