🎉

2022 Shortlist
MODELO X ATLANTA HAWKS HOOPS PROGRAM
Entrant: Cogent World
NOMINEE ✨
Best Integrated Marketing Campaign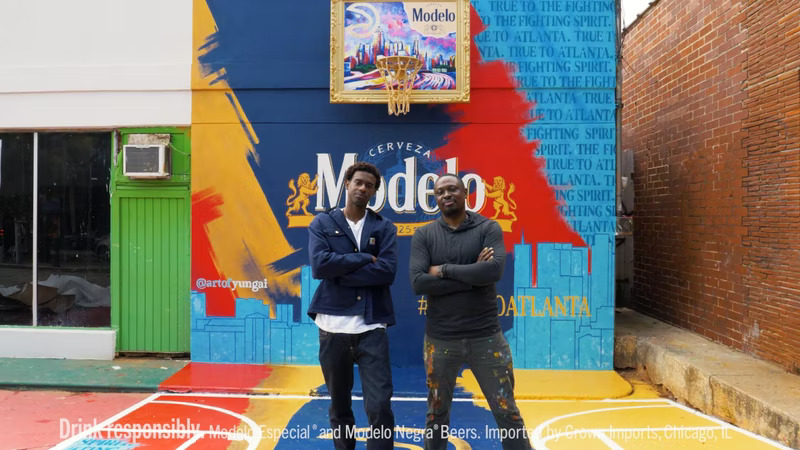 ABOUT THIS ENTRY
Modelo has long stood for tenacity and grit, which aligns with the passion and fighting spirit that Atlanta fans exhibit for their hometown teams. The idea behind the Modelo x Atlanta Hawks partnership was to build a local program focused on the Modelo brand's pillar of art that honors the basketball community of Atlanta.
Modelo showcased (3) one-of-a-kind collaborative Hoop art pieces designed by Jarrett Ellis, artist and founder of Hoop Dream Studios, and local Atlanta artist Muhhammad Yungai. To debut the hoop collaboration, Muhammad painted an art centeric half court basketball mural exhiition in the heart of the Atlanta community that celebrates basketball fans with the fighting spirit and seeks to make public art more accessible. One of the unique hoops was installed within the mural exhibition, and the other two pieces will be leveraged for a consumer sweepstakes Grand prize and a donation for auction.
How does this represent "Excellence in Engagement"?
The program represents excellence in engagement because it sought to truly speak to the multifaceted passion points of fans within the Atlanta community. The program provided both the city and consumers value by bringing public art to the heart of Atlanta and creating unique art pieces that honor and celebrate their community.
This work will inspire and move the industry forward by serving as a prime example for how multiple passion points can be fused to create something that has never been done before, and provide consumers with something they cannot find anywhere else. This work will help inspire and reframe the way we look at the 'sandbox' we expect any one brand to play in, and rather look at a bigger picture of how seemingly different elements like sports and art can be brought together in beautiful ways that honor the fans we are looking to touch.
Objective: The objective of this program was to build a program in Atlanta, GA around the Atlanta Hawks and Modelo, specifically honing in on the brand pillar of art and creating a meaningful tie to the basketball community.
Strategy & Execution: The modern sports fan is so much more than their favorite team. They are mutilfacted fans with several passions, interests and a desire for authentic content. The strategy was designed with the modern sports fan in mind by creating a unique opportunity to highlight local artists within the Atlanta community in a way that ties together multiple consumer passion points of art, sports and love for their city. The artist partnerships leveraged with Jarret Ellis, Muhammad Yunagi, and the Atlanta Hawks allowed the program to resonate authentically with consumers in the market and created a celebratory moment that honored their city, as well as their passions. Additionally the program provided the modern sports fan with a chance to win a one-of-one art collectible that represents the 'Fighting Spirit' of the Atlanta community. The collaborative hoops are not for sale and can only be won via the Modelo x Atlanta Hawks Hoops sweepstakes!
Results: This work achieved effective consumer engagement by way of the earned media and social reach metrics achieved. The program yielded 49,546,831 earned media impressions and 12K+ unique social media engagements, creating a strong presence int he Atlanta basketball community and authentic execution around the Modelo brand pillar of art.
Through this program we were able to form meaningful and authentic partnerships with Jarrett Ellis and local Atlanta artist Muhammad Yungai, which resulted in repeat partnership opportunities with the Modelo brand on several programs that followed.
Production
Constellation Brands International (Modelo Beer), Hoop Dream Studios, Atlanta Hawks, Muhammad Yungai & Jarret Ellis (Artists)
Credits
Jordan Pollak
Managing Director/ EVP
Cogent World