🎉

2022 Shortlist
NASCAR
Entrant: NASCAR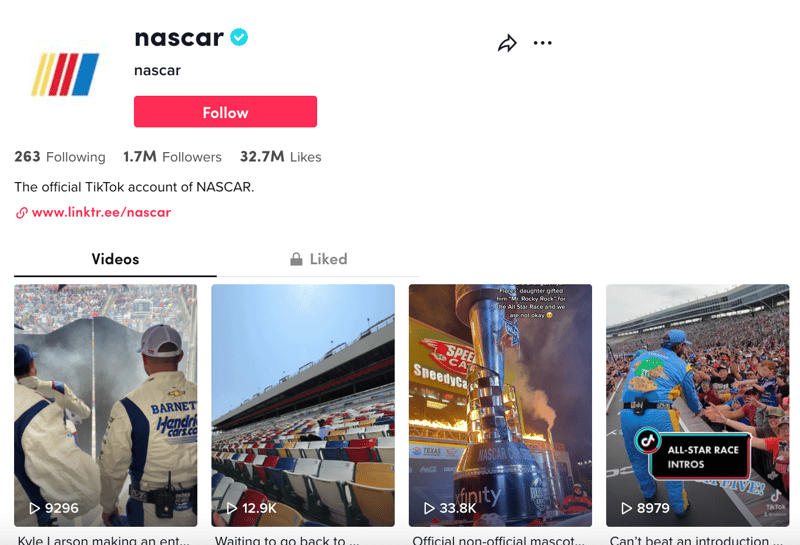 ABOUT THIS ENTRY
NASCAR has leveraged the TikTok platform to create a community of new and near fans, become an active participant in culturally relevant trends and conversations, and create a shift in traditional brand perception aimed at younger, more diverse audiences. By leveraging trending audios and features, collaborating with impactful creators, and utilizing talent and drivers to develop engaging content, the NASCAR TikTok channel has seen an increase in positive sentiment, an established community of new fans, and significant returns on investment in the form of engagements and reach.
How does this represent "Excellence in Engagement"?
Beyond the metrics, NASCAR has been able to drive a shift in brand perception through community management of the TikTok platform. In response to the NASCAR social team taking risks and distributing more socially-relevant content, the audience has rewarded the channel with positive engagement and sentiment. NASCAR saw a large amount of engagement from those who, self-admittedly, did not previously acknowledge or engage with the NASCAR brand.
Objective: Reach new and near fans by creating content to target younger and more diverse audiences. NASCAR aimed to create a platform that gave fans an all-access pass to events, drivers, and talent while distributing socially and culturally relevant content. By meeting fans where they are and delivering authentic and organic content native to the TikTok platform, the goal was to shift brand perception and show fans that NASCAR is new. With the brand-new Next Gen car, new up-and-coming drivers across all series, and new events at new tracks there has never been a better opportunity for new fans to join NASCAR Nation.
Strategy & Execution: Collaborate with creators on the platform whose audiences have a reach beyond the brand channel by pairing them with drivers, bringing them to the track for on-site activations, and engaging with them organically in the app. TikTok was used as an opportunity to push the boundaries of NASCAR social and experiment with content ideas on a platform that rewards taking risks. Drivers and teams became a critical piece of the strategy in an effort to have forward-facing content that would give fans the opportunity to connect on a personal level with our athletes. NASCAR aimed to bring the sights, sounds, and experience of being at a race directly to the fans through TikTok, as well as being timely in participating in trends.
Additional Execution Elements
Actively engaging with the NASCAR community on TikTok as well as creators across the platform, which helped to facilitate influencer collaborations and content campaigns.
Utilizing organic content as ad pieces to promote upcoming races and events, yielding a higher engagement than traditional ads.
Using TikTok content as an opportunity to educate new fans on the sport through fun activations around the track, the race, and drivers.
Results: In 2021, the NASCAR TikTok audience grew by 646,975 followers. By increasing the volume of content posted to this platform by 78.7%, NASCAR's TikTok presence earned over 11 million total engagements, over 92 million views, almost 300,000 views per video, and over 3 million profile views. Increasing our posting frequency by 78% led to a 130.1% YoY increase in total engagements, 269% YoY increase in total profile views, and a 28.8% YoY increase in engagements per post.