🎉

2022 Shortlist
NATIONAL TIGHT ENDS DAY
Entrant: National Football League
NOMINEE ✨
Best Social Media Campaign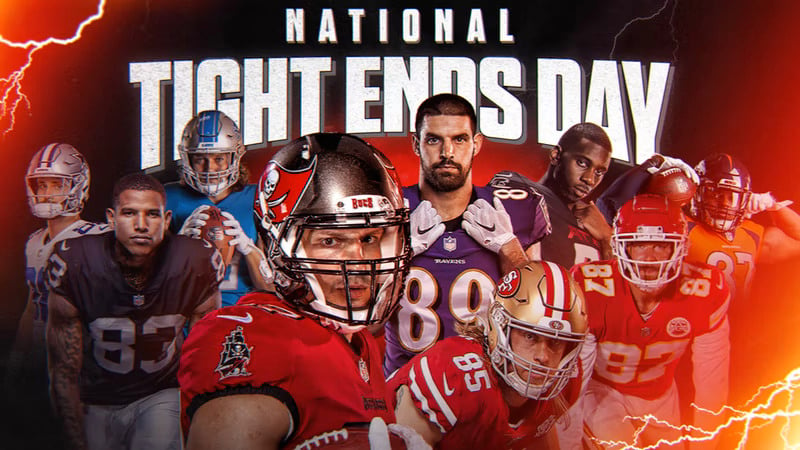 ABOUT THIS ENTRY
There's a holiday for everything these days, so we thought, "Why don't we make up a holiday to highlight a position group that has the most athleticism and personality in the NFL?"
And with that, National Tight Ends Day was born. For one day, and for the first time, the football world celebrated a position. In the wise words of George Kittle: "Happy National Tight Ends Day! It's a holiday!"
How does this represent "Excellence in Engagement"?
When we looked up and saw the entire NFL on CBS crew wearing National Tight Ends Day shirts on Oct. 24, we knew we had something special on our hands.
What started as a fun social media idea became a masterclass in reaching fans on every possible medium, all while connecting them in new and fun ways to their favorite teams and players.
We turned a playful, silly holiday into something everyone was talking about. And what drove its success was our ability to get buy-in from broadcast partners, clubs, players, colleges and celebrities (LeBron James!). In addition, we levereaged social, billboards, logos and merchandise to make the holiday official and fun -- at the end of the day, our goal was to create midseason engagement that helps add personality to the NFL and how we communicate with fans.
Objective: There's a holiday for everything these days. National Pet Day. National Donut Day. National Flag Day.
But has anyone ever made a holiday that changed the course and notoriety of a position in sports? We did — right out of thin air — and had fans, players, and broadcasters around the country celebrating a completely made-up day: National Tight Ends Day (NTED).
We know what you're wondering. Why? Why do this? Well, because it's fun! And because we knew we could engage a wide range of audiences by tapping into a position group that holds the biggest and bubbliest personalities in the NFL.
We have 49ers QB Jimmy Garoppolo to thank for National Tight Ends Day, actually. He was overheard by our friends at NFL Films asking George Kittle if there should be a holiday for the tight end position. And just like that, the sacred day was born.
NFL Films approached NFL Social and together we put a plan in motion to make this new holiday the biggest day of the regular season. Ultimately, our goal was to increase player notoriety in the tight end position and connect fans with player personalities on a deeper level through humor and storytelling.
Strategy & Execution: On Oct. 24, National Tight Ends Day was celebrated in every NFL game during Week 7 of the 2021 season, touching the entire NFL ecosystem.
Not only did the hashtag trend nationally, but fans and celebrities outside of our game honored the day. Lebron James even tweeted about it!
How we executed:
Tapped into our entire ecosystem, including social media, broadcast partners, clubs, colleges and more.

Provided all active TEs, 32 clubs, legends, broadcast partners and college football partners with custom NTED profile logos and official NTED t-shirts.

Seven original content pieces. The leading piece of content was the Tight End Creed, which featured 19 current tight ends expressing their pride as a TE in a tongue-in-cheek tone.

Partnered with players. We started early at George Kittle's Tight End University camp in July so that we could proactively capture content for NTED. This was a major touchpoint with the biggest tight ends in the League.

Leveraged our O&O social channels @NFL, @NFLThrowback and @NFLFilms. We used historical content and mic'd up moments to showcase the best TE moments.
Not bad for a made-up holiday!
Results:
Four of the top Twitter trends on Oct. 24 were NTED-related, including #NationalTightEndsDay at No. 6.

NTED mentioned 100x across all major broadcast networks

76% YOY increase in overall social volume across platforms

15% YOY increase in engagements on our owned @NFL handle

292% YOY increase in player participation and 406% YOY increase in social posts

"What is National Tight Ends Day" retrieved 66.7 million Google search results

The overall net positive share on social was 95%

29 of the 32 NFL Clubs celebrated the holiday - Club social engagements increased by 45% YOY, social posts increased by 38%.

Over 24 colleges participated, a 119% YOY increase in social engagements.

Partnered with influencers to show love for Tight Ends and celebrate the position: Ben Baller, Deestroyiing, Santia Deck, Dockery, FaZe Rug. Nina Marie Daniele, and Adam Waheed both created custom hilarious original content pieces

Brand Partners: Uber Eats offered a Buy 1 "Score 2" in honor of NTED, and Pepsi, Levi's, Gatorade, Charmin, and more celebrated across their social accounts.

Recognized as official holiday by government officials: Mayor John Cooper (Nashville) and NJ Senate Democrats.

5 billboards around LV boulevard, strategically placed as a 24 hour pop up near Allegiant Stadium
Production
NFL, NFL Network, NFL FIlms, CBS, ESPN, FOX, NBC, 32 NFL Teams, RedZone, Nickelodeon, Good Morning Football
Credits
McKenzie Fox
Senior Coordinator, Player Social Marketing
NFL
Colin Huber
Manager, Social Content
NFL
Austin Elledge
Graphic Designer, Social Content
NFL
Brigitte Rodgers
Talent Relations, NFL Films
NFL
Britt Deise
Manager, Club Social Marketing
NFL
Bryce Gustafson
Director, Social Programming & Integrated Sponsorship
NFL
Carly Fasciglione
Coordinator, Player Social Marketing
NFL
Colin Travaglini
Coordinator, Player Social Marketing
NFL
Eddie Capobianco
Vice President, Influencer & Talent Marketing
NFL
Erin O'Toole
Talent Relations, NFL Films
NFL
Erin Schaffner
Senior Manager, Social Video Content
NFL
Ian Trombetta
SVP, Social & Influence Marketing
NFL
Jack Farrow
Video Editor, Player Social
NFL
Jason Weber
Director, NFL Films Production
NFL
Jesse May
Senior Manager, Influencer & Talent Marketing
NFL
Jessica Murphy
Manager, College Social Marketing
NFL
Jordan Dolbin
Senior Manager, Social Marketing
NFL
Josh Tucker
Vice President, NFL Social
NFL
Justin Anderson
Director, Social Content
NFL
Justin Goldman
Creative Producer & Editor, Social Content
NFL
Kaley Campen
Talent Relations, NFL Films
NFL
Kevin Lutz
Associate Producer, NFL Films Production
NFL
Kevin Vu
Senior Programer, Social Content
NFL
Kylie Callura
Manager, Social Content
NFL
Michelle Navarrete
Associate Producer, NFL Films Production
NFL
Nick Dugan
Production Assistant, NFL Films
NFL
Pat Kelleher
Vice President, NFL Films Production
NFL
Pete Frank
Producer, NFL Films
NFL
Rachel Micali
Talent Relations, NFL Films
NFL
Rich Elmore
Vice President, Social & Content Marketing
NFL
Ross Ketover
Senior Executive, NFL Films Production
NFL
Ruth Wels
Illustrator, Social Content
NFL
Samantha Kordelski
Manager, Influencer & Talent Marketing
NFL
Scott Koppenhaver
Manager, Social Content
NFL
Trevor Penick
Video Editor, Social Lab
NFL
Anthony Isetta
Sr. Director, Creative Marketing
NFL