🎉

2022 Shortlist
NBA 2K22
Entrant: PepsiCo Beverages North America
Winner 🏆
Best Engagement Through Esports & Gaming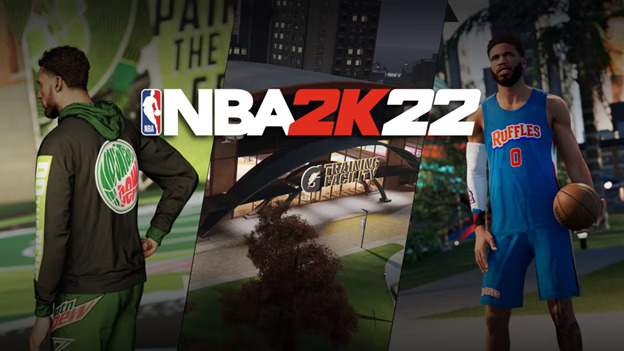 ABOUT THIS ENTRY
As gaming continues to grow as a mainstream form of entertainment and increasingly overlaps with traditional sports, multiple brands within the PepsiCo portfolio have the opportunity to engage with their consumers in new and innovative ways. Leveraging PepsiCo's partnership with the NBA, the company has embedded three PepsiCo brands into NBA 2K22 to further reach the core NBA consumer and engrain all of the brands deeper into the gaming occasion.
How does this represent "Excellence in Engagement"?
The most successful integrations in-game have three things in common:
ADDED VALUE: Brands standout by providing actual value back to the community. The community in turn will reward the brand by offering deeper engagement and attention. All of our in-game interactions exceeded our internal benchmarks because fans wanted to engage rather than being forced to.

RECREATE REAL LIFE: Gamers are looking for more immersive experiences. When brands like Gatorade and MTN DEW are integrated and replicate real life activations like athletes refueling with Gatorade during timeouts or the MTN DEW 3pt Contest, we are providing a more realistic experience for the consumer. Rather than seeing an advertisement, gamers will see a deeper experience that helps them live out their fantasy of being a pro NBA Athlete

AUTHENTICITY: Understanding the reason gamers play the games they love is critical to any in-game program. Being able to intercept consumers during their favorite game modes and being additive to that experience is key.
As more attention gets brought to digital experiences and the metaverse, these points are becoming more and more relevant. At PepsiCo our goal will be to leverage these benchmarks to continue to build bigger programs.
Objective: The NBA has become a major pillar for multiple brands within the PepsiCo portfolio to deepen brand affinity with core consumers and reach even more people. Gatorade, MTN DEW and Ruffles have developed clear swim lanes and brand platforms within the league that have helped to differentiate each of them. As official league partners, all three brands have the unique opportunity to work with one of the largest NBA properties for young consumers - NBA 2K.
NBA Fans are 192% more likely to play a basketball related video game, which presented PepsiCo with a special opportunity to extend their marketing campaigns to this new form of media. Working directly with 2K Games, these brands cultivated a new strategy/playbook to help PepsiCo achieve the following three objectives:
Amply and extend the unique platforms Gatorade, Ruffles, and MTN DEW have within the NBA
Lean into hoops culture and reward the core NBA gaming consumer
Extend the brands role outside of the game and establish cross cultural connection with the NBA audience
Strategy & Execution: First and foremost, as PepsiCo developed their in-game strategy for all three brands, they had to ensure all brands had a unique presence in-game. Even more importantly, they had to ensure that any time a consumer interacted with one of the brands there was added value to their gaming experience.
Gatorade: Being a brand that is all about performance, they built the Gatorade Training Facility. Throughout their in-game "careers", players were able to go to the GTF to work out and consume gatorade products to help level up their character and improve their stats.
MTN DEW: To amplify the brand's NBA 3PT Platform, they leveraged NBA Super Star Zach Levine to challenge players to compete on the MTN DEW court and shoot 3-pointers to earn rewards. In addition, the top shooters in their careers had the chance to compete in the MTN DEW 3PT Contest at All Star Weekend in-game
Ruffles: Building upon the Ruffles "4-point line" in the Ruffles NBA All-Star Celebrity Game, Ruffles recreated this feature in-game through their 4-Point Ridge Tournament, while also giving players the chance to become a Ruffles endorsed athlete like LeBron James, Anthony Davis and Jayson Tatum.
Results: Over the past 6 months, integrating PepsiCo brands into NBA2K has proven to be an extremely efficient and effective way to drive engagement with our core NBA consumers.
Over 11.5 Billion Impressions delivered across all 3 brands in-game.
Gatorade:
Players have entered the Gatorade Training Facility over 41.5 million times to help level up their players stats
According to a survey from Gatorade, most players feel the Gatorade integrations actually add to the game experience with 79% feeling that Gatorade integrations make the game more realistic.
78% of NBA2K players identify Gatorade integrations as standing out from other sponsors in the game, and 78% believe they are effective reminders about Gatorade.
MTN DEW:
Over 7.3MM Games have been played on the MTN DEW Course and 2.3MM players have completed the MTN DEW All Star 3-PT Contest in game.
Ruffles:
Over 4.2MM in-game endorsements have been offered to players in their NBA 2K Careers.