🎉

2022 Shortlist
NBA Crossover
Entrant: NBA
NOMINEE ✨
Best Brand Experience or Activation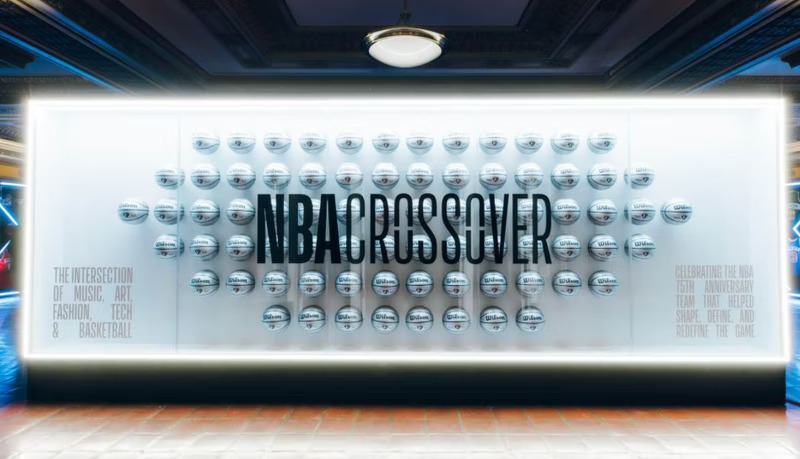 ABOUT THIS ENTRY
NBA Crossover brought together basketball fans in Cleveland during NBA All-Star 2022. This fan experience celebrated the NBA's 75th anniversary and the intersection of Music, Art, Fashion, Tech & Basketball. The immersive event included branded activations and experiences, programming from NBA players and alumni, creator workshops, live performances, on-court programming and more.
How does this represent "Excellence in Engagement"?
NBA Crossover redefined what a multifaceted fan experience should look like. The NBA leveraged its global brand to bring a one-of-a-kind experience to the fans of Cleveland.
We provided fans the resources to build their own journey and decide for themselves what is most impactful to their experience, and in doing so, it removed the limitations of how much a fan can engage at large scale fan events. If a fan wants to spend more time and money to elevate their experience, there should be an opportunity for them to do exactly that.
By developing high engaging, curated panels and workshops with high profile talent, the NBA offered opportunities for fans to engage in ways like never before. These can't miss experiences that were only available at NBA Crossover, at a specific day and time, further cements the value of attending live event experiences.
Objective: The goal of NBA Crossover was to bring together basketball fans in Cleveland during NBA All-Star 2022 to celebrate the NBA's 75th anniversary and the NBA's intersection across Art, Music, Fashion, Technology & Basketball.
NBA Crossover is the league's premier fan event and the goal was to provide local Clevelanders with a unique one-of-a-kind event to celebrate the NBA's 75th anniversary and experience the excitement of NBA All-Star.
Most fans are not able to attend the NBA All-Star Game, so NBA Crossover provided fans with their opportunity to experience NBA All-Star and create lifelong memories by interacting with unique NBA activations, brand experiences, NBA Player & Legends appearances, curated panel discussions and much more.
We provided fans with an increased level of personalization, and for the first time in the events history, NBA Crossover featured a customized ticketing process that let fans tailor the experience to meet their interests. Fans were able to choose from a number of base ticketing packages and add-on additional offerings ranging from scarcity driven add-ons (limited edition merchandise) to elevated VIP opportunities (VIP Pass, Hall of Legends, Creator Studios).
Strategy & Execution: NBA Crossover was developed from the ground up starting with a new brand identity that kept Cleveland and culture at the forefront. The new identity extended across all physical and digital assets. These compelling graphics/videos informed fans about the event and broke through the clutter by generating hype within the community and reaching our target demographic.
The event provided a platform for the NBA and our partners to activate and seamlessly integrate their brand into the overarching event experience.
In order to provide fans with a memorable one-of-a-kind experience, developing social-worthy activations were top of mind across all aspects of event planning. We brought iconic moments from the NBA to life for fans to experience first-hand, including:
NBA Lane
NBA 75 Ball
NBA LOB Trophy
To provide fans with more control over their experience, we developed a robust menu of event offerings for them to choose from, including:
Hall of Legends: Exclusive panel discussion stage designed for an intimate VIP audience
NBA Creator Studios: We secured The Shoe Surgeon, The Give & Grow and Bright Black. to create one-of-a-kind experiences for fans
Limited Edition Merchandise: Local Cleveland artist Glenn Infante to design a limited-edition t-shirt only available at NBA Crossover
Results: NBA Crossover had over 31,000 fans attend, which achieved a key priority of the NBA, Team and City in providing an accessible opportunity for fans to experience NBA All-Star.
By providing fans with the ability to customize their package with personalized offerings and scarcity driven add-ons our average order size increased 3x vs NBA Crossover 2020.
17 NBA partners were able to engage fans with immersive experiences, pop-up activations, NBA and WNBA player and talent appearances, limited edition merchandise, art and memorabilia displays during the event.
The more robust content offerings lead to 40+ hours of programming throughout the weekend, which totaled over 1M views across NBA digital and social channels.