🎉

2022 Shortlist
NBA HOOPERVISION - NBA LEAGUE PASS ALTERNATE STREAM
Entrant: NBA
NOMINEE
Best Broadcast or Stream Experience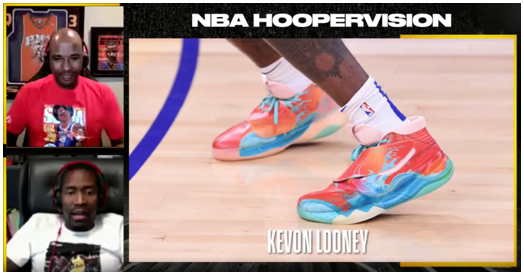 ABOUT THIS ENTRY
Former NBA players Quentin Richardson (13-year NBA career) and Jamal Crawford (3x Sixth Man of the Year) teamed up to provide a new alternate viewing option for select games on NBA League Pass called "NBA HooperVision", utilizing their combined 33 years of experience to provide in-depth basketball analysis and first-hand accounts of playing in the League. During one recurring segment, they analyzed plays combined with on-air graphics used to show screens, off-ball player movement, and other key decision points. Special guests have included J. Cole, Kevin Durant, Tracy McGrady, amongst several others from the Basketball and Entertainment worlds, who have joined to give their unique perspective on NBA action. NBA HooperVision has offered an array of unique broadcast elements, including a live Twitter Q&A integration using the #NBAHooperVision hashtag to show Tweets from all over the world, pre-produced segments spotlighting NBA fashion and kicks and retrospective memories from their careers.
How does this represent "Excellence in Engagement"?
NBA HooperVision has further cemented the hypothesis that fans value hearing from former players. Giving Jamal and Quentin the microphone for 2.5 hrs. at a time to settle into their coverage with a more conversational tone creates a unique comfort and relatable atmosphere for viewers. Quentin Richardson and Jamal Crawford have both demonstrated a tremendous ability to tell stories, explain the game and engage an audience in an inviting way that differs from traditional commentary.
The NBA is focused on providing fans with personalization and optionality for their viewing, with more camera angles, additional audio and influencer integration, and Quentin and Jamal have assumed a distinct place in this climate for fans.
Objective: As a part of the NBA's on-going prioritization towards the development of alternate streams for NBA League Pass and innovative, compelling viewing options for live games, NBA HooperVision was created both to serve the core fan who desired deeper, in-depth breakdowns from storied NBA players with experience, along with casual fans who desired more light-hearted elements and a clear, educational explanation of the game.
Strategy & Execution: As we know in sports and entertainment, there are no shortage of options across various content distribution vehicles. NBA HooperVision has sought to apply what may sound to viewers as a more conversational approach to game commentary, often times diverging away from traditional play-by-play coverage in favor of richer and deeper storytelling. The aforementioned social media segments also allow fans the opportunity to engage with talent and be a part of the broadcast.
Results: NBA HooperVision debuted as the most-watched NBA League Pass alternate stream and continues to see strong viewership and engagement. Furthermore, the stream is supported by comprehensive promotional and real-time social media coverage from @NBA channels, which have generated impressive statistical performance in video views, engagements and fan sentiment.
Production
National Basketball Association, Kiswe Studio, Warner Media
Credits
Jamal Crawford
Executive Producer/On-Air Talent
National Basketball Association
Quentin Richardson
Executive Producer/On-Air Talent
National Basketball Association
Angel Ospina
Coordinating Producer
National Basketball Association
Bill Paden
Coordinating Producer
National Basketball Association
Jason Gilfillan
Supervising Producer
National Basketball Association
Randye Rand
Talent Manager
National Basketball Association
Sara Zuckert Senior Producer
National Basketball Association
Chris Benyarko
Senior Producer
National Basketball Association
Chak Pellakuru
Producer
National Basketball Association
Zack Aronberg
Producer
National Basketball Association
Alesha Barrett
Producer
National Basketball Association
Jerry Jones
Highlight Producer
National Basketball Association
Brett Michaud
Highlight Producer
National Basketball Association
Connor Weingarten
Highlight Producer National Basketball Association
Jacob Iden
Highlight Producer
National Basketball Association
Eileen Wickline
Highlight Producer
National Basketball Association
Samantha Morris
Highlight Producer
National Basketball Association
Sammy Solomon
Highlight Producer
National Basketball Association
Andrew Merrigan
Highlight Producer
National Basketball Association
Sally Sandoval Highlight Producer
National Basketball Association