🎉

2022 Shortlist
@NBA INSTAGRAM
Entrant: NBA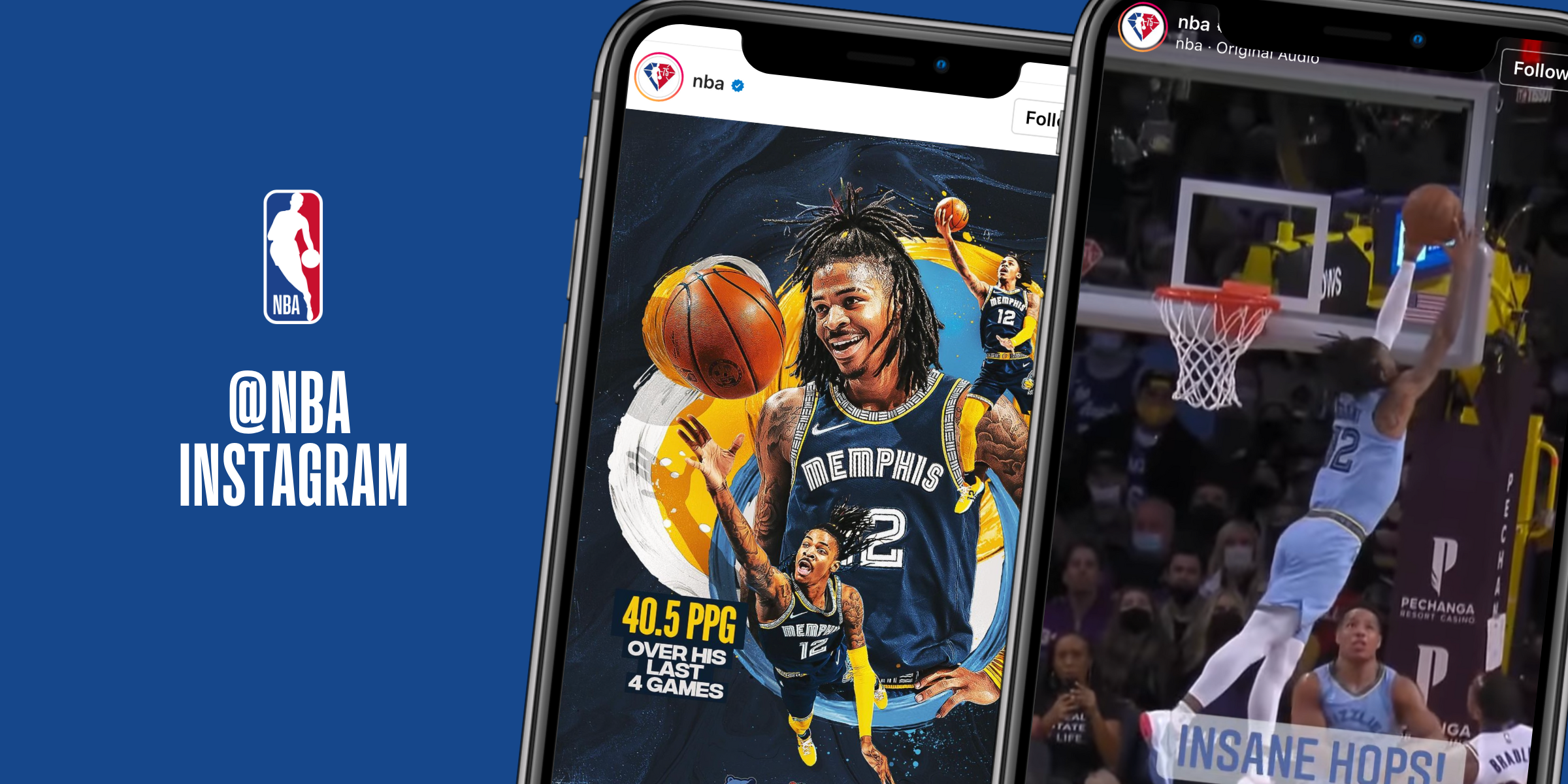 ABOUT THIS ENTRY
In 2021, @NBA Instagram had its best-performing year ever. With more than 65 million followers, the NBA's Instagram account continues to grow. This submission details the growth of the @NBA Instagram during the submission timeframe and the strategy it takes to achieve success.
How does this represent "Excellence in Engagement"?
Over the course of the submission timeframe, the NBA gained 11.6 million new Instagram followers (surpassing 64.5M) and drove more than 15.8 billion video views and 2.1 billion interactions.
Excellence in engagement is not only defined by the numbers mentioned above but the context and precedent that is set to move forward in a new world, with many evolving and new forms of content consumption. From testing live activations, to content creation, and everything in between, we are always looking to push the boundaries of what is possible on Instagram. We are consistently among the first accounts to test new features and products (like Live with API, Live Shopping, Reels and AR Filters). We strive to innovate daily, to drive not only the industry forward, but the platform forward as we often discover new use-cases and ideas for Instagram to implement. The content output on NBA Instagram could not have been possible without the NBA social teams' meticulous in-house digital content creation and curation process that ultimately delivers the best moments around the Association night in and night out. @NBA Instagram has truly raised the bar for what it means to engage fans and followers on Instagram.
Objective: The objective for the NBA's Instagram is to reach a global audience of fans where they are in real-time. @NBA provides fans with everything they need to know around the game: from on-the-court storylines such as the best teams and players, top performers and game results, to off-the-court content including all the funny, sentimental, memorable moments across the league.
@NBA Instagram had its best-performing year ever in 2021 and consistently ranks among the top two accounts in video views on Instagram throughout the season. We've built a programmed channel that keeps fans and followers engaged and coming back for more. By leveraging platform features such as Reels, Carousels, Stories, AR, Live, Live Shopping, Tap to Shop and more, we're able to tell the story of a particular moment or game and continuously educate fans on the most important storylines from around the league.
Strategy & Execution: The 2021-22 NBA Season has brought so many special moments, highlighted by the celebration of the NBA's 75th Anniversary Season and the amazing stories that have blossomed throughout: LeBron James' 19th season, Giannis Antetokounmpo's title defense, Klay Thompson's return, Stephen Curry's All-Time 3-point record land Ja Morant's rise to stardom, among many others.
@NBA Instagram covers all these moments with visuals and information for fans to learn and grow closer to the game. An example of this is the way NBA Social executes coverage for major moments. With Ja Morant's incredible season, @NBA has been there every step of the way. We are focused on optimizing content for the platform and leveraging the latest tools to remain in real-time as much as possible. When Morant had an incredible block in January, @NBA was there with a Reel in real-time. It didn't stop there, Morant hit an insane game-winner with a career-high of 52 points in February 2022 and @NBA covered every moment, from several Reels showcasing the play, his teammates celebrating postgame, his postgame interview, to a game recap graphic memorializing his career night.
Results: During the submission timeframe, @NBA Instagram has reached these major milestones:
All-Time Most Viewed Months:
February 2022: 1.495 billion views
January 2021: 1.463 billion views
March 2021: 1.398 billion views
All-Time Most Viewed Days:
2022 NBA All-Star: 222.8 million views
2021 NBA All-Star: 131.1 million views
2020 NBA All-Star: 122.5 million views (not in submission timeframe)
2022 Ja Morant Game-Winner: 121.6 million views
2022 Klay Thompson Comeback: 99.4 million views
Most Viewed Video Ever:
Ja Morant Game-Winner: 56 million views
Overall metrics from @NBA Instagram's highest-performing year ever (during submission timeframe):
Video Views: 15.8 billion
Actions: 2.1 billion
Impressions: 30.7 billion
Followers Gained: 11.6 million
Production
NBA
Credits
Andrew Yaffe
Head of Social, Digital & Original Content
NBA
Bob Carney
Senior Vice President, Social & Digital Content
NBA
Ashley Atwell
Senior Director, NBA Social Content
NBA