🎉

2022 Shortlist
NBA ALL-STAR 2022 SHOPPABLE CITYWIDE ART GALLERY
Entrant: NBA
NOMINEE
Best Engagement Through NFTs or Digital Collectibles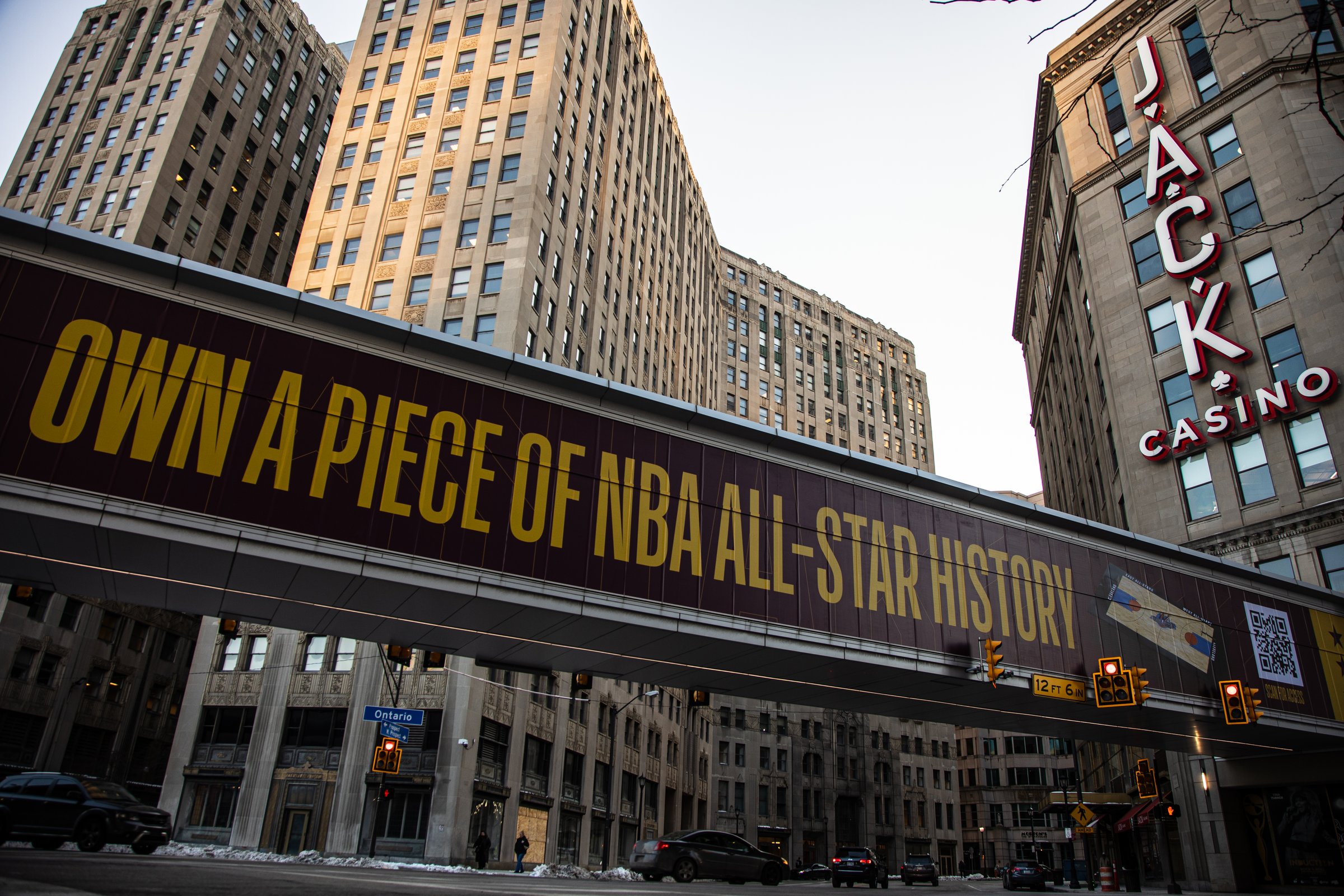 ABOUT THIS ENTRY
The NBA turned Cleveland into the first ever citywide shoppable art gallery, enabling fans to own a piece of NBA All-Star history for the first time by purchasing one of over 4,000 NFTs and transitioning a typical cost center (i.e., event branding) into a revenue driver. We turned famous city buildings into art installations, allowing fans to see art they love, on buildings that mean something to them, and own it instantaneously. This initiative reimagines the way in which large events design the strategic presentation of their host city.
How does this represent "Excellence in Engagement"?
For the first time, fans have an opportunity to own a piece of the All-Star story. This initiative inspires organizers to reimagine the strategic presentation of a given event and introduces innovative opportunities for fans to interact with the event through physical branding. Signage is no longer limited to artwork on a page and now encompasses digital and physical attributes through which fans can engage meaningfully with brand, even after the event has ended.
Objective: Physical branding designed to support digital marketing efforts has been a substantial event cost center historically, with hundreds of thousands of dollars spent across the league, host team, and local organizing committee to develop billboards, murals, storefront branding, and other signage advertising All-Star to the local community. Traditional physical branding has also lost some consumer appeal over the past few years as our fans look to engage with more active marketing campaigns. With cost and consumer appeal in mind, we reimagined the way in which large events design the strategic presentation of their host city to create the first ever citywide shoppable art gallery and enhanced traditional branding with an innovative new NFT element, allowing fans to own a piece of the event's history.
Strategy & Execution: Beginning almost two weeks before All-Star 2022, fans were able to visit any of the ten shoppable art gallery locations throughout the city to find and scan a QR code to purchase the NFT – taking our fans on an NFT scavenger hunt to view NBA art affixed to iconic Cleveland landmarks. Locations were chosen strategically to highlight various aspects of Cleveland's culture and incentivize fans to explore every corner of the event's campus. Hosted digitally at https://nbaallstarnft.io/, the artwork consisted of a series of courts that celebrated the history of NBA All-Star in the state of Ohio, starting with the 1966 court from the Cincinnati Gardens and continuing with courts from '81 in Richfield, '97 and '22 in Cleveland, and a 75th anniversary court. The NFTs were represented digitally in their original form known as the "NBA Edition" (priced at $20.22 and limited to 750 per design) as well as a 75th anniversary "Diamond Edition" (priced at $750, including a physical miniature replica of the court, and limited to 75 per design).
Results: Over 80% of the 4,000 NFTs available were purchased by the end of All-Star 2022, demonstrating significant fan engagement within the city of Cleveland during the event. The profit captured by transforming a historical cost center into a revenue driver also enabled us to donate $100,000 of proceeds to the Funders Collaborative on COVID Recovery, a Cleveland-based partnership featuring nearly 50 philanthropic foundations, nonprofits, and government entities that help support the community as it recovers from the economic and social impacts of COVID-19. The initiative itself also generated substantial publicity for the event and city as a whole – All-Star 2022 generated more than $225M in total economic impact and $50M in earned media value for the city of Cleveland.