🎉

2022 Shortlist
@NBA TWITTER
Entrant: NBA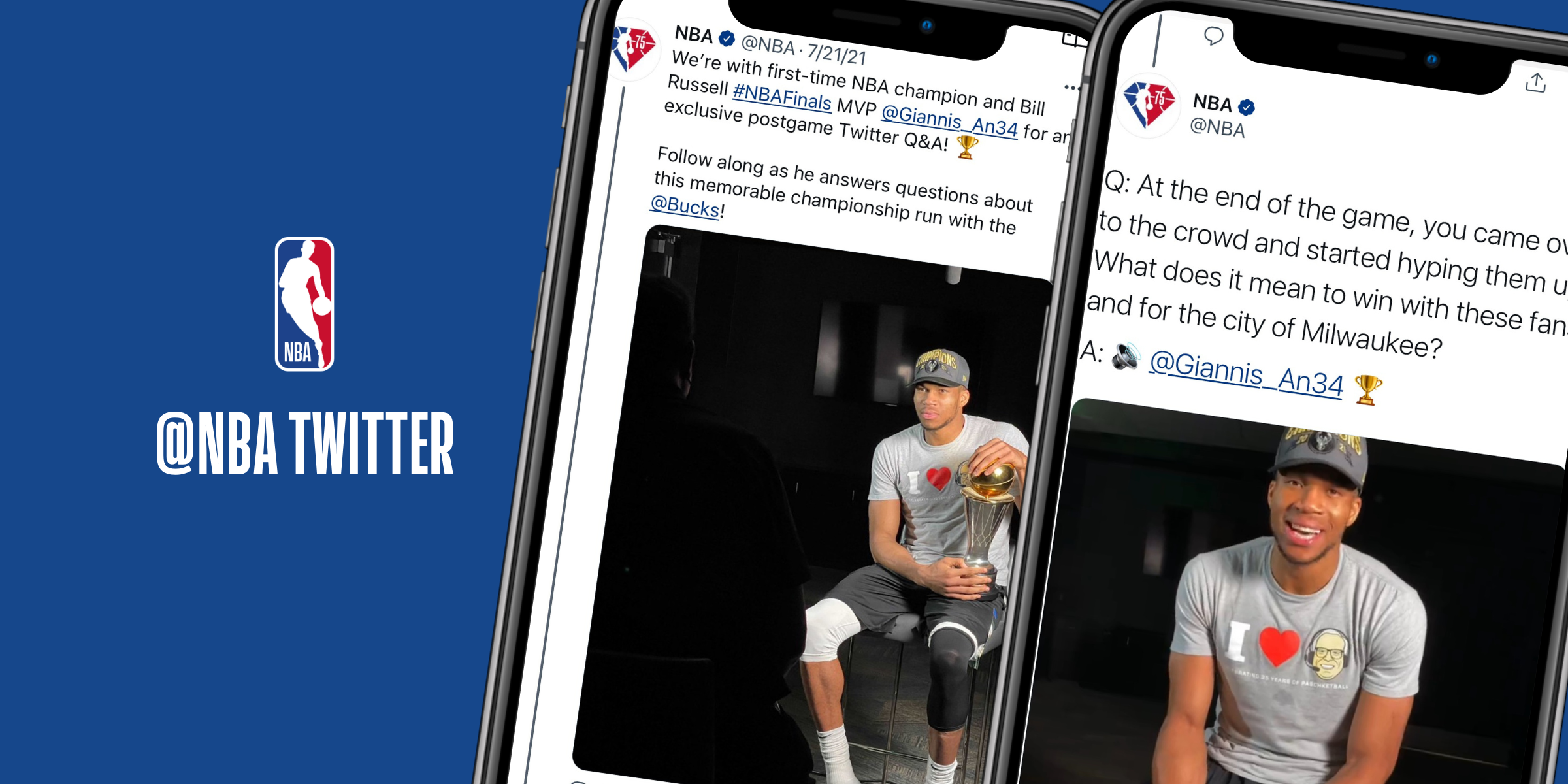 ABOUT THIS ENTRY
The @NBA Twitter handle continues to grow surpassing 36 million followers and continuing to see high engagement. This submission details the strategy behind the NBA's Twitter presence and the continued success during the submission timeframe.
How does this represent "Excellence in Engagement"?
In a world where access is paramount, we've brought our players directly to our fans. From fans being able to vote on a team to watch during warm-ups, get up-close access to players at games through video and photos, to hearing players' stories directly from them and more, excellence in engagement has been brought to life over the last year in the NBA. @NBA Twitter was invaluable to the fan experience at a time when many fans still couldn't be present at our games.
We've capitalized on new benchmarks by utilizing Twitter Q&A's with the NBA champion Bucks and launched @NBA Twitter Spaces with weekly programming from the league's biggest stars and greatest legends. Recognizing the importance of connecting our fans with our players on a personal level has set a new standard for the Twitter experience and one that will continue in the seasons to come.
Objective: The final buzzer sounds. It's July 20, 2021 and the Milwaukee Bucks have just come back from down 2-0 to win their first championship in 50 years, capped off by Giannis Antetokounmpo's 50-point performance in Game 6 of the NBA Finals. After a previous season full of obstacles, the 2021 NBA Playoffs were filled with some of the best competition in years. Fans were treated to an incredible on-court product and it translated through their engagement content on @NBA Twitter. The buzz would continue through a busy offseason filled with the NBA Draft, NBA Summer League and Summer Olympics all leading towards the NBA's landmark 75th Anniversary season.
The NBA's objective on @NBA Twitter is to serve the fans and bring them closer to our game and players at a time where they still may not be able to travel to or attend games in person. We accomplished this objective by leveraging all of Twitter's native tools such as livestreams, polling, Q&As, Twitter Spaces, Twitter Moments, GIFs, photos, carousels, new conversation control features, exclusive alternate angles of highlights and more.
Strategy & Execution: Take it back to the Bucks in late July. Fans would love to see the Bucks celebrate their long-awaited championship in person and hear what the players have to say. Well, we brought the players right into fans' living rooms with exclusive postgame Twitter Q&A's with Giannis Antetokounmpo and Khris Middleton immediately following their on-court celebration. The two superstars answered questions about their journeys to becoming champions and winning it all for the city of Milwaukee.
Moving into the 75th Anniversary season and announcement of the 75 greatest players, our goal was for fans to hear directly from players - both current and retired NBA legends - named to the NBA 75 team. Utilizing NBA Twitter Spaces, we were able to give fans just the wide-ranging insight. Throughout the season, fans joined a series of Twitter Spaces franchises, such as 'My NBA 75' featuring a 75th Team legend, 'My Basketball Journey' featuring a current NBA player and 'Rising Stars Report' featuring an NBA Rookie, hearing these NBA players talk about the game they love.
Results: Through NBA Finals Q&A's, weekly 75th Anniversary season Twitter Spaces, behind the scenes on-site coverage at premier games and nightly highlights of the action on court, @NBA Twitter has continued to thrive with fan engagement.
Over the course of the 2021-22 season thus far, @NBA Twitter is the most engaging sports league on the platform, generating 15.6 million engagements and more than 615 million video views. @NBA Twitter was already the most-followed domestic sports league, and in the last year became the fastest-growing as well, growing from 32 Million to more than 36 Million followers.
Production
NBA
Credits
Ashley Atwell
Senior Director, NBA Social Content
NBA
Bob Carney Senior Vice President, Social and Digital Content
NBA
Andrew Yaffe
Head of Social, Digital & Original Content
NBA