🎉

2022 Shortlist
NBA Twitter Spaces
Entrant: NBA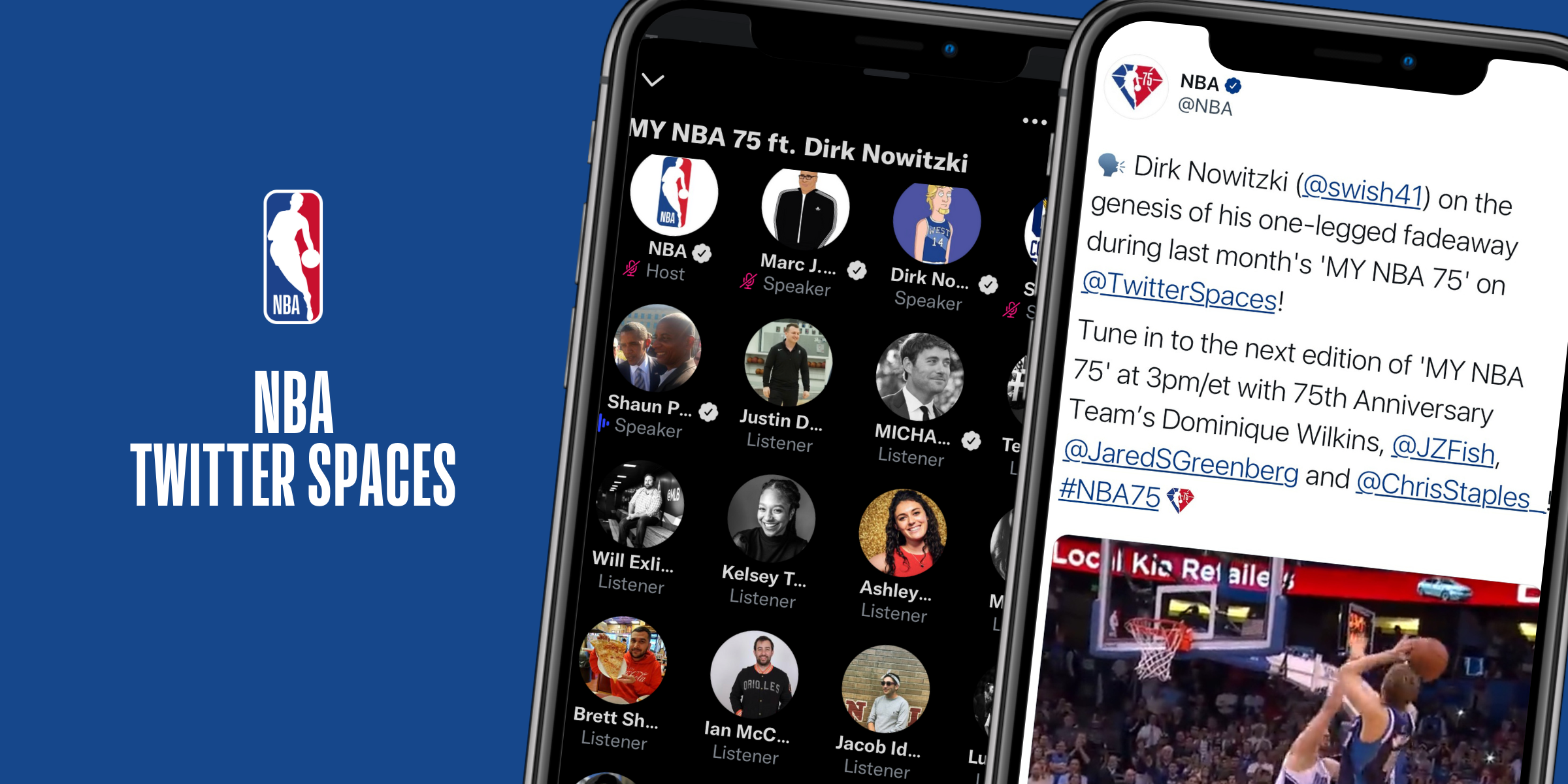 ABOUT THIS ENTRY
The NBA has built unique programming around Twitter's new Twitter Spaces feature. This submission details the strategy behind the NBA's Spaces and the positive results during the submission timeframe.
How does this represent "Excellence in Engagement"?
NBA Twitter Spaces set the industry standard for activating on new formats and platforms across social media. The growth of social audio presented a unique opportunity for the NBA to expand its audience and presence on Twitter, a platform for which the NBA has grown on for more than 12 years. With more than 25 Twitter Spaces conversations executed in a short period since the product launched, our consistency has developed an audience with an appetite for more programming. This listenership has exceeded industry benchmarks due to the unique programming provided and the in-depth conversation that occurs in each Space. The NBA will continue to expand upon these opportunities in the upcoming NBA Playoffs, NBA Finals and offseason.
Objective: The NBA's objective is to leverage Twitter Spaces to go deeper into storytelling and to celebrate and promote the game. Twitter Spaces allows us to engage with our community through a new medium, where our players and talent can have a conversation that the fans get to hear exclusively on @NBA Twitter.
This season, the NBA, WarnerMedia (the NBA's joint-venture partner) and Twitter announced a partnership extension to activate at least 40 Spaces. Given the amount of programming, the NBA's goal was to find creative ways to create audio series for the platform. With the NBA's 75th Anniversary Season, it was a perfect time to tell the stories from some of the NBA's top legends.
Strategy & Execution: Each week, NBA fans can tune in to @NBA Twitter Spaces to listen to a variety of shows which include: 'MY NBA 75' featuring NBA legends reflecting on their favorite moments, 'My Basketball Journey' with NBA players sharing stories about their journeys to the pros and the 'Rising Stars Report' focused on the up-and-coming talent in the NBA.
In addition to weekly programming, the NBA has used Spaces to make announcements which were previously issued via traditional press releases. Examples include announcing the 2022 NBA Celebrity Game rosters with members of the roster and announcing DJ Khaled's NBA All-Star performance with Khaled himself.
As additional programming, 'The Shootaround' Space goes live on @NBAonTNT featuring TNT talent previewing nationally televised games and storylines.
Given the special backdrop of NBA 75, the NBA tapped into legends to share stories on 'My NBA 75'. One of the top moments was Dirk Nowitzki's show where he shared the origin story of his famous one-legged fadeaway with fans, explaining how he came up with the move. He went on to explain why he is a huge fan of Kevin Durant's game, highlighting how hard he works with the goal of consistently improving his game.
Production
NBA
Twitter
WarnerMedia
Credits
Ashley Atwell
Senior Director, NBA Social Content
NBA
Bob Carney
SVP, Social & Digital Content
NBA
Andrew Yaffe
Head of Social, Digital & Original Content
NBA