🎉

2022 Shortlist
NBPA 450 Gives: It's Better to Click & Receive
Entrant: THINK450
NOMINEE 2x ✨
Best Brand Experience or Activation

Most Creative Partnership with an Athlete or Influencer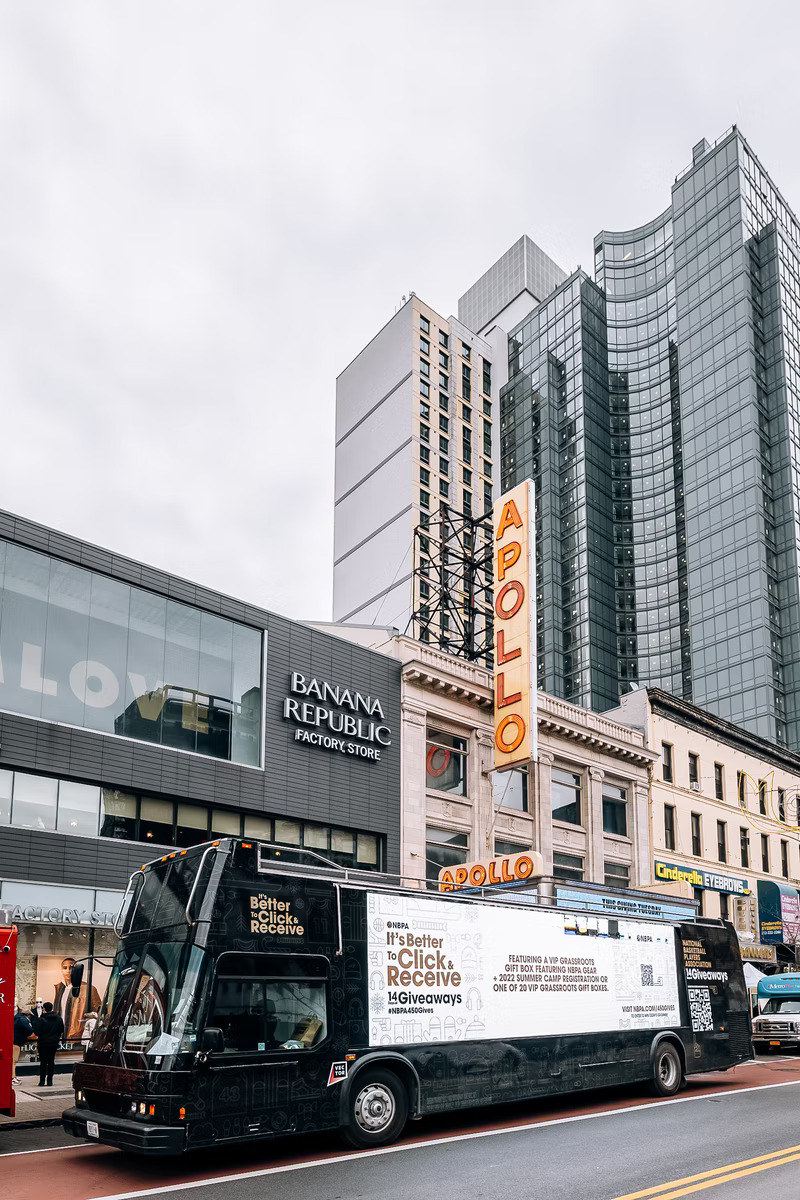 ABOUT THIS ENTRY
THINK450, the partnership and innovation engine of the National Basketball Players Association (NBPA), launched its first-ever flagship holiday event NBPA 450 Gives. This new experiential + digital activation showcased the best gifts to give and receive for the holidays. From November 26 (Black Friday) through December 9, 2021, THINK450 partnered with different sponsors for 14-days of giveaways. Throughout the activation, a traveling NBPA-branded digital double decker bus made stops at iconic locations across New York City (including the Today Show, Nets Training Center, Dyckman Park, the Apollo Theater, MSG, Barclays Center, Bryant Park, Union Square, Washington Square Park, Macy's 34th Street, and more), engaging consumers with interactive experiences and revealing new gifts fans could win from the NBPA and our partners.
How does this represent "Excellence in Engagement"?
NBPA 450 Gives redefined the path to fan experience excellence, highlighting how activations that live beyond the game can drive engagement and brand-fan connections when planned with the following principles in mind: Player Connectedness–activations rooted in athlete interests and ambitions resonate with fans and Brand allyship–properties leverage shared values to collaborate with players and partners, providing mutual benefits for their businesses and the community.
The activation demonstrated that increased engagement comes from leading with athlete insights rather than brand or property interests. Our members are creators and cultural ambassadors. Their talents and interests go far beyond the game. By taking cues from them, we are better equipped to make connections between players, brand partners, and fans. We use our player intelligence to match player interests with community engagement tactics, and gain more attention by utilizing players' fan bases as cultural accelerators. We designed this activation to deliver the enriched experience fans desire from live sports without the friction of ticketing, parking, food, souvenirs. The event was free to those who attended in-person (free snacks, drinks, and souvenirs), and we created value for those who participated online through content and access to giveaways that got them closer to their favorite players.
Objective: THINK450 desired to establish a holiday event that enabled NBPA members to give back to the communities where they live and play, accelerate our partners' connection to culture, and create a new way for fans to engage with their favorite basketball stars.
The holidays can be a stressful time for families, especially during a pandemic. The NBPA wanted to alleviate some stress for fans while also providing them with a fun and safe way to come together and celebrate their fandom. Recognizing that NBA players love to give and are famously open-handed with friends, family members, and the communities that raised them, THINK450 channeled their generous spirit and developed an activation designed to build community, engagement, and drive attention while delivering holiday cheer. In addition, we know that while sports fans marvel at what players do on the court, they are also curious about their off-court interests. Giving fans a peek inside our members' beyond-the-ball passions makes them feel closer to the athletes they admire. With that in mind, we wanted to create a unique way for NBA players to connect with fans by showcasing the brands they love, with special emphasis on their favorite Black-owned businesses.
Strategy & Execution: THINK450 developed an eye-catching digital Double Decker bus designed to engage fans of all ages over the two-week tour. The NBPA-branded vehicle featured a QR code that drove New Yorkers to the campaign microsite where they could enter to win each day's giveaway.
The bus interior featured NBA2K22 gaming kiosks, enabling fans to connect with players through their passion for gaming. The opposite wall held a social photo opp with original artwork of NBPA members. The upper deck hosted a DJ booth and sampling bar, creating a safe space for fans to party together at every stop.
The experience tipped off on Black Friday at the Nets Training Center with Blake Griffin and Google, promoting "Black-owned Friday." Blake revealed a member-curated gift box featuring items from Black-owned businesses that fans could win.
Following the launch, the pop-up stopped at iconic locations throughout NYC. Each stop featured interactive activities, such as shooting competitions, DJ sets, live giveaways, and gift reveals. Prizes included player experiences, player merchandise, and partner gifts. On non-activation days, the bus traveled throughout NYC generating additional media visibility.
Premium digital video and a strong social media presence supported the campaign, with eight NBPA members promoting the activation.
Results: Beyond engaging fans locally with an activation that adhered to strict health and safety protocols to connect safely with close to 2,500 fans, the NPBA saw positive results across its digital and social engagement opportunities during the activation. OOH media generated more than 1 million impressions during the 14-day activation period, in addition to 818K mobile device impressions from a companion geo-fenced mobile marketing campaign, and reached more than 8 million social followers.
The video content combined for 415,000 views across social media during the two-week campaign and a benchmark-breaking average engagement rate of 3% (representing a 6% increase vs. all NBPA content posted the previous month). Players' social posts saw an even higher average engagement rate of 15%. NBPA 450 Gives spurred growth on NBPA social channels, with Instagram seeing an increase in followers of 1,237 during the campaign, exceeding the average weekly growth by 96%. More than 5,000 fans visited the microsite for their chance to win one of the daily giveaways. The activation also generated positive sentiment for our members and partners. Overall, NBPA 450 Gives increased cultural relevance for sponsors while deepening fans' connection to players and creating memorable moments for fans in NYC and beyond.