🎉

2022 Shortlist
NBPA REFURBISHMENT OF RUCKER PARK, HARLEM
Entrant: NBPA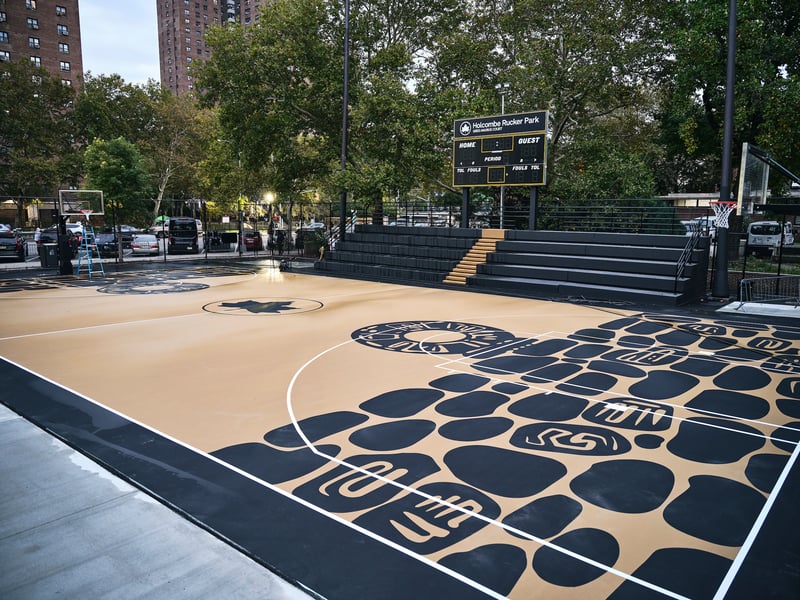 ABOUT THIS ENTRY
The National Basketball Players Association (NBPA) partnered with NYC Parks to completely renovate the Greg Marius Court at Holcombe Rucker Park in New York City's Harlem neighborhood.
Funded by the NBPA, the renovation of the legendary basketball court included the repair and leveling of the court's pavement, the replacement of the bleachers, backboards and baskets - custom made and provided by Spalding, and scoreboard, the addition of a new recreation position to provide ongoing programming at the park and NYC Parks' nearby Jackie Robinson Recreation Center in connection with the NBPA, NBPA Foundation and our brand partners.
The project included a ribbon-cutting community celebration event as well as live youth basketball programming with current and former NBA players on back-to-back weekends in October 2021.
How does this represent "Excellence in Engagement"?
The NBPA hopefully set a new industry standard for refurbishment projects and raised the bar for excellence in community engagement through our thoughtful and impactful revitalization of Rucker, which included a total overhaul of the space but also included a plan for ongoing upkeep, staffing infrastructure and continued community engagement through grassroots basketball programming featuring our members and brand partners.
Although there were challenges, we worked collectively with local event organizers, community boards, NYC Parks, and Rucker Legends and created authentic events without alienating any groups involved in the refurbishment.

To launch the court, the NBPA and Curry Brand hosted a Community Day celebration featuring a full line-up of elite HS games, youth clinics, local food, music, and customized apparel. Each winning team received $15,000 for local recreational centers in their neighborhoods.

Finally, the NBPA Foundation funded a 3-year park manager position who will be stationed at the nearby Jackie Robinson Recreation Center and oversee the upkeep of Rucker and work closely with the NBPA and partners to execute ongoing community programming.

Hopefully our efforts will inspire other brands to look at community engagement with a long-term view, leading to more impactful programming and strategies to support communities in need.
Objective:
Basketball courts across the country are often more than just playing fields. They serve as essential community gathering places, and there are few courts more well-known and rooted in the local community than Rucker Park in Harlem, NYC. The urban playground game is a rite of passage for basketball players growing up in NYC, and Rucker Park is one of the most historic and iconic playground courts where the best players from around the world come and compete to make a name for themselves.

Together with our partners, we produced a series of 'launch events', a community celebration, and games that honored the revitalization of the most historic playground court in the world. These activations showcased our commitment to supporting the Harlem and NYC basketball communities by improving and providing support and programming for safe spaces to play.

The project included thoughtfully designed activities that unite player passions with community impact, driving brand relevance and creating a lasting legacy that celebrates the past, present, and future of Rucker Park. The NBPA and our partners provided the following to the Harlem community: updated and safe court refurbishment, product donations, NBPA-hosted grassroots basketball programming featuring NBPA members' appearances with our partners.
Strategy & Execution:
The Rucker refurbishment legacy project supports local community basketball by providing a safer gathering space for youth coming out of the pandemic. Our goal was to provide benefits to the Harlem community through our investment in the court, making a lasting impact for years to come.

In addition to high-profile launch events, we designed with apparel partners Legends and Rucker Brand a limited-edition NBPA capsule collection for retail/gifting, featuring statement pieces to celebrate the revitalization of Rucker.

We produced an episodic content series, 'Future Legends', which chronicles the past, present, and future of legendary Rucker. The series showcased Rucker's iconic past and future and featured the first game played with local high school players, providing them with a unique opportunity to experience Rucker.

Repairs were made to improve the playing environment for future athletes to enjoy Rucker including new pavement, custom NBA arena style backboards, a new scoreboard, bleachers/team benches with wheelchair accessible seating, fencing and unique court artwork designed by A$AP Ferg, (Harlem resident/entertainer/artist). All these upgrades were strategically developed to help reestablish the park as a state-of-the-art basketball venue that will attract the modern sports fan, athletes and brands to return to Rucker for years to come.
Results:
We achieved successful engagement with the Harlem community, our brand partners, media outlets and contributed to the overall infrastructure for NYC basketball by repairing a public play space that will be safe and enjoyed by future generations of players and fans.

We purposefully sought out black-owned business partners, local vendors, and partnered with Holcombe Rucker's family to produce consecutive weekends of authentic programming during October 2021, featuring youth clinics, skill training, an elite tournament, and a community festival underwritten by national brand partners Spalding, Curry Brand, Legends and NBA2K22. Ongoing youth basketball and community programming will continue at Rucker in Spring/Summer 2022 with our brand partners.

We received support from major outlets including an exclusive front-page print and online editorial from the NY Times. The Boardroom, Bleacher Report, USA Today, ESPN, Sports Illustrated, NY Daily News, ABC News, Sports Business Journal, Yahoo Sports, Front Office Sports and CBS News also covered this project.

Social posts (88) amplified the project including NBA players, influencers and brands including Stephen Curry's Instagram live broadcast, Julius 'Dr J' Irving, A$AP Ferg, Set Free Richardson, Curry Brand, Legends, Rucker Brand, NYC Parks generating over 3M impressions from 103K total engagements, averaging a reach of 326K.
Production
The National Basketball Players Association (NBPA) and THINK450, partnered with NYC Parks, Spalding, Legends, NBA2K22, The Rucker Brand, NBPA Foundation, Curry Brand, 11 Ounces agency, ACE Surfaces to refurbish the iconic Rucker Park, Greg Marius Court in Harlem.
Credits
Michele Roberts
Former Executive Director
National Basketball Players Association (NBPA)
Chris Jean
Sr. Director, Grassroots Basketball & Business Development
THINK450
Dan Gladstone
Senior Vice President, Business Development & Grassroots Basketball
National Basketball Players Association (NBPA)
Clarence Nesbitt
General Counsel
National Basketball Players Association (NBPA)
Que Gaskins
Interim President (THINK450) and Chief Brand & Innovation Officer (NBPA)
THINK450 & National Basketball Players Association (NBPA)
Sherrie Deans
Former Executive Director
NBPA Foundation
Lyzz Ogunwo
Interim Executive Director
NBPA Foundation
Khadija Campbell
Integrated Marketing Manager
THINK450
Keisha Wright
Vice President of Integrated Marketing
THINK450
Christina Norman
Head of Content
THINK450
Elle Hagedorn
Director, Media Relations & Communications
National Basketball Players Association (NBPA)
Niveen Rasheed
Director, Brand Communications
National Basketball Players Association (NBPA)
Kiran Prakash
Associate Manager, Communications and Media Relations
National Basketball Players Association (NBPA)
David Bokil
Senior Full Stack Web Developer
National Basketball Players Association (NBPA)
DaRaun Crawford
Art director + Senior designer
National Basketball Players Association (NBPA)
Latoya Sterling
Chief of Staff
National Basketball Players Association (NBPA)
Dan O'Brien
Director, Sport Medicine and Research
National Basketball Players Association (NBPA)
Nadira Ramratan
Director Of Operations
National Basketball Players Association (NBPA)
Shayne Eisenman
Senior Operations Coordinator
National Basketball Players Association (NBPA)
Patrick Tulloch
Operations Coordinator
National Basketball Players Association (NBPA)
Mike Chappell
Facility Engineer Operations
National Basketball Players Association (NBPA)
Kayla Randall
Professional MBA Candidate
Florida A&M University
Andrew Godnick
Coordinator, Brand & Player Engagement
THINK450