🎉

2022 Shortlist
NFL Super Bowl LVI Commercial |Bring Down The House
Entrant: NFL
NOMINEE ✨
Best Integrated Marketing Campaign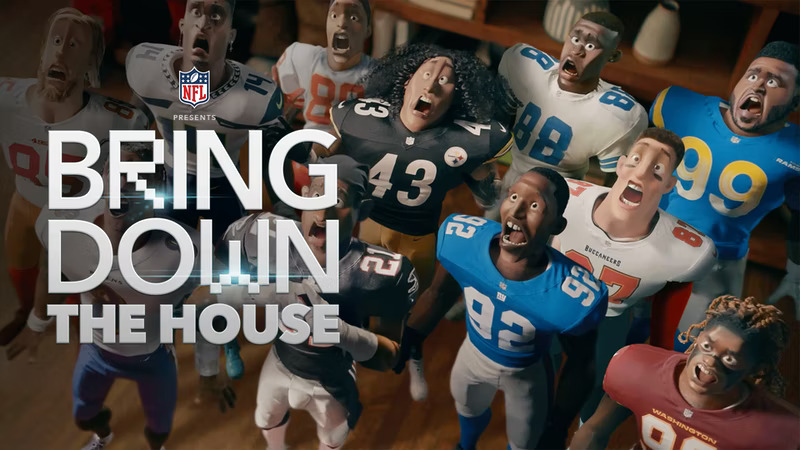 ABOUT THIS ENTRY
With Super Bowl LVI held at SoFi Stadium just blocks away from Hollywood, the NFL used movie magic to end the biggest season ever with an epic bring-down-the-house celebration. Made in partnership with creative agency 72andSunny Los Angeles, the NFL reminds all about the joy that comes from the game of football. Utilizing a true blockbuster blueprint, we enlisted renowned Director, Peter Berg (creator of the epic "100-Year-Game") and worked alongside film and television production studio, Swaybox to bring to life a new medium of storytelling by blending real world puppetry and human physicality with proprietary compositing technology.
Utilizing a mixture of traditional and new outlets - including social, digital (Roblox), innovative OOH (SoFi rooftop) and more - Bring down the House was the most integrated NFL marketing campaign to date.
How does this represent "Excellence in Engagement"?
We successfully utilized elements of Bring down the House to meet our key audiences where they already live and consume, telling stories and extending the lifeline of the spot in ways that were highly engaging especially among younger audiences on TikTok and Instagram.
Additionally, we found new and innovative ways to both promote and extend this spot through a variety of mediums, engaging our fans like never before: through gaming experiences, physical experiential activations, AR, and even SoFi Stadium's LED rooftop.
Objective: Extend the life of our TV brand spot through innovative extensions and story telling before, during and after the commercial aired at Half Time of Super Bowl LVI.
Celebrate the end of the NFL's biggest season with an epic end-of-season campaign, reminding fans all about the game and joy of football.
Tap into both current players and legends to deepen player affinity with fans.
Strategy & Execution: We broke the campaign into 3 phases with distinct strategies for each:
Phase I The Lead In to Super Bowl LVI
Created awareness, hype and intrigue around the full spot, building anticipation for tune-in. We achieved this through the roll out of 5 teaser spots, 6 original social teasers, gaming integration and earned media.
Phase II During Super Bowl LVI Halftime
Broke through the clutter of the game, halftime show, and other ads to drive real-time conversation and engagement with the spot. We did this through in-game arena integration, as well as a national AR lens on Snapchat.
Phase III Post Super Bowl LVI
Extended the life of the spot by leveraging additional material and strategically drove 1on1 engagement with our fans. We did this with custom packaged social content optimized for emerging platforms, and via real life physical experiences.
Results:
18.9M
Total Views of 2:00 spot +200% YoY
220+
Total PR Hits
Including USA Today, AdAge & SBJ
58M
Total Organic Social Impressions*
+182% YoY
726M
Total Media Impressions
Across social, digital, NFLN, institutional
Snapchat National Lens
•Total Impressions: 23,570,822
Nearly 300K users completed the Destruction House experience on Roblox
Recognized by USA Today Ad Meter as the 8th best Super Bowl commercial (out of 64)
NICK slimetime: •Reach across 10 airings: 944K P2+; 344K P2-17
To offset limitations of the full spot (16x9 export only), created unique BTS content for TikTok.
•4M+ reach
Production
NFL
72andSunny
Swaybox Studios
Credits
Tim Ellis
CMO
NFL
Marissa Solis
SVP, Global Brand and Consumer Marketing
NFL
Rhett Nichols
VP, Global Brand & Consumer Marketing
NFL
Samantha Stuckert
Sr. Director, Global Brand & Consumer Marketing
NFL
Jackie Finn
Global Brand & Consumer Marketing
NFL
Lucy Hallowell
Sr. Manager, Advertising and Production
NFL
Ian Trombetta
SVP, Social & Influencer Marketing
NFL
Rich Elmore
VP, Player & Club Social Marketing
NFL
Josh Tucker
VP, Social Marketing
NFL
Tony Isetta
Sr. Director, Creative Marketing
NFL
Justin Anderson
Director, Social Content
NFL
Erin Schaffner
Sr. Manager, Social Video
NFL
Jack Farrow
Social Lab Video Editor
NFL
Zachary Laurence
Live Content Correspondent
NFL
Trevor Penick
Social Lab Video Editor
NFL
Bryce Gustafson
Director, Social Programming & Integrated Sponsorship
NFL
Scott Koppenhaver
Sr. Manager, Social Content
NFL
Kylie Callura
Manager, Social Content
NFL
Grant Floto
Analyst, Social & Influencer Marketing
NFL
Glenn Cole
Founder
72andSunny
Katie Martin
Brand Director
72andSunny
Nicole Haase
Group Production Director
72andSunny
Shane Chastang
Group Brand Director
72andSunny
Nate Virning
Creative Director
72andSunny
Tanya Zaccaro
Film Producer
72andSunny
Zach Hilder
Executive Creative Director
72andSunny
Kristin Barker
Communications Strategy Director
72andSunny
Devin Baker
Global Creative Director
72andSunny