🎉

2022 Shortlist
NHL Bound
Entrant: Arizona Coyotes
Winner 🏆
Excellence in Black Storytelling
NOMINEE 3x ✨
Diversity, Equity & Inclusion in Sports
Best Engagement for Good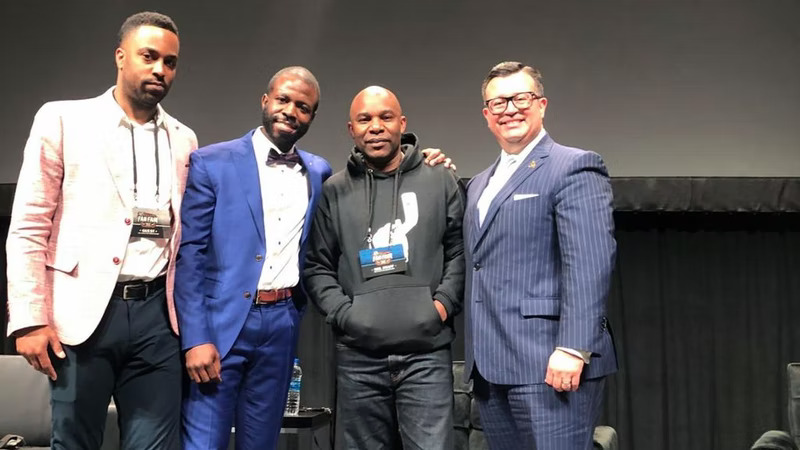 ABOUT THIS ENTRY
'NHL Bound' follows Duante' Abercrombie and Nathaniel Brooks, two Black hockey coaches chasing their dream to work in the NHL. The weekly series chronicles their participation in the Arizona Coyotes' first-ever coaching internship program, dedicated to creating a deeper pool of diverse talent. Viewers got a behind-the-scenes look at the Coyotes' management and coaching staff operations as well as Abercrombie and Brooks' personal dedication, sacrifices, and passion for shattering stereotypes and earning their place behind an NHL bench.
How does this represent "Excellence in Engagement"?
This coaching internship program, and corresponding original content series was a valuable data point for other organizations that proves when you lead with Purpose and Inclusivity, Impact and Engagement, both with core audiences, and audiences in waiting, soon follows.
Objective: The unique coaching internship program, the first of its kind in the NHL, that the team launched to help promote diversity within the sport, and provide young diverse hockey coaches came with an opportunity to learn and develop by working with the team's coaching, training and development staff was the North Star. By developing the series, we hope, the program will not only serve as a launching pad for the two coaches involved, but for other Black coaches who dream of being behind an NHL bench.
Strategy & Execution: By working directly with Coyotes Head Coach André Tourigny and his coaching staff during Development Camp, Duante and Nathaniel got a hands on deep-dive in to the machinations and day-to-day of a professional hockey organization at they got ready for the upcoming season. Being the first program of its kind in League history, the original storytelling that stemmed from the camp was equal parts inspirational and unprecedented. The series itself rolled out over four weeks, initially premiering on the NHL YouTube page, before being picked up as a full piece of long-form original content by ESPN+.
Results: The engagement we saw both in the local and regional Greater Phoenix community, and on a national level was so encouraging that the organization is looking to continue the program on an annual basis. Media coverage about both the program itself and the series scaled across regional daily newspapers (Arizona Republic) all the way to national multi-media outlets (ESPN, Black Enterprise). Additionally, the series finale was premiered at the Phoenix Suns home arena, the Footprint Center in downtown Phoenix, where both coaches, Xavier Gutierrez, our GM Bill Armstrong, and the film's director Kwamé Damon Mason sat down in a panel format to discuss the importance of growing hockey in underserved communities, and to amplify the positive effects that this program could have in these communtiies for years to come.
The works: