🎉

2022 Shortlist
NHL #STANLEYTWEETS
Entrant: Twitter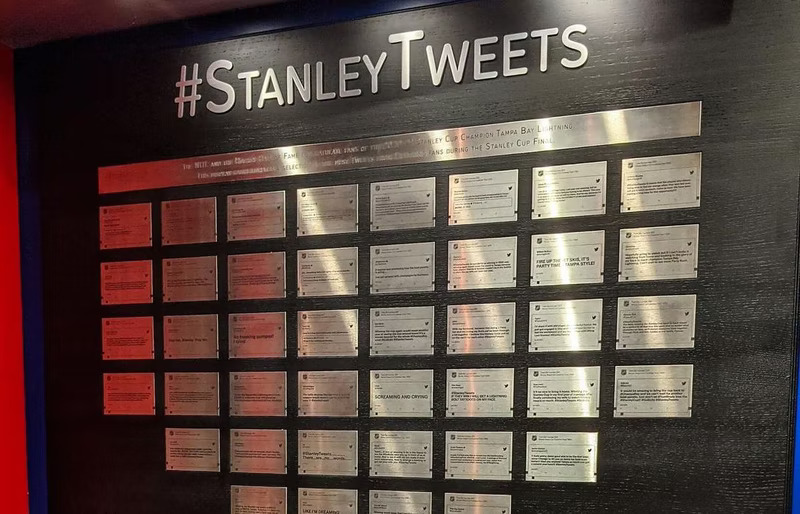 ABOUT THIS ENTRY
For 129 years, the names of the Stanley Cup winning team's players and staff have been engraved on the Stanley Cup trophy each season. This year, for the first time ever, fans of the championship team had the opportunity to have their name recognized. Fans had a chance for their Tweet to be enshrined with the Stanley Cup trophy as an official installation at the Hockey Hall of Fame in Toronto, and other special places.
How does this represent "Excellence in Engagement"?
It's well documented that players and coaches are putting blood, sweat, and tears into bringing the Stanley Cup home. But fans are their alongside: Tweeting, tuning in, cheering, and staying engaged with their favorite team and players throughout the season, through all the ups and downs. This was a fantastic way to memorialized the fans' dedication and passion for their team. This is the first time that Tweets have been showcased in the Hall of Fame (in any sport) and we're hopeful it's not the last!
Objective: The most coveted and historic trophy to win in all of sports is the NHL's Stanley Cup (and also the only major trophy with a Twitter account!) Twitter and the NHL wanted to find a way to recognize the fans for the endless dedication it takes to support a team all the way through the playoffs to hoist Lord Stanley. The goal was to create an entirely new way to personally recognize fans on Twitter, like only the Stanley Cup can.
Strategy & Execution: For the first time ever, fans of the Championship team had the opportunity for their Tweet to be enshrined in the Hall of Fame. Fans were invited to Tweet (in multiple languages) and tell the NHL what winning the Stanley Cup would mean to them. There were calls to action on Twitter from the NHL, StanleyCup, both final teams (Montreal and Tampa Bay) as well as various hockey personalities. There were also dedicated #StanleyTweets TV spots running throughout the finals on NHL Network and 15 sec in-game broadcast integrations including CTA read from play-by-play announcers. All TV sports featured a new use of Twitter QR codes, enabling fans to scan the TV spot with their phone and automatically open Twitter to compose their #StanleyTweets submission.
Results: 52 Tweets (to honor the 52 names etched on the Stanley Cup itself) were selected and are now on display and part of hockey history in the Hockey Hall of Fame. Fans also received a care package that included a plaque with their unique Tweet that now hangs in the Hall of Fame.
1000+ unique #StanleyTweets submissions were Tweeted per game
+25% YoY increase in Stanley Cup Finals conversation
122% more positive sentiment within #StanleyTweets vs general NHL Tweets
Fans have even traveled to the Hockey Hall of Fame to see their Tweet memorialized in person.