🎉

2022 Shortlist
Oakland Forever presented by Rakuten
Entrant: Rakuten
Winner 🏆
Best in Direct-to-Consumer or Social Commerce
NOMINEE 2x ✨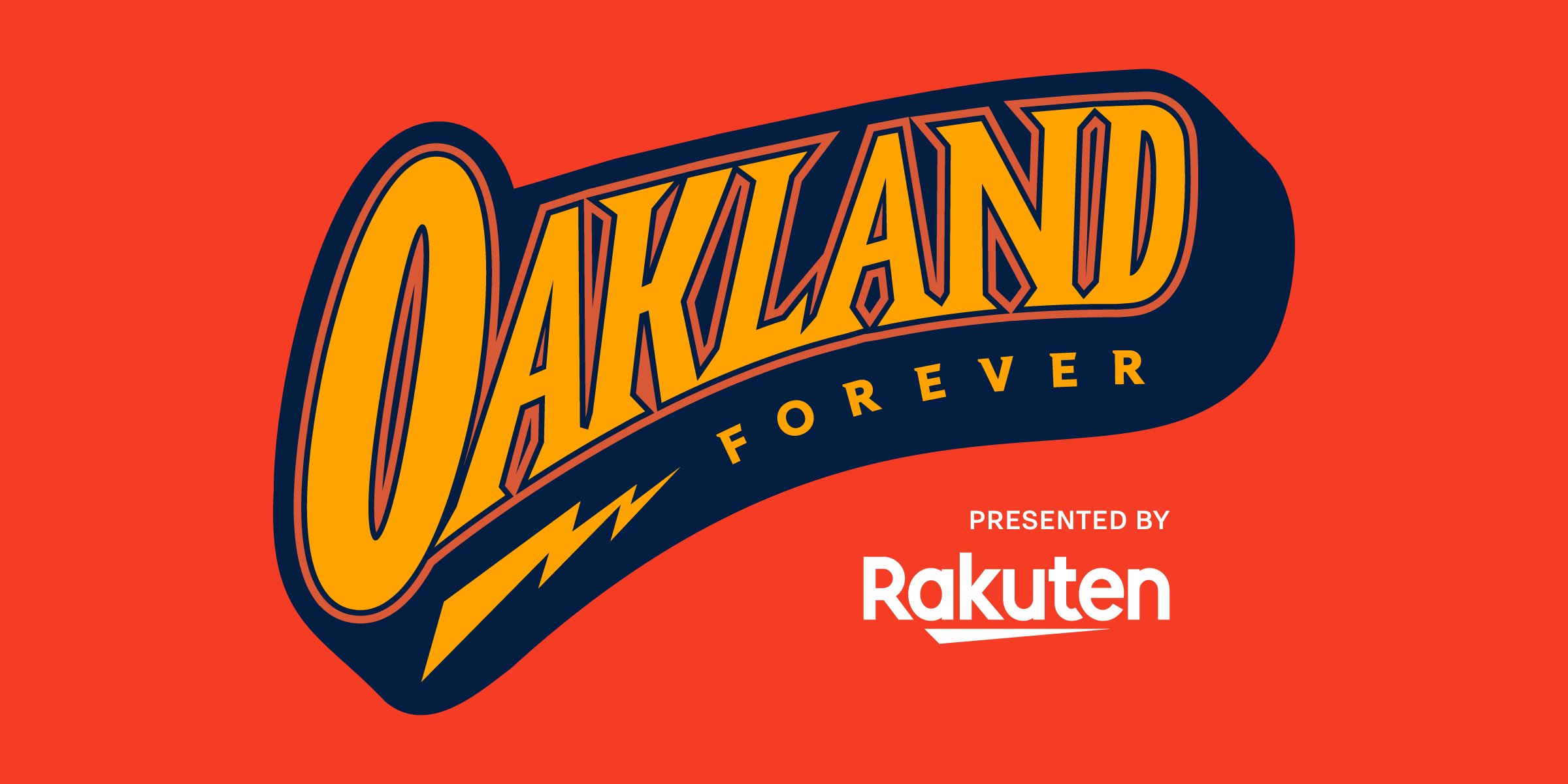 ABOUT THIS ENTRY
Rakuten and the Warriors partnered on a 360 degree, season long platform built around the Warriors jersey badge sponsorship and the We Believe era of Warriors history. The Oakland Forever platform extended across social, digital, retail, and more leading to business driving results for both parties.
How does this represent "Excellence in Engagement"?
The jersey badge is the highest performing asset for Rakuten's brand awareness metrics, but Rakuten wanted to challenge the perception and prove that Rakuten is more than just a logo on a jersey.
The Oakland Forever platform exemplified many best practices around a cohesive use of assets to generate ownable season-long engagement. The multifaceted campaign had tactics that leveraged nostalgia to encourage engagement and built storytelling around the jersey, creating a natural brand association for Rakuten. The gift with purchase sales incentive program also highlights a true symbiotic partnership between Rakuten and the Warriors that drove business results for both parties. The Oakland Forever platform is a great example of how brands and properties can create an ownable platform that hit upper marketing funnel brand KPIs and guide fans towards lower funnel brand results building around already ownable assets.
Rakuten and the Warriors have built off this platform model for the 2021-22 season and are continuing to see great success with the current platform execution.
Objective: Rakuten entered their 4th year as the Golden State Warriors jersey badge partner and established a solid brand awareness foundation due to this asset. To amplify the partnership further, Rakuten and the Warriors collaborated on a 360-degree integrated marketing campaign around the 2020-21 City Edition Jersey to build the Oakland Forever presented by Rakuten platform. The jersey, court, and the platform paid homage to the "We Believe" era in Warriors history and the many years the team spent in Oakland.
The platform was a collaborative effort to optimize the use of Rakuten's assets to create an ownable program for Rakuten. The jersey badge is Rakuten's most visible asset and a platform built on the City Edition jersey provided an authentic story that Rakuten's assets could bring to life.
The core objectives included:
• Continue to deepen Rakuten's credibility amongst Warriors fans
• Create an integrated marketing plan with the Warriors that effectively utilizes and connects Rakuten's sponsorship assets
• Establish measurable behavior for Warriors fans shopping at Warriors Shop using Rakuten
• Collaborate with GSW and GSW partners/vendors to create a memorable initiative in the community
Strategy & Execution: Elements of Rakuten and the Warriors' shared values were weaved throughout the campaign to bring joy and nostalgia to fans. As a member of the We Believe team, Rakuten Global Brand Ambassador Stephen Curry was used to amplify the campaign.
The Warriors and Rakuten partnered with local retailer, Oaklandish, on a limited-edition Oakland Forever line with two exclusive SKUs created for Rakuten's gift with purchase promotion. A hoodie and a long sleeve shirt were the exclusive SKUs that were only available for fans who made a $25+ purchase at Warriors Shop using Rakuten. The retail campaign was amplified with an influencer program. This collaboration offered a new way to drive Rakuten and Warriors business metrics.
The Oakland Forever platform also allowed for the Warriors and Rakuten to support the Oakland-based community through a court refurbishment for the historic McClymonds High School. The court was redesigned to honor the basketball legacy of MCHS and its alumni while giving them a newly designed court/gym to play on for years to come. Rakuten worked with the Warriors Community Foundation and MCHS leadership to give one deserving student a $10k scholarship and gifts from Rakuten to help her on her journey to college.
Results: Oakland Forever presented by Rakuten achieved results that drove both top of the funnel awareness, buzz, and significantly impacted Rakuten business metrics including site visits, sign-ups, sales, and first-time users.
Social:
• 84.7M impressions, 9.3M engagements, 28.1 video views (per simply measured)

Publicity:
• 1.4B publicity reach, $26.8 publicity value (per critical mention)

McClymonds Court Refurb:
• Publicity – 44.9M publicity reach, $1.4M publicity value (per critical mention)
• Social – 291k Impressions, 5.8k engagements, 35k video views

Retail:
• 639% increase in buyers at Warriors Shop through Rakuten between the 2019-20 season and the 2020-21 season
• Oakland Forever contributed to 95% of buyers and orders at Warriors Shop
• 5,491 new Rakuten buyers
The Works: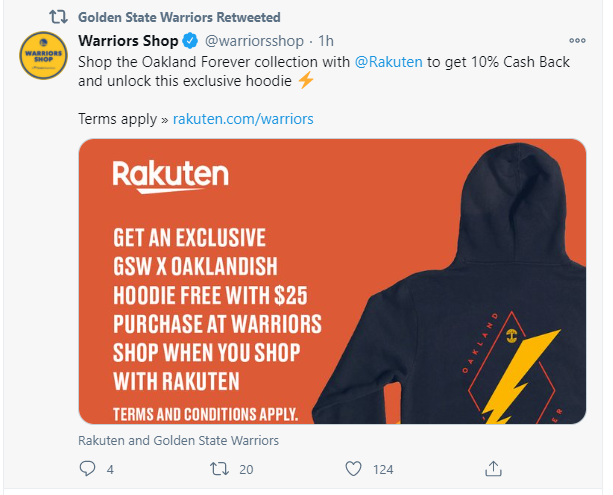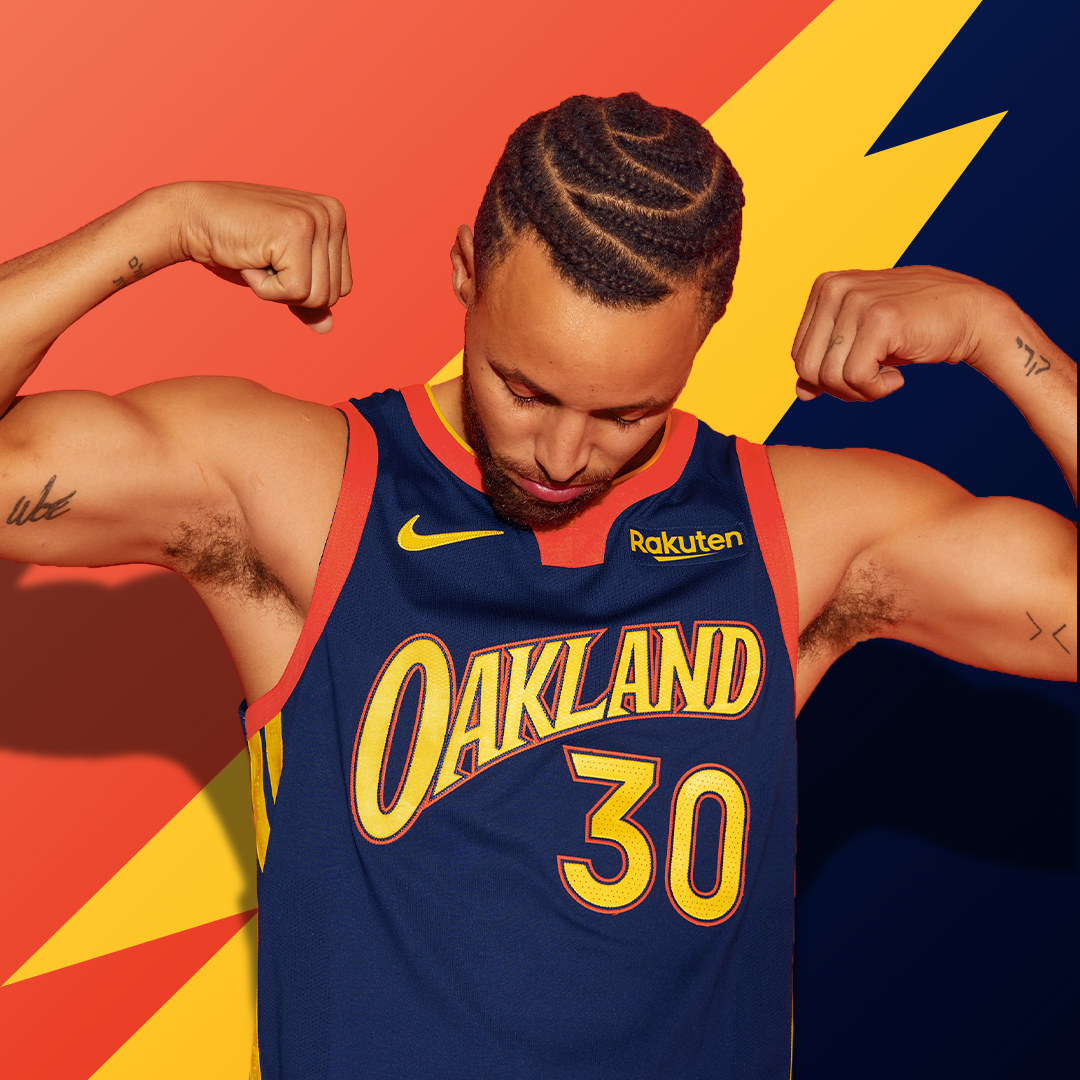 Production
Rakuten
GMR Marketing
Golden State Warriors
Credits
Jas Le Compte
Manager, Sports & Entertainment
Rakuten
Ryan Washatka
SVP, Sports & Entertainment
Rakuten
Rhea Wadia
Director, Sports & Entertainment
Rakuten
Julia Ferdinand
Hospitality Manager, Sports & Entertainment
Rakuten
Jon Bach
Vice Manager, Strategic Initiative, Global Partnership Activation Dept.
Rakuten
Ashlee Tsukushi
Account Supervisor, Client Consulting + Services
GMR Marketing
Peter Aiello
VP, Client Consulting + Services
GMR Marketing
Drew Heist
Senior Account Director, Client Consulting + Services
GMR Marketing
Adam Lewis
NBA Property Marketing Manager (currently Google)
GMR Marketing
Katie Stockberger Jones
Director, Partnership Development
Golden State Warriors
Gabi Iniguez
Coordinator, Partnership Development
Golden State Warriors
Amanda Chin
Vice President, Brand Marketing
Golden State Warriors
Kendra Miller
Senior Marketing Manager
Golden State Warriors
Andrea Collins
Manager, Marketing
Golden State Warriors
Jeff Knepp
Senior Manager, Team Retail Operations
Golden State Warriors
Leah Johnson
Marketing Coordinator
Golden State Warriors
Hannah Avdalovic
Manager, Social Media
Golden State Warriors
Blake Wilberding
Senior Director, Production
Golden State Warriors
Kassidy Iwashita
Snior Producer
Golden State Warriors
Jason Lim
Senior Director, Design
Golden State Warriors
Saif Amath
Senior Graphics Designer
Golden State Warriors
Jason Lindeman
Design Manager
Golden State Warriors
Serena Marini
Graphic Designer & In-House Photographer
Golden State Warriors
Len Kori
Graphic Designer
Golden State Warriors
Sean McCabe
Senior Graphic Designer
Golden State Warriors
Ed Ntiri
Copywriter
Golden State Warriors
Evan Schwartz
Director, Philanthropy
Golden State Warriors
Kimberly Veale
Senior Director, Corporate Communications
Golden State Warriors