🎉

2022 Shortlist
#Overcome
Entrant: Rapid Peaks
NOMINEE 2x ✨
Best Brand Sponsorship

Best Athlete Storytelling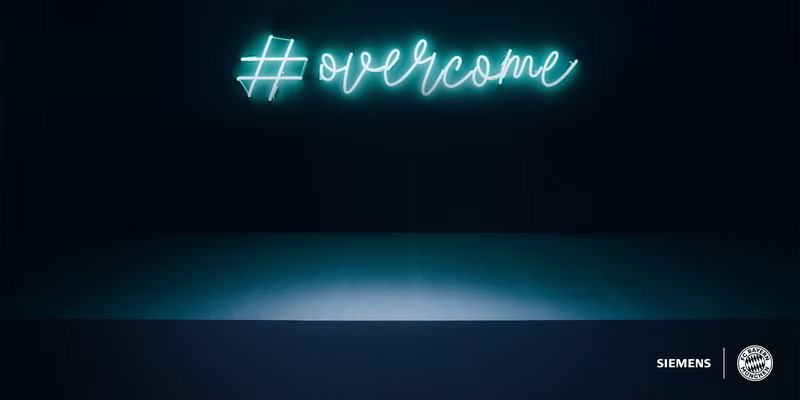 ABOUT THIS ENTRY
Overcome by Siemens is a stage for seven FC Bayern protagonists, shedding light on the biggest challenges of their lives. Their stories strengthen socially relevant topics – and inspire our audience never to give up, no matter what challenges they have to #Overcome.
How does this represent "Excellence in Engagement"?
Overcome goes far beyond conventional sponsorship. All our protagonists' stories reflect challenges and experiences many fans have faced or will face at some point in their lives. This way, our campaign not only encourages every single one of us to #Overcome but also addresses important topics such as integration, inclusion, recovery, diversity, and equality.
Given the multi-moment world we all live in, our biggest challenge with #Overcome was to fully immerse our always-on audience with our protagonist's inspiring stories. Our answer to that challenge: lights out, spot on! All #Overcome episodes were initially published on our campaign website, where the clips only played if users dimmed the lights around them beforehand. This way, we cut out all distractions and enabled our audience to really engage with their idols.
Objective: The partnership between Siemens and FC Bayern Munich has been in place since 2017. Until the current season, Siemens has relied primarily on data-driven storytelling in the sponsorship's activation. Successful campaigns such as #ReimagineTheGame, the #FCBayernPulse, and the #HeartBeatFinal utilized statistics and other data points to visualize the fans' relationship with the game.
For the 2021/22 season, Siemens looked for an emotional campaign focusing on purpose and social sustainability. In challenging times, the company wanted to leverage its partnership to convey bold messages of encouragement to target audiences and raise awareness for social issues.
Strategy & Execution: Siemens has committed itself to the sustainable development of society. With #Overcome, we aimed to "create what people care about" by tackling critical social issues. Accordingly, we chose all protagonists and their stories to advocate for social impact and support Siemens' DEGREE sustainability framework.
To put the whole focus on their stories, Siemens and FC Bayern stepped behind the curtains, allowing seven personalities to take center stage.
Unlike what you would expect from media-savvy stars, our protagonists shared personal experiences. Their strong belief in the idea and effort of #Overcome contributed significantly to the campaign's success. Former NBA player Paul Zipser and French international soccer player Dayot Upamecano shared stories they've never talked about before.
With the spotlight on such intimate moments, #Overcome certainly deserved all the attention in the world. But with screen time and distraction skyrocketing in a multi-moment society, engaging our audience with our campaign presented a real challenge. Our idea: After leading fans to our campaign hub through social media assets, PR strategy, and digital boards in the stadiums of FC Bayern and FC Bayern Basketball, we asked them to dim their lights before watching the episodes. The effect: viewers fully immersed themselves in the stories.
Results: So far, #Overcome has reached over 75M people, with more than 220,000 total engagements worldwide. 316 % and 252 % raises, respectively, compared to last year's campaign. To us, these numbers indicate the relevance of our social impact storytelling.
But even more importantly: #Overcome gained momentum. People and players shared their own stories in the comments, or on their private social media channels.