🎉

2022 Shortlist
Pepsi x Made For Football Watching
Entrant: The Strategic Agency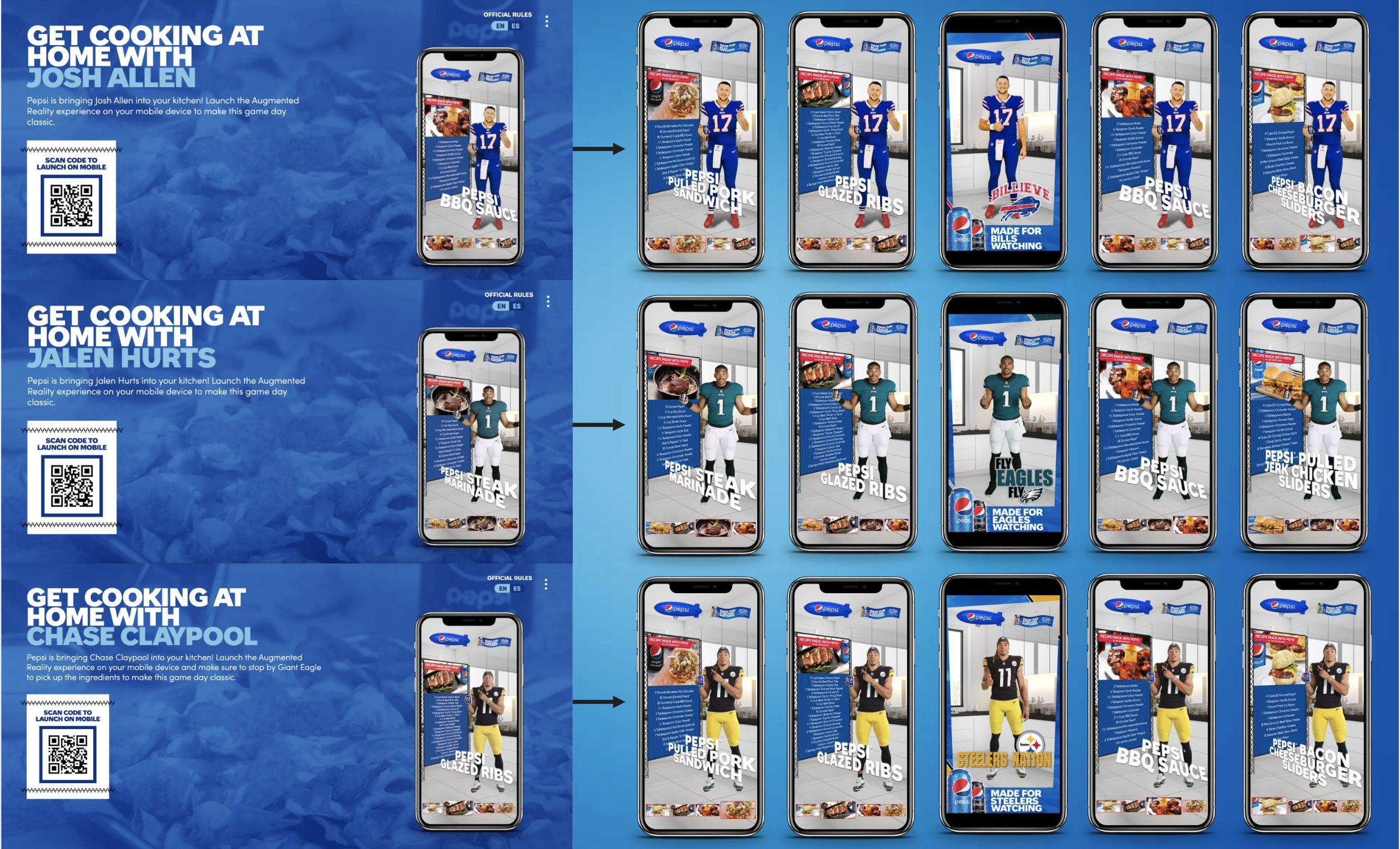 ABOUT THIS ENTRY
As the 2021 NFL Football season approached, Pepsi wanted to go above and beyond to help football fans reignite their passion for game day rituals, because Pepsi knows that football fans don't just watch football. They live it.
It's what turns three hours on game day into something worth talking about all week long. It's more than just Football watching.
To support Pepsi's Made For Football Watching Campaign, we developed a recipe-centric Augmented Reality experience.
Features included:
Updated weekly recipes (for 10 weeks)
8 NFL teams & 8 NFL stars
Teaching fans how to make delicious game day recipes with their favorite local NFL star right in their kitchen
An 'add to cart' feature to drive conversions at local supermarkets
A photo opportunity to 'pose-with-the-pros' and share your finished recipe
Enabling Pepsi drinkers to express their unapologetic joy for Pepsi and football
How does this represent "Excellence in Engagement"?
While the program certainly hit traditional marketing objectives (ROI, Sales lift, etc.), the program excelled at its core purpose - engagement - as demonstrated by the previously outlined metrics.
This AR Experience also showcased how a brand:
Listened to it consumers
Found success in unconventional metrics (recipe downloads & photo engagements)
Delivered YOY campaign performance
Seamlessly laddered up to a national campaign & drove strong local relevance
Pepsi went above and beyond during the 2021 NFL Season to provide fans the unique opportunity to cook gameday grub with NFL athletes right in their home, while exploring new ways to express their unapologetic joy for Pepsi.
These AR Experiences are a template for how brands can:
Leverage their sports partnerships
Leverage their athlete ambassadors
Extend their partnerships beyond the field of play
Build campaigns around rituals
Enhance local relevance on a regional scale
Drive effective consumer engagement and business performance.
Objective: During the 2020 NFL Season, Pepsi's Made For Football Watching Campaign featured many COVID friendly activations and content as fans were prohibited from attending games in person. One of the most popular items was their recipe content. Pepsi fans literally ate. it. up.
To capitalize on their 2020 momentum, Pepsi challenged us with these specific goals for 2021:
Deliver a unique AR Experience where consumers can make their favorite local game-day recipes with a player
Create an experience that can be updated weekly (minimum of 8 weeks)
Focus on Pepsi recipes, but leverage Pepsi's roster of NFL athletes
Drive recipe downloads
Fit the AR experience seamlessly into the overall Made For Football Watching Campaign
Strategy & Execution: At the heart of Pepsi's Made For Football Watching Campaign was the team-specific microsites where Pepsi hosted their exclusive prizing, digital content, and recipe content.
With QR Codes on Pepsi Packaging and digital content driving users to the team-specific microsites, our plan was to develop an AR Experience that fit seamlessly into these microsites, and could be accessed two ways:
The MFFW team microsites (mobile & desktop optimized w/QR Codes)

Paid Media assets that drove consumers directly to the AR Experience
The incentive of exclusive prizing was also a strong draw to get consumers to return to the microsites (2x on avg). To encourage fans to engage with the AR, the featured recipes in each experience were updated weekly. For example: in Week 1, Jets fans could cook Pepsi BBQ Sauce with Mekhi Becton, but in Week 2, fans could now cook Pepsi Glazed Ribs with Mekhi.
Additionally, the experience included an 'add to cart' feature for recipe ingredients to drive conversions at local supermarkets, a downloadable recipe card for those shopping in-person, and a photo opportunity to 'pose-with-the-pros' and share your finished recipe.
Results:
National Level
The MFFW Campaign exceeded the estimated number of registrants by 686% (4.39MM registrants) and total entries by 3.6% (40.5MM)
Pepsi's North Division
1.1MM site users (+465% YOY)
256K Entries
218% increase in engagements on the sites
1:40 average site duration
14.8 entries/user (higher than the national average of 9.2)
Augmented Reality
72,000 Total Events (clicks, touches, etc.)
23,000 Users
5,000 Photo Engagements
2,000 Recipe Downloads
:27 Average Session Duration
The Work: