🎉

2022 Shortlist
Pittsburgh Penguins and UPMC Healthcare Hero Spotlight
Entrant: UPMC
Winner 🏆
Best in Employee Engagement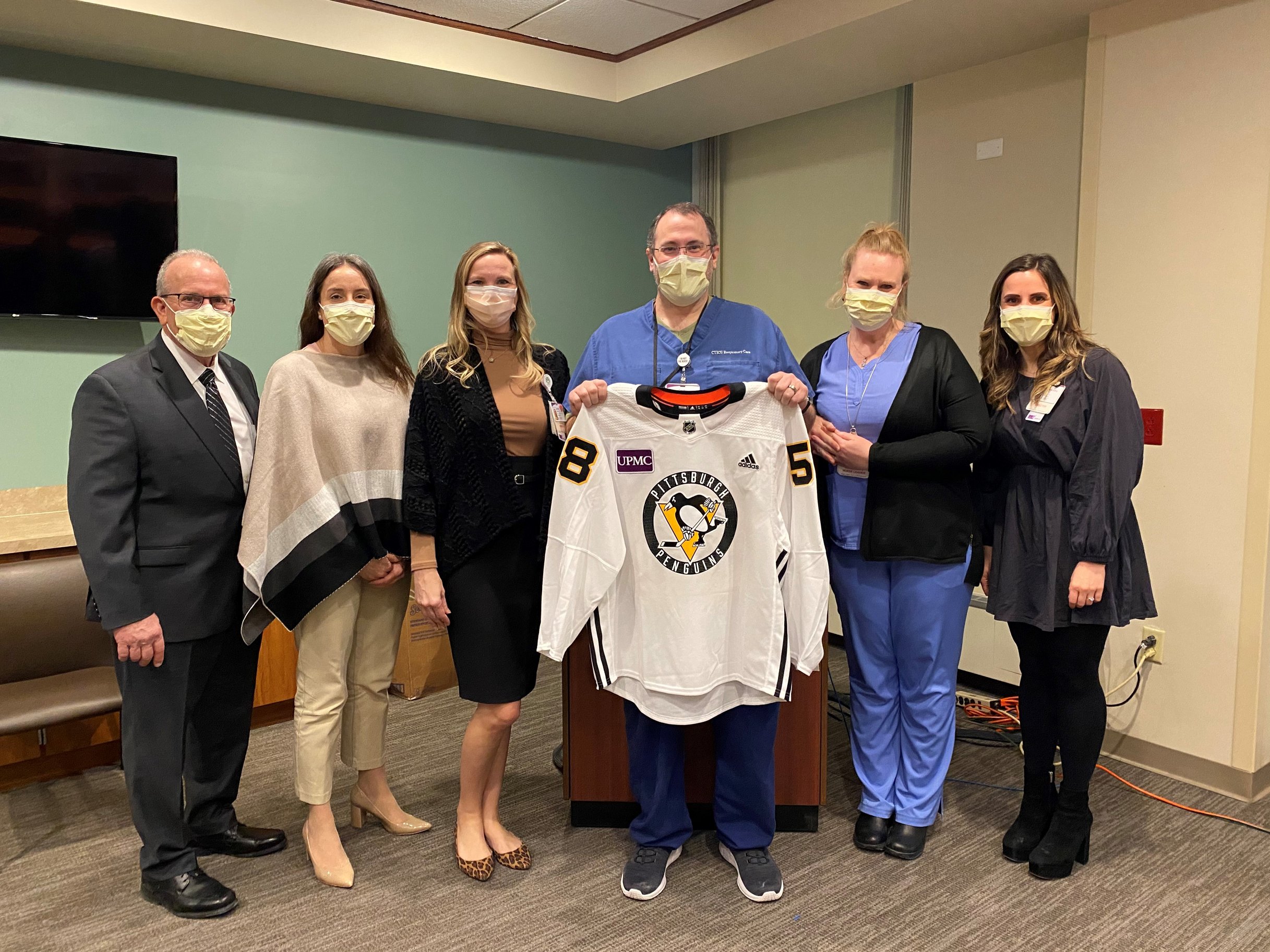 ABOUT THIS ENTRY
Leaders from across the UPMC hospital system were able to nominate employees for the Pittsburgh Penguins Healthcare Hero Spotlight recognition. Winners received a Penguins themed goodie bag including Penguins branded items, an autographed Penguins practice jersey and a handwritten thank you letter from a Penguins player. Employees were featured on the Pittsburgh Penguins Foundation's social media, in email blasts and local employees also received tickets to a Penguins game for them and their families. Winners were featured in the Puck Drop magazine which is produced monthly by the Penguins.
In total, 13 UPMC employees were recognized from February of 2021 to March of 2022 with one employee scheduled to be recognized in April. In addition, a Healthcare Heroes Appreciation activation night was created based on this concept.
How does this represent "Excellence in Engagement"?
The Penguins UPMC Healthcare Hero Spotlight program was a concept developed out of a need to go further than general thank you messaging throughout media buys and social media posts. The program allowed UPMC the opportunity to use our Penguins partnership to offer employees who went above and beyond during the most difficult times in their careers a unique experience to feel recognized by one of their favorite sports teams. The recognitions were able to be carried out through numerous months and were able to highlight areas of hospital staff the general public may not have realized are dealing with very difficult situations as well as the doctors and nurses.
There is a desire to continue to grow the concept of employee recognition into other partnerships and think of new and innovative ways to highlight the exceptional staff the UPMC hospitals and treatment centers have taking care of patients every day.
Objective: Throughout the COVID-19 pandemic, healthcare workers were faced with challenges they never could have anticipated. UPMC's employees worked tirelessly to take care of patients when they needed them the most.
Over the past year, UPMC worked with their sports partners to recognize and reward these employees for their unwavering commitment to patient care. Support was shown in the way of food donations, social media posts, internal thank you videos from their favorite players and coaches, and even a trip to the Super Bowl was given to four lucky UPMC employees by the Pittsburgh Steelers and the NFL.
The Penguins UPMC Healthcare Hero Spotlight was one of the most successful employee recognition programs throughout the pandemic.
This program gave our hospital leadership teams the chance to recognize workers who go above and beyond for their patients and who show courage, compassion, and dedication in the face of every challenge they face.
This program also allowed UPMC to showcase the incredible work done throughout areas of the hospital that may not always get recognized. Departments that most people don't think of like respiratory services, environmental services, food services and hospital operations were able to be highlighted along with doctors and nurses.
Strategy & Execution: UPMC takes pride in being the Official Healthcare Provider for many of Pittsburgh's favorite sports teams. This program was designed to utilize the affinity for the Pittsburgh Penguins and offer our outstanding employees with a unique experience that is more than just a "thank you". The program also gives Penguins fans a chance to put names and faces to the employees who are tasked every day with taking care of people's loved ones and bring a more human aspect to UPMC.
The Healthcare Hero Spotlight concept was turned into an activation night with the Penguins that was called Healthcare Heroes night and centered around recognizing UPMC's staff and other healthcare workers. A ticket discount offer was supplied for UPMC employees, UPMC's in-arena creative was changed to feature all of the hospital names throughout the UPMC system and a thank you message was recorded by the Penguins and UPMC's President and CEO, Leslie Davis. This activation night gave UPMC and the Penguins the opportunity to show their joint dedication to supporting our everyday healthcare heroes while reinforcing the Penguins and UPMC partnership.
Results: While employee morale can be difficult to measure, we hope that the Healthcare Hero Spotlight program will prove to be successful in the coming months and years. The employees who were nominated had small recognition ceremonies, many of which included their hospital leadership teams. This allowed employees to get face to face time with administration which they may not always get. We believe the program will help to keep top talent within the UPMC system because their work is being recognized in unique and special way.
The program was successful when reaching Penguins fans as well. 5,000 copies of the Puck Drop magazine featuring our Healthcare Hero Spotlight winner are delivered to fans each month. On Healthcare Heroes night, over 13,000 people were in attendance and the "Thank You" video recorded by the Penguins and UPMC had over 65,500 impressions, over 13,000 video views and 1,600 engagements.
In April of 2021, one of our Healthcare Heroes was featured alongside Sidney Crosby in the NHL's First Star of the week pulling in over 517,000 impressions across social media.
The works:
Production
UPMC
Pittsburgh Penguins Foundation
Pittsburgh Penguins
Credits
Doug Lucas
VP, Marketing Communications,
UPMC
Courtney Wrobel
Manager, Sports Partnerships
UPMC
Doug Gulasy
Writer
UPMC
Paige Hancher
Director, Partnership Marketing
Pittsburgh Penguins
Ross Miller
VP, Partnership Integration
Pittsburgh Penguins
James Santilli
Chief Experience Officer
Pittsburgh Penguins
Darya Snoznik
Program Coordinator
Pittsburgh Penguins Foundation
Jim Britt
Executive Director
Pittsburgh Penguins Foundation