🎉

2022 Shortlist
PLAYA SOCIETY X WNBA - POWERED BY WHO WE INSPIRE
Entrant: Playa Society
NOMINEE ✨
Best Women's Sports Partnership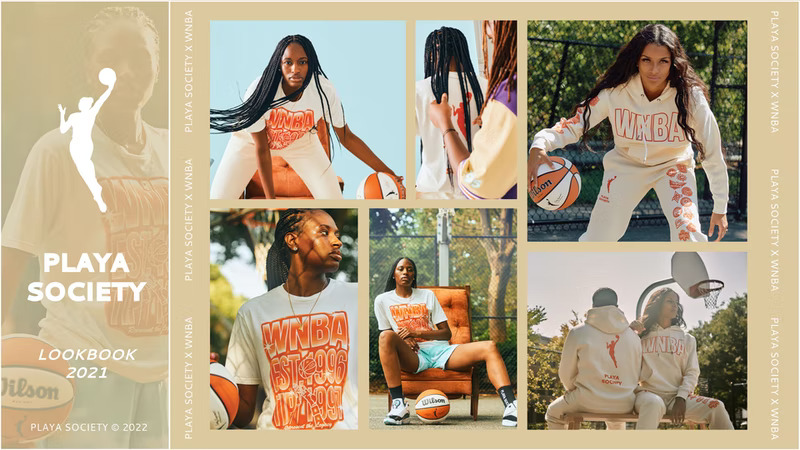 ABOUT THIS ENTRY
For the 2021 WNBA season, Playa Society launched its first officially licensed apparel collection for the WNBA. The initial campaign included a 5 piece collection and photo and video content. This small but powerful campaign lead to the collection selling out within 3 hours the day of the initial launch; plus 3 sold-out restocks in the three months that followed.
How does this represent "Excellence in Engagement"?
Playa Society's WNBA content across social media and email is dominated with requests for more -- more restocks of this collection; more new WNBA products; and more products within additional women's sports categories. Audiences across multiple platforms have engaged further by sharing their own content centered around the collection, including photos and videos, demonstrating a chain reaction with this campaign as it has encourage further engagement between fans and the WNBA.
Furthermore, in alignment with Playa Society's mission to "bridge the gap for women's sports", this campaign led to Playa Society features with Google, Marie Claire, and Essence Magazine. Not only were existing fans engaged throughout this campaign, but new fans and publications emerged.
Objective: The objective of this campaign was to create hype around the biggest WNBA merch release of the year; something the WNBA community had been waiting for. Playa Society wanted to use this first collection and campaign to highlight what the WNBA legacy truly represents. "A legacy is not just about one of us; or some of us. A legacy is about who we all inspire. There's a chain reaction for us to maintain. When we have the audacity to follow our dreams, someone sees that and it gives them the audacity to follow theirs. We are powered by that chain reaction; we are powered by who we inspire." (Quote by Esther Wallace, Playa Society Founder & Designer)
Strategy & Execution: This collection and campaign was a direct response to the requests and needs of modern women's basketball fans. The energy of this community was woven into the entire process from product to content.
The apparel within the collection was designed considering how modern women's basketball fans are all behind the WNBA no matter what team we root for. We want to see the game grow; we want to see league celebrated. So, Playa Society placed every team on the same hoodie with matching sweatpants; predominantly featuring the "oatmeal and orange" colors of the WNBA basketball. Playa Society then created an airbrushed t-shirt as a salute to the trends of the late 90's and early 2000's when the WNBA initially took off; a design that also features the years of the league's inception and tip-off.
The content supports the product, with visual story-telling of how one girl could be inspired by her idols in the WNBA, and inherently pass that inspiration on the next generation.
Results: Sold-out apparel collection within 3-hours
3 Sold-out restocks (and counting)
Continuation of Playa Society partnerships with the WNBA including teams and players
Sold-out Collection with the WNBA Seattle Storm
Playa Society brand growth (we hired our first employee, who will support Founder & Designer, Esther Wallace)