🎉

2022 Shortlist
SECOND SPECTRUM BY GENIUS SPORTS: POWERING IMMERSIVE BROADCAST EXPERIENCES
Entrant: Second Spectrum by Genius Sports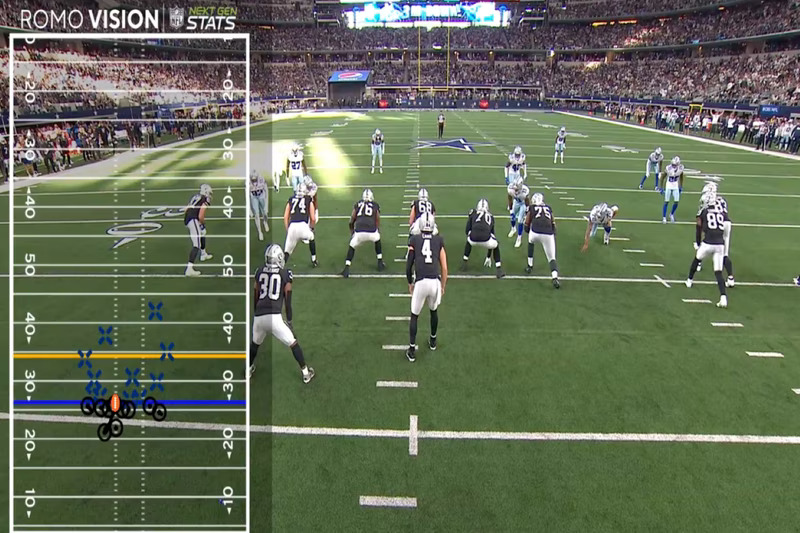 ABOUT THIS ENTRY
As a division of Genius Sports, Second Spectrum provides real-time video augmentation solutions. This technology is powered by machine-learning and uses optical tracking data to deliver live content for both linear and digital platforms.
Second Spectrum works in partnership with many of the biggest leagues and broadcasters in world sports. Its proprietary augmentation pipeline combines data live tracking with real-time rendering to produce highly engaging content and visualizations for the modern fan.
Since January 2021, in partnership with Marvel, ESPN and the NBA, Second Spectrum has delivered the first live augmented full game on linear TV. Alongside CBS, it has launched a transformative new RomoVision feature for star analyst Tony Romo, adding new levels of gamification to live NFL broadcasts.
Second Spectrum provides world-leading player and ball tracking technology. Powered by computer vision and cutting-edge AI, Second Spectrum's technology automatically tracks and delivers the precise coordinates of every player and the ball, 25 times a second. For its work with CBS, Second Spectrum also ingested the NFL's proprietary Next Gen Stats (NGS) feed.
Once the data has been captured, Second Spectrum makes these insights automatically available for leagues, broadcasters and sponsors, using its augmentation pipeline to wrap the data around everything from live visualizations to themed animations or other data-driven effects, bringing the fan experience to life.
How does this represent "Excellence in Engagement"?
Second Spectrum's work over the last year will have a transformative impact on the future of sports broadcasting and fan engagement. For decades, the way we watch sports has broadly remained the same with a one-size-fits-all approach where everyone consumes the same product. Second Spectrum is leading the charge to customize what each fan sees, delivering new gamification features on simulcasts such as RomoVision or themed feeds like MarvelCast.
In partnership with the NFL and CBS, the NBA and ESPN, Second Spectrum is driving the shift from a one-to-many to a one-to-one distribution model. The NFL has more than 187 million fans but an 80-year old who has watched the league for decades expects a very different product to that of a Gen-Z fan who is growing up in an era of hyper personalization and data.
This customization, achieved through rich tracking data and a real-time video augmentation pipeline, will spread across world sports in the years to come. Already, it has been adopted across the NCAA men's and women's tournaments for March Madness across Turner/CBS and ESPN, with further recent deals with the CFL on TSN, and the NBA G League, creating immersive viewing experiences across more top-tier sports.
Objective: Second Spectrum's goal is to create the next way of seeing sports. As part of Genius Sports, the official data, technology and commercial partner to many of the largest leagues in world sports including the NFL, EPL and NCAA, Second Spectrum's technology is pivotal to sports creating deeper, more meaningful engagement with their fans.
As the primary platform for sports to engage a mass audience, traditional broadcasts have been geared towards appealing to the majority of fans. But in a world of increasing personalization and data, Second Spectrum is breaking new ground in delivering customized experiences that are tailored to different generations and segments of fans.
Every play of every sport is always fundamentally different and using AI and computer vision, Second Spectrum applies the same logic to powering fan experiences. This is to help partners, both leagues and broadcasters, to compete for fans' attention and engage them with everything from Marvel or Nickelodeon themed broadcasts for kids or informative data visualizations like RomoVision, which break down the game in new levels of detail.
Strategy & Execution: The modern fan has likely played or is familiar with video games. They expect an experience that is gamified and customized to their demands, in turn shaping the strategies of both leagues and broadcasters.
Alongside Marvel, ESPN was determined to lead these trends, delivering an immersive linear experience to engage the next generation of NBA fan. With its unique video augmentation pipeline, Second Spectrum's role was to bring together everything from Marvel-themed 3D virtual characters to real-time animations such as shot trails and other data-driven graphics to create a compelling product that was shown on ESPN2, ESPN+, and ESPN Deportes in May 2021.
CBS saw what ESPN had produced, and engaged Second Spectrum to launch its new RomoVision feature for its NFL broadcasts. For several years, CBS had sought new innovations that could help fans see what the defense was doing at every moment to react to the offense.
Using the NFL's Next Gen Stats and Second Spectrum's computer vision capabilities, CBS viewers are presented with 11 X's and 11 O's during first replays to visualize second by second movements. And of course Tony Romo's forensic understanding of the NFL makes him the perfect caller for a data-driven segment.
Results: Since January 2021, Second Spectrum has been able to deliver innovative augmentation and present data in ways that has never been seen before.
MarvelCast on ESPN became the first live augmented full game on linear TV, delivered with ~3s latency. It garnered an estimated audience of over a quarter million viewers, capturing the highest fraction (20%) of viewers for any "alternate cast" up to that point.
While still in its infancy, RomoVision is already having a transformative impact on CBS' NFL broadcasts. As Jason Cohen, VP, Remote Technical Operations of CBS said: "Ultimately, you're going to see a lot of different iterations of broadcasts that have nothing but these types of analytics devoted to the screen." RomoVision is leading this wave of iterations, filling CBS' long-standing need to show the precise movements of the defense across every play and bringing first replays to life. As part of their exclusive partnership, RomoVision also enables Genius Sports and the NFL to extract new value from the latter's Next Gen Stats feed.
In its simulcast of the NFL's Wild Card game between the 49ers and Cowboys, Nickelodeon's SlimeCast themed broadcast that was augmented by Second Spectrum attracted over 1.3 million viewers.
Production
Genius Sports and Second Spectrum, Powering solutions for CBS, ESPN, NFL, NBA, Marvel
Credits
Rajiv Maheswaran
President, Second Spectrum
Genius Sports
Jason Cohen
Vice President - Remote Technical Operations
CBS Sports
Alvin Anol
Director, Content, Second Spectrum
Genius Sports