🎉

2022 Shortlist
SIMONE VS HERSELF
Entrant: Religion of Sports
NOMINEE 2x ✨
Best Original Content or Series (10 min+)

Best Women's Sports Content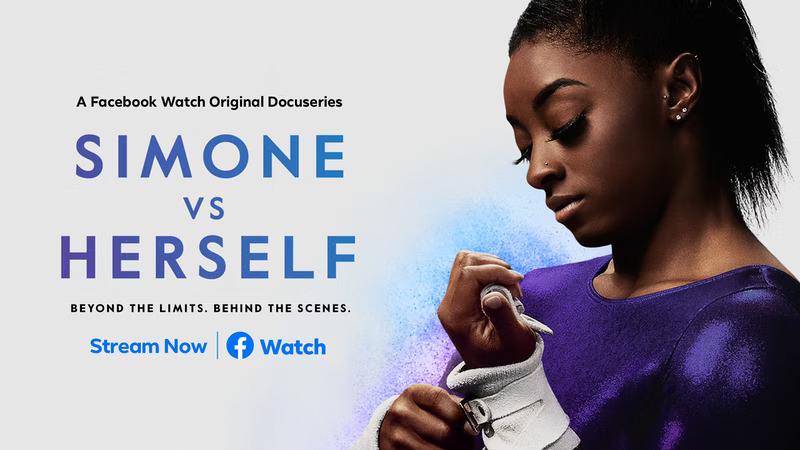 ABOUT THIS ENTRY
Simone vs Herself will follow the journey of one of the greatest athletes of all time as she seeks to further challenge herself and what is possible as a gymnast. A 19-time World Champion and four-time Olympic gold medalist, Simone has already reached the mountaintop. But as the series will reveal, there are peaks left to scale while balancing adversity – from adjusting to a postponed Olympics to conquering the challenges that come with success and the weight of enormous expectations. While the sport of gymnastics is filled with talented athletes, and competing on the world stage is a unique accomplishment in and of itself, this is the journey of Simone in pursuit of being the very best she can be.
How does this represent "Excellence in Engagement"?
Excellence in engagement was achieved by not only the number of people that this program reached, but the message the program relayed. The hope is that this will inspire other athletes to be open and transparent about their mental health, and show that these struggles are nothing to be ashamed of. Similarly, we hope that Simone vs Herself and its success shows others in the production industry that we should all do our part to amplify these voices. As previously stated, sports fans (and people in general) love transparency; and for them to see that their favorite athletes are not only transparent, but relate to them in many ways, only does good for the industry, and more importantly, the world.
Objective: Simone Biles, on top of becoming the most decorated gymnast in history, has also become a champion for mental health awareness, especially amongst athletes. Athletes are often regarded as superhuman because of their extraordinary physical capabilities, and because of that, it can become lost on the average fan that they are still simply people. Religion of Sports and Simone worked in tandem to deliver a project with unprecedented candor and transparency, to show the public that everybody has potential to go through these issues, and more importantly, conquer them.
With the scrutiny that Simone faced after her pull out from the Olympics, Simone felt it necessary to say her piece - not just for herself, but for the betterment of all athletes who are told by the public to push their mental issues aside. Simone vs Herself set out to inspire athletes and the public alike to put themselves first, and empathize with what others may be battling.
Strategy & Execution: The modern sports fan has an insatiable desire for answers and insight - this is entirely what Simone vs Herself is. The series grants a detailed look of the events that were transpiring in her life that lead her to have the success and the issues that she was experiencing. This provided context about the situation to her supporters, and an empathetic inside look to her haters.
Additionally, Simone vs Herself offers an analysis of the gymnastics scene that is seldom seen by the average sports fan. Considering that gymnastics is only widely viewed when the Olympics come around every few years, it's a sport that isn't discussed as frequently as baseball, football, etc., meaning many people do not have a deep understanding of it. Simone vs Herself shows viewers the world of gymnastics utilizing the current face and voice of the sport, Simone Biles.
Results: Simone vs Herself drove tremendous traffic, averaging over 2.9 million viewers and 18,000 engagements per episode, as well as the Facebook Watch page garnering over 1 million followers. It also secured coverage in top tier mainstream publications like Newsweek and USA Today. Additionally, it found a niche, understandably, in the gymnastics sphere, being featured in gymnastics blogs and outlets.
This can be substantiated by referring to comments on the program, comments such as "Thank you for sharing your light. Thanks for showing your vulnerability. Thanks for showing it's ok to not be ok and seek mental health care," "She knows she's a powerful force and isn't afraid," and "Thank you for being a brave advocate! You are an inspiration to many not just gymnasts!" With thousands of comments echoing these exact sentiments, it is apparent that Simone's story struck a chord with many.