🎉

2022 Shortlist
SORARE
Entrant: Sorare
NOMINEE
Best Engagement Through NFTs or Digital Collectibles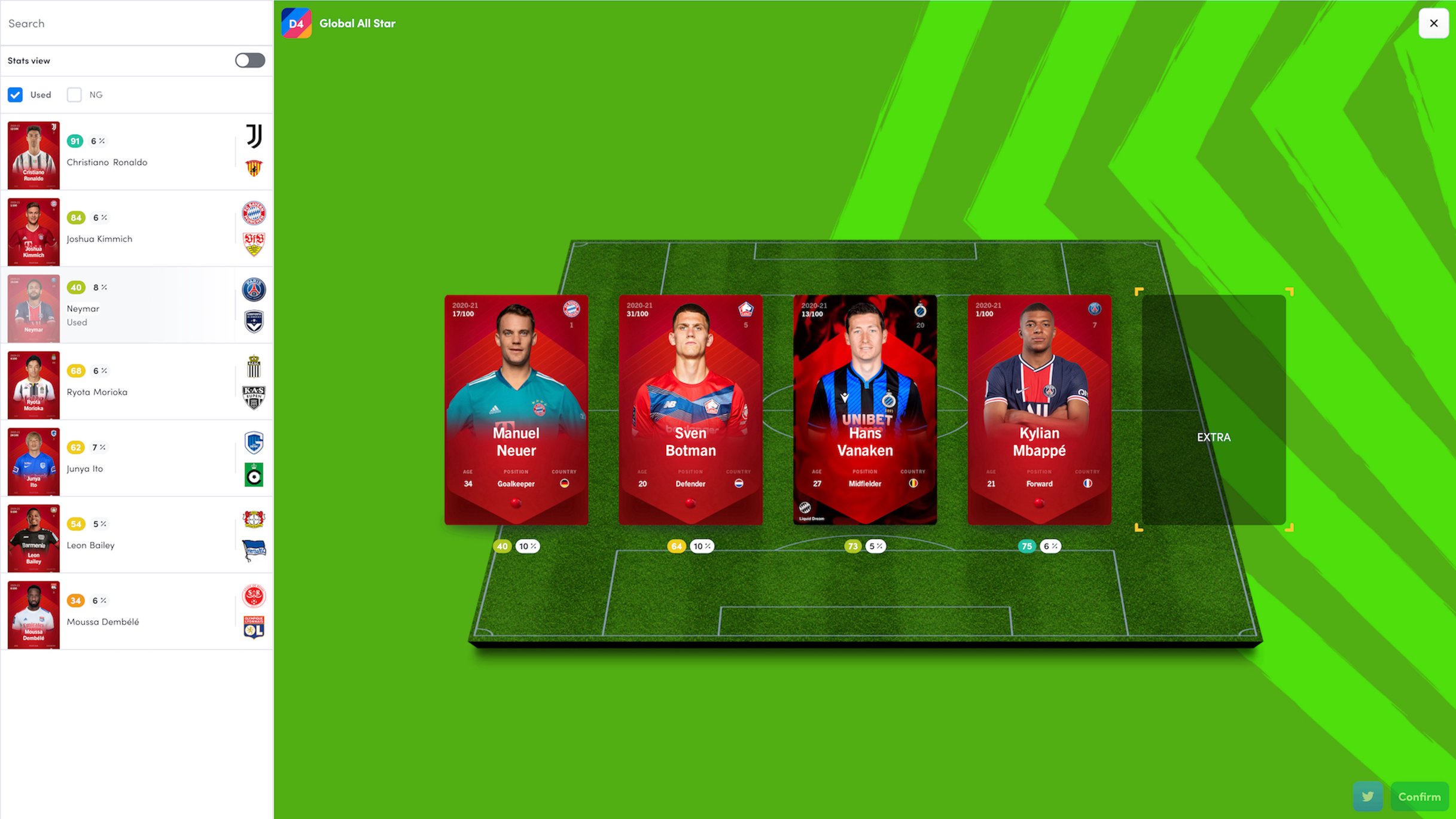 ABOUT THIS ENTRY
Sorare is a leading fantasy sports experience that is transforming online sports fandom by empowering fans, players and leagues to own a piece of the game they love, driving long-term utility and value for collectible cards.
How does this represent "Excellence in Engagement"?
Sorare is on a mission to deliver a unique experience that fosters a deep connection between the physical and digital world. The platform bridges sports and gaming, utilizing blockchain technology to power a first-of-its-kind NFT sports game and over time, Sorare cards will open the door to other meaningful experiences for fans. For example, if you own a MLS Ticket Edition NFT on Sorare, you could physically attend a MLS game with it. More broadly, the platform is paving the way for the world's biggest brands to create, share and protect their digital IP, while also bringing fans closer to the teams, players and brands they love in immersive new ways.
In the near future, Sorare has plans to expand into other U.S. sports, including women's sports, believing that NFTs have the ability to help boost the fanbase for women's sports, which have historically been, and unfortunately still are, underrepresented. NFTs give a direct line of support to the teams and players they care about, and ultimately can significantly accelerate the development of women's sports by bringing in the broader sports and NFT communities who understand the value of these collectible items.
Objective: When sports fans Nicolas Julia and Adrien Montfort founded Sorare, they saw a shift in the nature of fandom, with fans demanding to have a stake in the teams, games, and players they love. And right away, they realized that non-fungible tokens (NFTs) were uniquely positioned to transform the way that fans engage with their favorite players. Sorare gives fans a direct connection to their favorite players and teams through a first-of-its-kind fantasy game, combining a scouting marketplace and a passionate community of fantasy sports, empowering fans to connect and have skin in the game. It also gives soccer clubs and leagues the opportunity to monetize their IP and generate value to their brands, directly through sales and indirectly through the growing awareness and affinity generated by fans. Today Sorare is the only company combining digital collectibles with fantasy sports, giving the NFTs a purpose and utility beyond collecting.
Strategy & Execution: In the last few years, fandom has changed, with fans demanding to have a stake in the teams and games they love, whether attending, watching or playing digitally; a trend that was accelerated by ​​COVID-19, which kept fans from the field and from each other. Sorare is bringing fans closer to their favorite athletes through a first-of-its-kind game, combining a robust marketplace for digital collectibles (NFTs) and the passionate community of fantasy sports. The potential for NFTs in sports is vast because they bring two major advantages to the digital world that have not been possible before, including proven scarcity and utility. With the continued development of blockchain technology, NFTs can help sports leagues build an ecosystem that opens new revenue streams but more importantly offers unique opportunities to engage with fans, including growing their global reach.
Results: Today, Sorare has more than 1.5M registered users in more than 184 countries and partnerships with 230+ soccer clubs and leagues including Atlético de Madrid, Bayern Munich, Paris Saint Germain and Real Madrid, LaLiga, Bundesliga and most recently, the MLS, to allow fans, collectors and fantasy soccer players to freely trade and play with NFTs from their favorite teams to grow their reach and engage new audiences.
In just over a year, the company has seen strong growth, generating more than $325 million in sales in 2021, a +3885% YoY growth compared to 2020. The company has also demonstrated momentum in the U.S., announcing its partnership with the MLS, its first major partnership with a U.S. organization since opening their first U.S. office in New York at the end of 2021. They've seen a 23% month-to-month increase in our U.S. audience since, with 65% of new users discovering Sorare through friends.