🎉

2022 Shortlist
Sorare Fan
Entrant: Sorare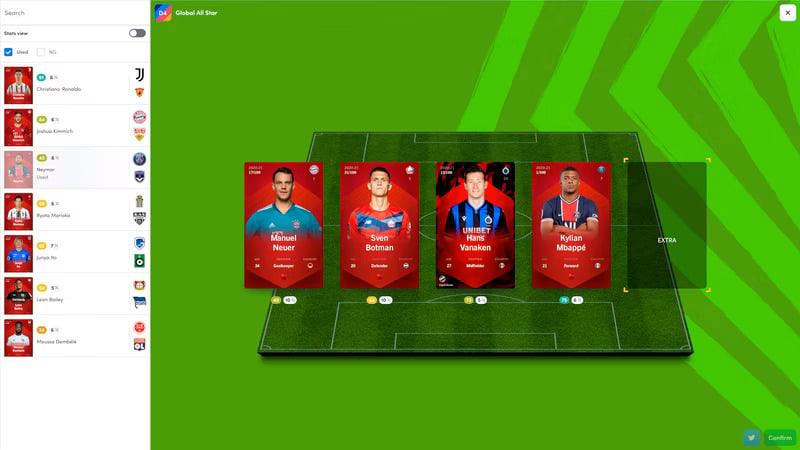 ABOUT THIS ENTRY
Sorare is a leading fantasy sports experience that is transforming online sports fandom by allowing fans, players and leagues to own a piece of the game they love. Combining digital collectibles with fantasy sports, Sorare gives NFTs a purpose beyond collection, creating a new fantasy sports ecosystem that drives long-term utility for collectible cards - ultimately generating value for both fans and leagues.
How does this represent "Excellence in Engagement"?
Sorare allows sports fans to engage with their favorite teams and players on a global scale. Fantasy sports revolutionized fandom many years ago and now by integrating the experience and camaraderie of fantasy sports with NFTs and the blockchain, fandom is being revolutionized again. It does not have borders anymore and as Sorare expands to new categories, the company aims to see fans around the world explore the fantasy games of other sports: from soccer to American football, basketball and beyond, And because they own a piece of the game through the NFT cards, they won't be casual consumers, but they'll become lifelong fans. Longer-term, Sorare's ultimate vision is to carry NFTs' value in the real world, unlocking new exclusive experiences for fans such as VIP access at stadiums, meeting athletes or attending limited events.
Objective: From day one, Sorare set out to empower all sports fans, players and leagues to own a piece of the game they love. In the last few years, it has been clear fans don't only want to watch or play a game, they crave more - the recent boom in sports memorabilia shows that fans want to own a unique piece of the game. When founding Sorare, Nicolas Julia and Adrien Montfort wanted to build something that would allow fans to meaningfully connect with the sports they loved. Today, Sorare combines sports, collectibles and gaming, utilizing blockchain technology to power a first-of-its-kind NFT sports trading card game. Fans can collect, trade and play with limited edition digital collectibles for the ultimate sports entertainment experience, one where users can play like a stakeholder and foster real-world connections.
Strategy & Execution: Today, the nature of fandom has changed. Fans are demanding to have a stake in the teams and games they love, whether attending, watching or playing digitally, and to even own parts of it - we've seen this very recently with the evolution of collectibles to a new digital generation. In 2021, brands, teams and athletes launched NFTs to meaningfully interact with a global network of fans, independent of nationality and geographic location. Digital collectibles are the key to opening up a whole new paradigm of player and fan interaction - by adding the emotional element of collecting to fantasy sports, there is a clear opportunity to create a new kind of fan experience that's greater than the sum of its parts. Since its launch, Sorare has seen strong engagement from fans and to respond to the growing demand, launched Limited Cards, allowing players to access dedicated leagues and win ETH prizes and also partnered with Ubisoft and the Belgian Pro League to launch the One Shot League, a new blockchain-driven fantasy soccer league.
Results: Sorare created the first NFT-based fantasy game in 2018 and now has more than 1.5 million registered users in more than 184 countries. Today, new fans are connecting to the platform each day from all over the world - with 65% of new users having discovered Sorare through friends. This engagement beyond borders is unique and shows how Sorare's NFTs have begun to dismantle long-standing geographical barriers. Sorare also goes beyond specific sports - the company has seen fans of fantasy baseball joining Sorare because they loved the idea of an NFT based fantasy game and becoming soccer fans, following clubs like Club Bruges in Belgium.
In just over a year, the company has seen strong growth - cards trading volume went from $8 million in 2020 to $325 million in 2021 and without any paid marketing. The company also went from partnering with 100 football clubs to 230, bringing 130 new partners including major European soccer leagues such as Spain's LaLiga, and Germany's Bundesliga, and major soccer clubs such as Real Madrid and Paris Saint-Germain. They also partnered with Ubisoft and the Belgian Pro League in March 2021 to launch the One Shot League, a new blockchain-driven fantasy soccer league.