🎉

2022 Shortlist
Stacking Pennies with Corey LaJoie
Entrant: NASCAR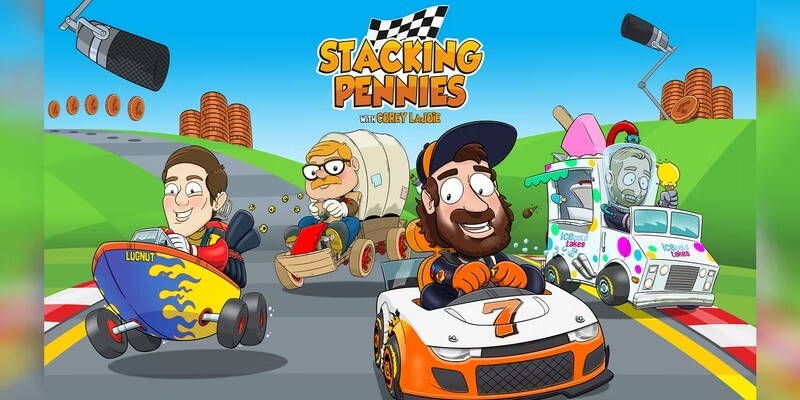 ABOUT THIS ENTRY
NASCAR Cup Series driver Corey LaJoie along with front tire changer for Team Penske's No. 2 car and Daytona 500 winner, Ryan 'Skip' Flores, convene weekly to bring fans insight from behind the wheel and on pit road. This podcast gives fans an inside look into technical details of the sport as well as insight into their favorite drivers' personalities showcased via Corey's one-on-one interviews with various NASCAR drivers.
How does this represent "Excellence in Engagement"?
Corey hosts a weekly 'Penny for Your Thoughts' segment where fans write Corey and he answers frequently asked questions. This drives conversation on social and helps build the brand of his Stacking Pennies podcast. Corey and Ryan's technical analysis of NASCAR's new Next Gen race car and challenges on pit road spark social conversation as well as drives new listeners weekly.
Objective: Our objective was to create a driver-centered podcast for the fans. We aim to educate fans by explaining what they see on the race track and how that correlates to Corey's experience behind the wheel, and Ryan's experience over the wall on pit road. "Stacking Pennies" is a concept of LaJoie's, and the mantra means that accumulating small and micro victories over a long period of time eventually will add up to success. Corey also delves into this mindset as a driver for one of the smaller teams in the NASCAR Cup Series.
We also aim to entertain. Stacking Pennies cracks the door into Corey's personal life and allows his fans and listeners to get a glimpse at the person behind the steering wheel.
Strategy & Execution: We recap the race and educate race fans on the ins and outs of NASCAR while engaging with them on Twitter through Corey's #PennyForYourThoughts segment.
The show's distribution is also widespread. Along with the audio form on all major podcast networks, content from the show lives on NASCAR's social media platforms with snackable clips posted across the board, driving engagement and traffic back to full length episodes and providing additional reach and exposure for the brand.
Results: To date, Stacking Pennies has more than a half-million podcast downloads, leading the way for NASCAR's podcast platform. Multi-platform distribution further pushes podcast metrics higher, leading to more downloads from the original pillar content. Both as a brand and a podcast, Stacking Pennies is enjoying more traffic across podcasting, social and digital video platforms.