🎉

2022 Shortlist
STEPHEN CURRY NBA 3PT RECORD CELEBRATION
Entrant: Rakuten
NOMINEE ✨
Most Creative Partnership with an Athlete or Influencer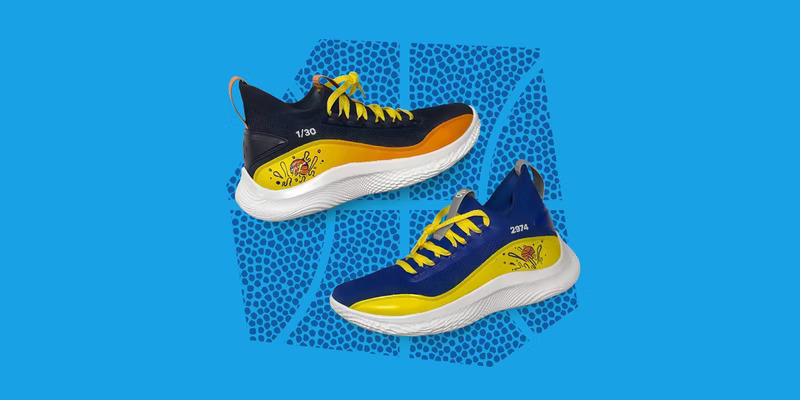 ABOUT THIS ENTRY
In celebration of the new NBA All-Time 3-Point Leader and Global Brand Ambassador Stephen Curry, Rakuten launched a multi-faceted program to celebrate this momentous achievement with fans and the community.
How does this represent "Excellence in Engagement"?
For this once-in-a-generation moment, Rakuten tapped into the drivers and trends of basketball culture to create a national activation with local impact to continue educating fans about Rakuten through joy, rewards, premium products, and experiences that also compliments the Rakuten brand identity.
Leaning into Stephen's humble, joyful, and giving personality as inspiration, Rakuten exemplified these qualities at the forefront of the campaign to celebrate with fans. Leveraging this angle, Rakuten was able to authentically weave into NBA cultural conversations and further strengthen their association with the league and Stephen Curry.
Objective: In celebration of the new NBA All-Time 3-Point Leader and Global Brand Ambassador Stephen Curry, Rakuten launched a multi-faceted program to celebrate this momentous achievement with fans and the community.
Rakuten rolled out a series of campaigns to highlight Stephen's milestone, which aims to inspire fans both on and off the court, and, in true Rakuten fashion, reward fans along the way.
Teamed up with video creator Ari Fararooy to produce a celebratory video that depicts an artistic journey of Stephen through the years for social and digital channels
Partnered with sneaker artist/designer Mache, to create 30 pairs of commemorative Curry Flow sneakers for a Rakuten-owned social sweepstakes where lucky fans could win a memorable piece of art that honors Stephen's journey to this milestone
Collaborated with non-profit organization Bay Area Mural Program to create a mural in Oakland as a tribute to the community. The art celebrates Stephen's love for the game and his impact in the community. In addition, the mural integrates a QR code where the first 300 fans to scan and go to local black-owned bookstore, Marcus Books, will receive a free book and a chance to win Warriors tickets and a pair of commemorative sneakers
Strategy & Execution: Rakuten utilized their campaign to connect with fans through (4) touch points.
Tipped off celebrations with a congratulatory digital spot across Rakuten-owned and paid media platforms that featured Stephen's journey and the joy he brings to the game

Launched a sweepstakes on Rakuten Twitter and Instagram where fans had a chance to win 1 of 30 pairs of commemorative Curry Flow sneakers designed by renowned sneaker designer and artist, Mache. Rakuten increased reach and social buzz by strategically partnering with Mache and influencers Qias Omar, TJ Keasal, and David Gioncgo to create curated content showcasing the sneakers

Collaborated with Bay Area Mural Program artists Natty Rebel, Rachel Wolfe-Goldstein, and Timothy B. to create a one-of-a-kind mural memorializing Stephen's achievement, his contribution to the Bay Area community as well as positively impact a local black-owned bookstore

PR efforts amplified reach of the sweepstakes and mural with national and local media to hit both the sneakerhead market and Oakland community
Throughout the campaign, Rakuten leveraged their NBA partnerships to amplify reach to fans including the NBA sharing the sweepstakes on their channels, Warriors reposting the digital spot and sweepstakes, and Stephen highlighting the mural on his social channels.
Results: Rakuten successfully engaged with fans nationally and locally by emphasizing Stephen's inspirational basketball journey and community impact to celebrate his 3PT achievement. In a short window to effectively capitalize on the moment and fans' excitement, Rakuten executed multiple activations that seamlessly flowed together and allowed Rakuten to continue telling Stephen's story through art.
The program achieved multiple KPIs including:
• Digital spot reach and buzz
• Increase in followership and traffic to Rakuten Instagram and Twitter
• Sweepstake's entries
• Influencer impressions and clicks
• Mural QR code scans
• Books donated
• National and local PR coverage
Production
Rakuten, GMR Marketing, NBA, SC30, Pereira O'Dell, Mache Customs, and Bay Area Mural Program.
Credits
Ryan Washatka
CEO, KonMari Media, Inc & SVP Sports & Entertainment, Rakuten Americas
Rakuten
Vicki McCrae
SVP of Brand & Creative Strategy
Rakuten
Kristen Gambetta
Senior Director
Rakuten
Rhea Wadia
Sports and Entertainment
Rakuten
Tom Coates
Group Creative Director
Rakuten
Kristen Graham
Group Creative Director
Rakuten
Carly Easterbrook
Marketing
Rakuten
Carol Lee
Corporate Communications Director
Rakuten
Peter Aiello
VP
GMR Marketing
Kevin Simon
Account Director
GMR Marketing (currently with Ally)
Kayla Cronin-Jiménez
Account Supervisor
GMR Marketing
Dennis Jenders
Senior Strategy Director
GMR Marketing
Denise Pyfrom
Senior Manager, Global Partnerships & Media
NBA
Tiffany Williams
COO
SC30, Inc
Hilary Awad
Head of Brand Development
SC30, Inc
Cameron Edison
Marketing
SC30, Inc
Jordan Ramirez
Digital Marketing Manager
SC30, Inc
Kevin John
Group Brand Director
Pereira O'Dell
Danny Houghton
Brand Director
Pereira O'Dell
Bridget Pierce
Senior Producer
Pereira O'Dell
Jason Rosenberg
Creative Director
Pereira O'Dell
Will Martin
Copywriter
Pereira O'Dell
Connor Witt
Art Director
Pereira O'Dell
Dan Gamache
CEO
Mache Customs
Ari Fararooy
Video Creator
Ari Fararooy
Andre Jones
Executive Director
Bay Area Mural Program
Rachel Wolfe-Goldsmith
Creative Director
Bay Area Mural Program
Timothy Bluitt
Lead Artist
Bay Area Mural Program
Keith Williams
CFO
Bay Area Mural Program