🎉

2022 Shortlist
McDonald's Germany – Sub Bomb Delivery
Entrant: Jung von Matt SPORTS GmbH
NOMINEE ✨
Best Engagement Through Esports & Gaming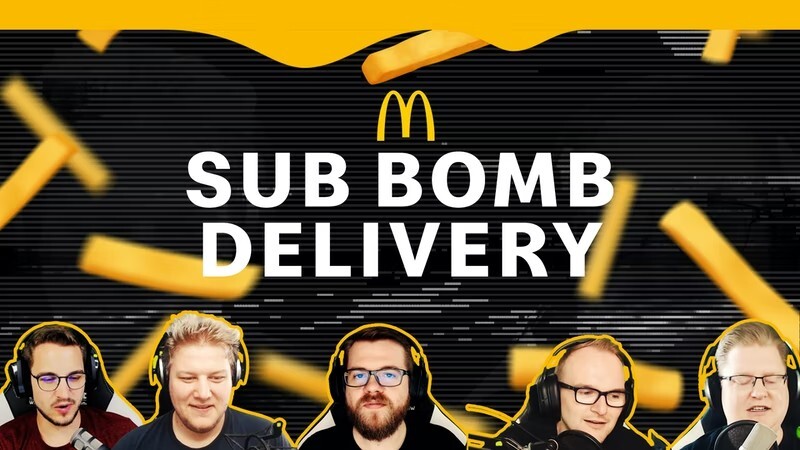 ABOUT THIS ENTRY
How can a brand truly contribute something to the vivid and growing Twitch community?
McDonald's found a unique way – supporting entertaining streamers and viewers within a new livestream format.
How does this represent "Excellence in Engagement"?
With this activation on Twitch, McDonald's has created a new form of interaction with the community. Only together with thousands of viewers the surprise and support of the micro-streamers could have happened. In the process, McDonald's took on the role of initiator. The stage, however, was given to the small streamers and the spectators, whose interaction made the whole thing a very emotional experience for everyone. Many of the small streamers have burst into tears of joy in front of the camera or went completely nuts. This, in turn, was so fun and entertaining for the community that they themselves made sure that the streams often went on for several hours. Way longer than planned. Moreover, the community was asking for more SubBomb streams. Thus, McDonald's decided to follow up the first live stream with seven more. It is important to remember that the target group on Twitch has a very good sense of whether a brand is chumming up or supporting in an honest way. The community was extremely enthusiastic about this activation – the high engagement and loads of positive comments during the livestream reflected this.
Objective: At the same time people ordered more food than ever before. We wanted to connect these dots and establish McDonald's as an enabler for the vivid and growing streamer and gaming community on Twitch.
Strategy & Execution: What could McDonald's deliver to the streaming community and fans apart from tasty food? Well, there are so many talents on Twitch who stream only for a handful of viewers. What they need the most are more viewers and paid subscriptions. For this cause, McDonald's teamed up with one of the biggest German Streaming teams: PietSmiet. During eight livestream events, PietSmiet sent their entire community to the channels of selected small streamers. They were happy to join the action and surprised those small streamers with thousands of viewers on their counter. Then McDonald's delivered thousands of paid subscriptions (€3,99 each) to all the viewers. Gifting subscriptions is a unique feature only on Twitch. In this case it, supported on the one hand the micro streamers financially. And on the other hand, converted the viewers into official subscribers of those streamers.
Results: The micro streamers were totally overwhelmed by getting so much attention, love, and subscriptions. Many of them were crying or they completely freaked out. The eight streams became a popular event for the community on Twitch. In total, we reached more than 5 million individuals, almost 470 thousands of them during live streams. Even traditional newspapers reported about it. Most noteworthy, we donated thousands of paid subscriptions. McDonald's was universally praised as an enabler and the reactions during the streams quickly became memes. But more importantly, the delivered sub bombs resulted in real growth for the micro streamers involved with many doubling their viewer count weeks after the events. McDonald's is truly paying respect to each and every streamer independently and thereby undermines its core values of togetherness, inclusion, and appreciation.