🎉

2022 Shortlist
Subway Signature Sandwiches
Entrant: Momentum Worldwide
Winner 🏆
Best Brand Experience or Activation
Nominee 2x ✨
Most Creative Partnership with an Athlete or Influencer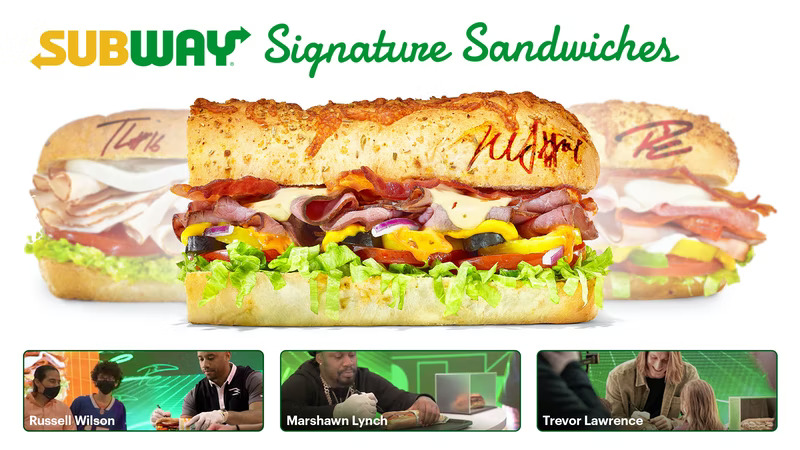 ABOUT THIS ENTRY
From comic books to basketball highlights and even GIFs—it seems like everything is a collectible these days. So when Subway asked us to launch their new line of Signature Sandwiches in a big way, we thought "why not a sandwich"? So we turned a Signature Sandwich into an actual Signature Sandwich. We enlisted 3 NFL superstars to create their own sandwiches. Then, we brought them to the Super Bowl to sign them for millions of fans. Some people ate them. But others saved them, froze them, resined them and vacuum sealed them. A few even put them up on ebay. And just like that, a whole new collectible market was born.
How does this represent "Excellence in Engagement"?
We turned what is typically an ordinary signing moment into something unique, extraordinary and unexpected. Turning a new sandwich into an edible piece of sports memorabilia that every fan wanted to get their hands on.
Objective: Subway has spent the past year refreshing their entire brand, image and menu items. And they were ready to get them into as many hungry mouths as possible. So when the Super Bowl came around, Subway asked us launch their new line of NFL player created Signature Sandwiches in a refreshing and memorable way. A way that turned a simple sandwich into a must have item.
Strategy & Execution: The collectible market is booming—and these days, everything is collectible—from trading cards to GIFs and even basketball highlights. And fans come to the Super Bowl to get autographs. But every signing experience is the same. Players sign cards or footballs. By the end of the week, everyone has one. So we thought, why not refresh that stale experience and make a sandwich the next hot collectible?
Results: We put Subway and their menu items back on the map alongside the likes of other QSRs who delight their fans in surprising ways. During Super Bowl week, Signature Sandwiches gained over 1,600 news stories, 43M+ social impressions, 830M+ media impressions and 98% positive sentiment in news coverage.