🎉

2022 Shortlist
TEAM ULTRA PACK - GREATEST COMEBACK
Entrant: Dinner Party
NOMINEE ✨
Most Creative Partnership with an Athlete or Influencer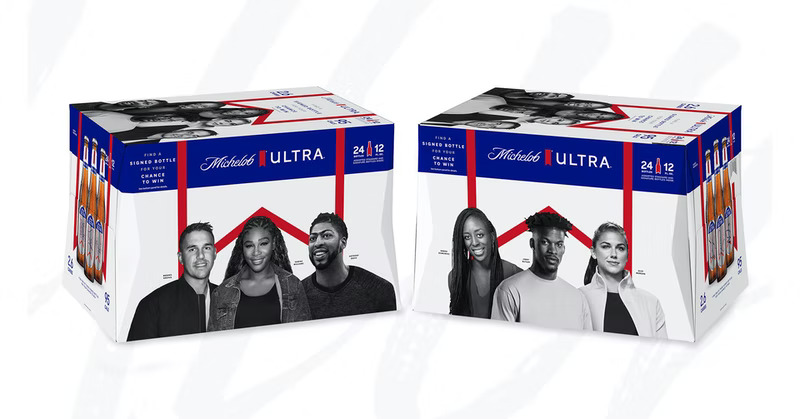 ABOUT THIS ENTRY
As an evolution to our newly launched VBI in 2020, we created a first of its kind limited edition 24 pack tapping into our Team ULTRA athlete roster. Each athlete represented – Serena Williams (Tennis), Brooks Koepka (PGA TOUR), Alex Morgan (US Women's National Team), Anthony Davis (Los Angeles Lakers), Jimmy Butler (Miami Heat) and Nneka Ogwumike (Los Angeles Sparks) demonstrate that while on your path to greatness, you can take time off to enjoy yourself and have a beer.
How does this represent "Excellence in Engagement"?
We created this exclusive 24 pack to celebrate these our Team ULTRA athletes, who embody the spirit of finding joy on and off the field. For this reason alone, we featured our roster out of uniform, demonstrating these "athletes not athlete-ing" to publicize their balanced lifestyles. Our ULTRA red ribbon anchored the design, with our sleek, white packaging to keep the same premium feel of our iconic pack. Each Team ULTRA athlete represented was highlighted through a monochromatic treatment to enable them to stand out. In every pack, we placed collectible ULTRA bottles complete with larger-than-life athlete's autographed to drive urgency.
Objective: There is nothing quite like the joy of sports. But, after 14 months of hearing "cancelled", "postponed." and "maybe next year" Michelob ULTRA wanted to bring the joy back – in a way that only we could as the brand who stands for active enjoyment. The Summer of 2021 was filled with post-vaccine firsts and a drive of social outings; from getting back to your favorite stadium, drinking at the bar or at a tailgate, and having friends over for the NBA Playoffs to watch together. And, for our Team ULTRA athletes, it was a long 14 months of them playing in empty stands, without their true "home team" present.
Strategy & Execution: Michelob ULTRA celebrated the world's return to normalcy and the season of beer by launching the limited-edition Team ULTRA pack. We wanted to encourage fans to get back into sports stands, while ensuring sales of our 24 pack were maximized. So, we coined this collection the "Comeback Pack," and launched a full 360 campaign to support it. We invited consumers to hunt for all six collective signature bottles to be entered to win sports event tickets via MyCooler – with the grand prize winner receiving a private jet and a hotel stay to bucket list sporting events: Super Bowl, Miami Open, NBA Finals, President's Cup, and the FIFA World Cup. The joy of our campaign spread fast, especially with our targeted displays during key summer holidays. We had our athletes amplify the hunt from their channels, and fans even took the bottle search to eBay.
Results: The results for the Team ULTRA/Comeback Pack was a 32% sales uplift versus Michelob ULTRA's previous years sales performance. It was the fastest growing large-scale SKU of the year (outside of ULTRA Draft), and we sold 623K BBLs of 24 packs. Besides just sales, we had strong coverage from a PR standpoint, headlined by Alex Morgan's interview with Yahoo Sports speaking about the Team ULTRA/Comeback Pack – "I follow the other five athletes religiously and it brings me joy to see their success. To have fans actually coming out and see us in a greater way than just turning on the television is also really excited. I think we all can relate to the Greatest Comeback campaign and wanting to spend time outdoors doing things you love with the people you love."
Production
Draftline - Campaign Creative, Dentsu - Support, AnalogFolk - Support, FCB Red - Support, 3PM - Support
Credits
Ricardo Marques
VP Marketing, Michelob ULTRA US & Global
Anheuser-Busch Michelob ULTRA
Talita Andrade
Sr. Marketing Director
Anheuser-Busch Michelob ULTRA