🎉

2022 Shortlist
THE NETAVERSE
Entrant: Brooklyn Nets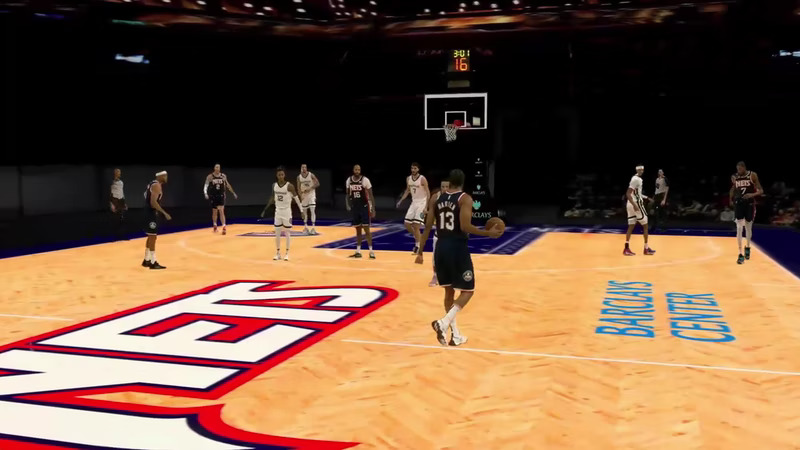 ABOUT THIS ENTRY
Netaverse is new revolutionary video technology made possible by Canon's Free Viewpoint Video System that has been implemented for Brooklyn Nets games at Barclays Center. Through the use of more than 100 cameras installed around the arena, data is captured to recreate the on-court action, resulting in a life-like virtual world capturing any angle, similar to video games.
How does this represent "Excellence in Engagement"?
While we're still in the early development stages, this technology is set to change the way fans experience live sports and entertainment. Netaverse takes fans onto the court and provides unique insight into a team's playmaking ability. We are collecting fan feedback to help improve the experience and our hope is to ultimately use the technology to offer a live broadcast and change the way fans watch a basketball game.
This technology also brings a new experience for fans that adds an unprecedented realistic and immersive feeling to sports viewing. It allows us to freely change point of view while the replay video is in slow motion, letting camera operators move through time and space as they wish. Fans can follow along on the journey and really feel what it's like to be part of the moment, bringing even more emotion to live sports and entertainment.
The ultimate goal is to inspire the fan to take control of the image by providing them the ability to select the camera viewpoint itself on a smartphone or similar mobile device. Additionally, we see the potential for more content integration and storytelling, sharing unique perspectives into the game across our digital media channels.
Objective: Since 2016, Canon has been conducting experiments with the Free Viewpoint Video System mainly for soccer and rugby. Working in partnership with the NBA and Canon, the Brooklyn Nets were the first team of any of the four major professional sports leagues to utilize the technology by integrating it into their game broadcasts on YES Network. Netaverse is so unique because it is a volumetric space and the camera can be placed anywhere on the field of play under the control of an operator, like the controls of a video game. YES Producer Frank DiGraci said it best, "A lot of times you get caught following the ball, obviously you want to see the ball going in. But you don't always get all 10 [players on the court] from all different angles. There will never be a play again where I don't have an angle, or I don't have a look at it. As far as replays, we can use it for the dunk of the game, we can use it for Joe Harris' three-point shooting to show how he got open, we can use it for Kevin Durant's vision."
Strategy & Execution: Launched in January 2022, the technology consists of more than 100 specialized data-capture cameras surrounding the court placed at various points throughout Barclays Center. The cameras are connected to high-speed computers that quickly generate incredible, lifelike 3D renderings in a matter of seconds. We have the ability to instantly move to any position in the arena and view video replays from any desired angle, rather than from the limited perspective of a fixed camera or wire cam.
Netaverse is currently used for replays during game TV broadcasts and on the video boards at Barclays Center. Highlights using Netaverse are shown on YES Network, social media, and in-arena, allowing us to bring the technology to our fans no matter which medium they are using to watch the game. The technology also allows us to tell a broader story for our fans - whether it's speaking about how a play is developed or what a player may be thinking while they're on the flow, Netaverse provides broadcasters and fans another perspective to showcase and further break down notable in-game moments.
Results: Netaverse debuted during the Brooklyn Nets game on January 15, 2022. Starting with a simple replay clip during the YES Network broadcast which was later shared on Twitter, the news spread across social media in a matter of days and fans were talking about the new technology. Netaverse PR impressions were 3.3 million and potential social media impressions were nearly 43 million.
Our main goal was to provide our fans with a new way to experience Brooklyn Nets games. We are still in the development phase and are exploring all ways this could be further integrated into the business.