🎉

2022 Shortlist
The Sheriff Returns: Peyton Manning, A Madden Ratings Adjustor Story
Entrant: NFL
NOMINEE ✨
Most Creative Partnership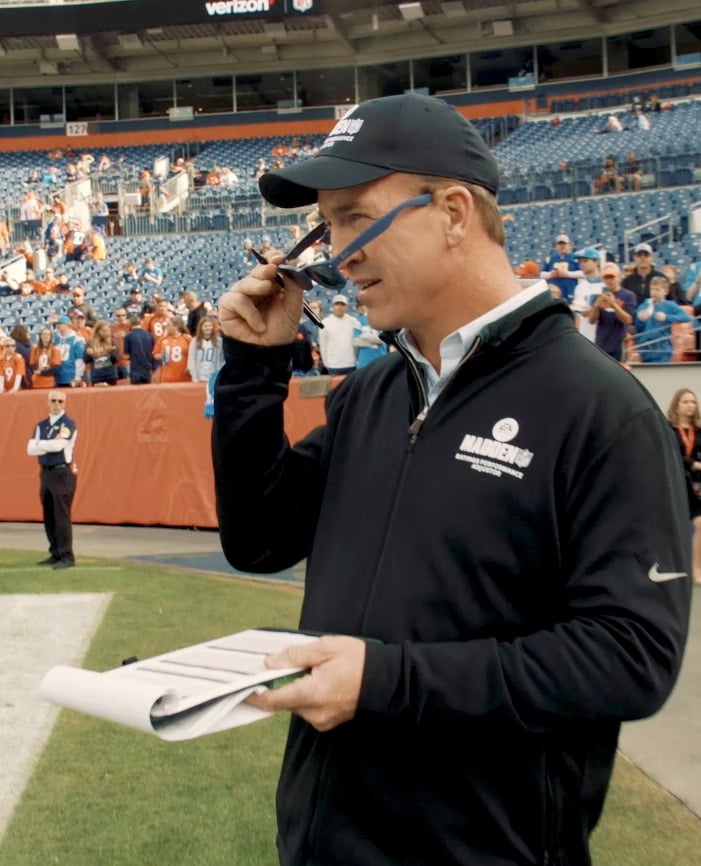 ABOUT THIS ENTRY
What's left to accomplish when you're one of the greatest quarterbacks to ever play the game? Multiple League records, a Super Bowl ring, and a Hall of Fame jacket later, Peyton Manning left only one stone unturned in his storied career: mastering the art of being a Madden Ratings Adjustor.
How does this represent "Excellence in Engagement"?
It goes without saying that securing one of the biggest names in football sets this content apart from the rest, but the strategic set up and rollout made this activation feel like pure entertainment for our fans, a truly engaging original, but branded, piece of content. What could have felt like in-your-face branding became a true storytelling journey with a beginning, middle, and end featuring a beloved football legend & his son. The set up and execution of the stunt helped accomplish the goal of promoting the Ratings Adjustor program in an authentic and engaging way that didn't scream "advertisement" to our audience.

When two major brands are able to come together and produce a creative and highly engaging original piece of promotional content, you know that is something special. In the short history of the Madden Ratings Adjustor program, there had never been a scripted original. Throw in trying to pull that off during a pregame window of a regular season NFL game, and you have a very risky idea. EA Sports took that risk in trusting the NFL creative social team with trying something new and innovative in The Sheriff Returns. And together, we pulled it off.
Objective: In recent years, the weight of EA Madden NFL Ratings has increased among players and fans of the game. Need to get your speed up? Think you're a better route runner than you're getting credit for? There's no better way to bring out fierce competition among players than to have the fate of your skill ratings in the hands of a living legend.
That's where The Sheriff Returns: Peyton Manning, A Madden Ratings Adjustor Story was born. NFL Social partnered with EA Madden to trade Peyton's Gold Jacket for a Ratings Adjustor jacket, following his journey to success as a Ratings Adjustor with his son, Marshall. The two main goals of this activation were to enhance EA's Ratings Adjustor program by engaging players and fans through Peyton's natural humor and notoriety, and build up NFL players through light-hearted, personality-driven content.
Strategy & Execution: Peyton assumed the role of a Madden Ratings Adjustor for Chargers vs. Broncos, a game that showcased a handful of rising stars looking to boost their ratings.
We approached this activation with a strategic plan with announcing Peyton as a Ratings Adjustor, then teasing his journey with a mockumentary trailer, and ending with a long-form feature with top NFL talent that keeps you laughing and engaged throughout.
To launch the campaign, we released photos with vague captions about Peyton being a Ratings Adjustor.
In the days following, NFL released the mockumentary-style teaser. The look and feel of the piece is familiar to NFL's audience but the twist of parody with Peyton's sense of humor was an engaging draw. Leaning into Peyton's personality was huge – we were intentional in making this heavily EA Madden NFL branded promo feel like real content.
After the teaser released, the long-form feature highlighting Peyton's day as a Ratings Adjustor went live. The piece featured Peyton interviewing talent from both teams including Broncos Jerry Jeudy and Courtland Sutton, and Chargers Derwin James. In between interviews was when Peyton really shined. He gave us many of the one-liners that make him so likable, even to non-football fans.
Results: The teaser and long-form feature passed 6M total video views and 540k interactions across NFL social accounts. The content was amplified by EA Madden NFL, Denver Broncos, NFL on ESPN and picked up by ESPN.com and FoxNews.com. Peyton used his time as Ratings Adjustor to his advantage and changed Tom Brady's rating, a joke which received reaction from Tom himself on Instagram which accounted for 2.1M views and over 116k interactions.

The positive sentiment around the teaser and feature, along with reaction from current players, supported our mission to create heavily branded content in partnership with EA that felt purely like entertainment. The way in which we produced this activation allowed fans to connect with Madden in the same way Peyton and the players who were featured in the content do.