🎉

2022 Shortlist
THERE'S NO PLACE LIKE SPORTS ON INSTAGRAM
Entrant: ESPN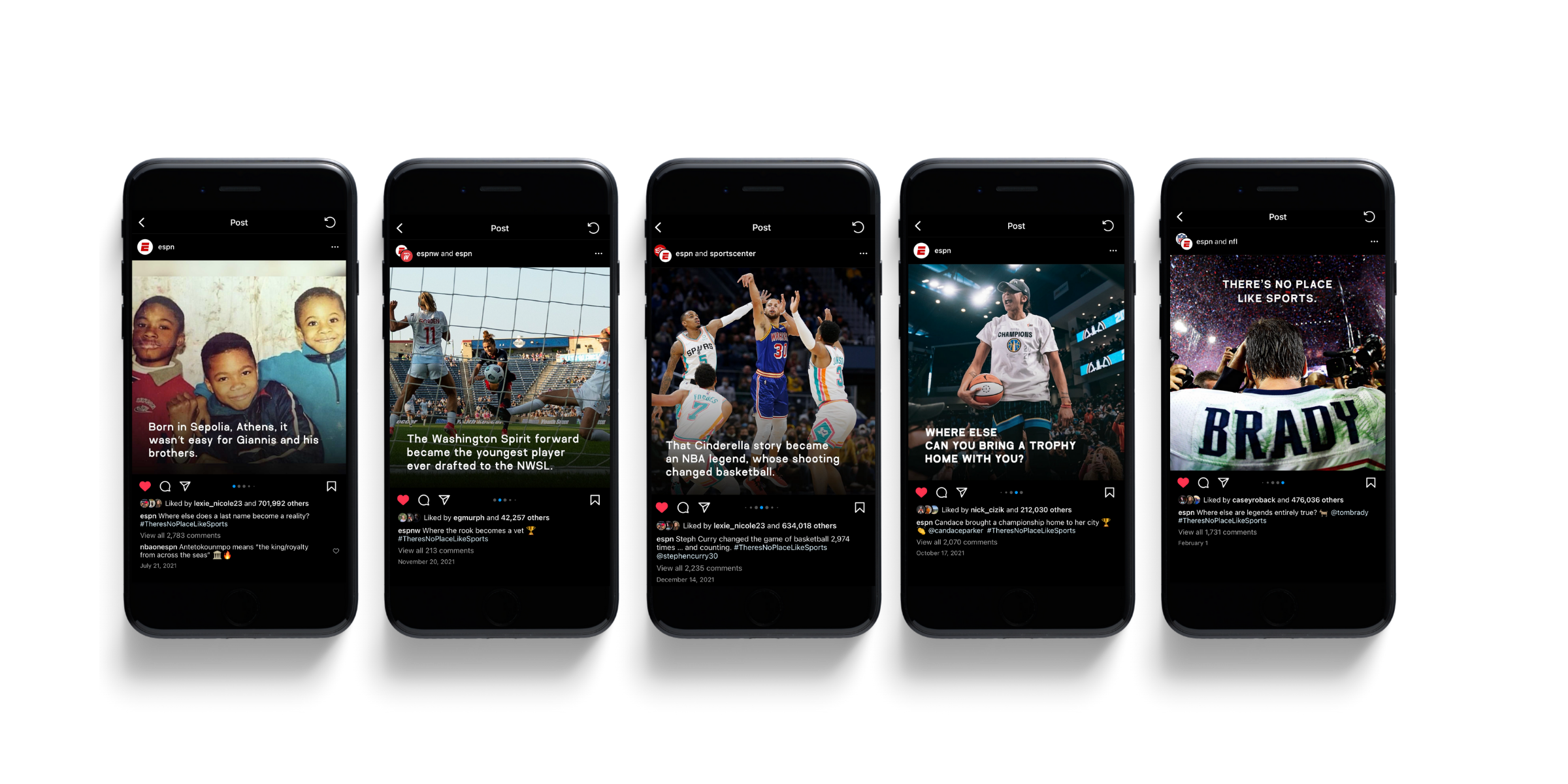 ABOUT THIS ENTRY
There's No Place Like Sports is an integrated campaign with linear, social, OOH, and activation extensions. Activating within multiple channels gives us the ability to cultivate diverse audiences.
On Instagram, we've extended the campaign to increase the connection and brand love with the youth audience and casual fans.
How does this represent "Excellence in Engagement"?
The youth audience and casual fans that follow ESPN on social media tune in for big events, but don't consistently consume content on our linear channels. Understanding this behavioral difference allows us to extend outside of the traditional linear television support in order to gain traction with these valuable audiences. Overall, focusing on Social helps ESPN's perceptions of being bold, entertaining, relevant and showing fans that we care.
We've also realized the importance of introducing the story to the social audience in a unique way. On average, engagement is higher when the opening frame offers an uncommon look at an athlete's past rather than a present day photo. As an example, a photo of Giannis and his brothers from when they were kids differentiated from the rest of the social feed following the NBA Finals and provided fans with a look back at his upbringing.
We're proud of how this campaign has differentiated itself from the rest of our competition. And we're excited to continue evolving based on audience preferences and even extending onto other platforms like Instagram Reels and TikTok.
Objective: There's No Place Like Sports reminds fans why sports matters and why it is so special. The campaign provides a space where we can appreciate what has come before and what comes next.

We highlight life stories, overcoming adversity, and the culture behind our favorite athletes' accomplishments, not just their stat lines or performance on the field or court. We share the journeys that led to the championships, the MVPs, and the barriers being broken.
Strategy & Execution: We begin with assessing the upcoming major events in the sports calendar around 30-60 days ahead with an eye to diversity of race, gender, and sport. We also consider any other potential moments to highlight that may not be set on the calendar (a player's return from injury, an athlete close to breaking a record, etc.) Each post walks the audience through a short story detailing individual athletes or entire teams, which is proving to resonate with our audience.
Results: In terms of performance over the last year, There's No Place Like Sports content on Instagram has performed above account averages by 1.53x, tallying over 63M impressions and 5.7M likes. The average likes per post (367,936) would rank above average engagement of several other prominent sports including MLB, College Football, Mens and Womens College Basketball and more.