🎉

2022 Shortlist
UFC Event Centre
Entrant: IMG ARENA
NOMINEE ✨
Best Sports Betting Content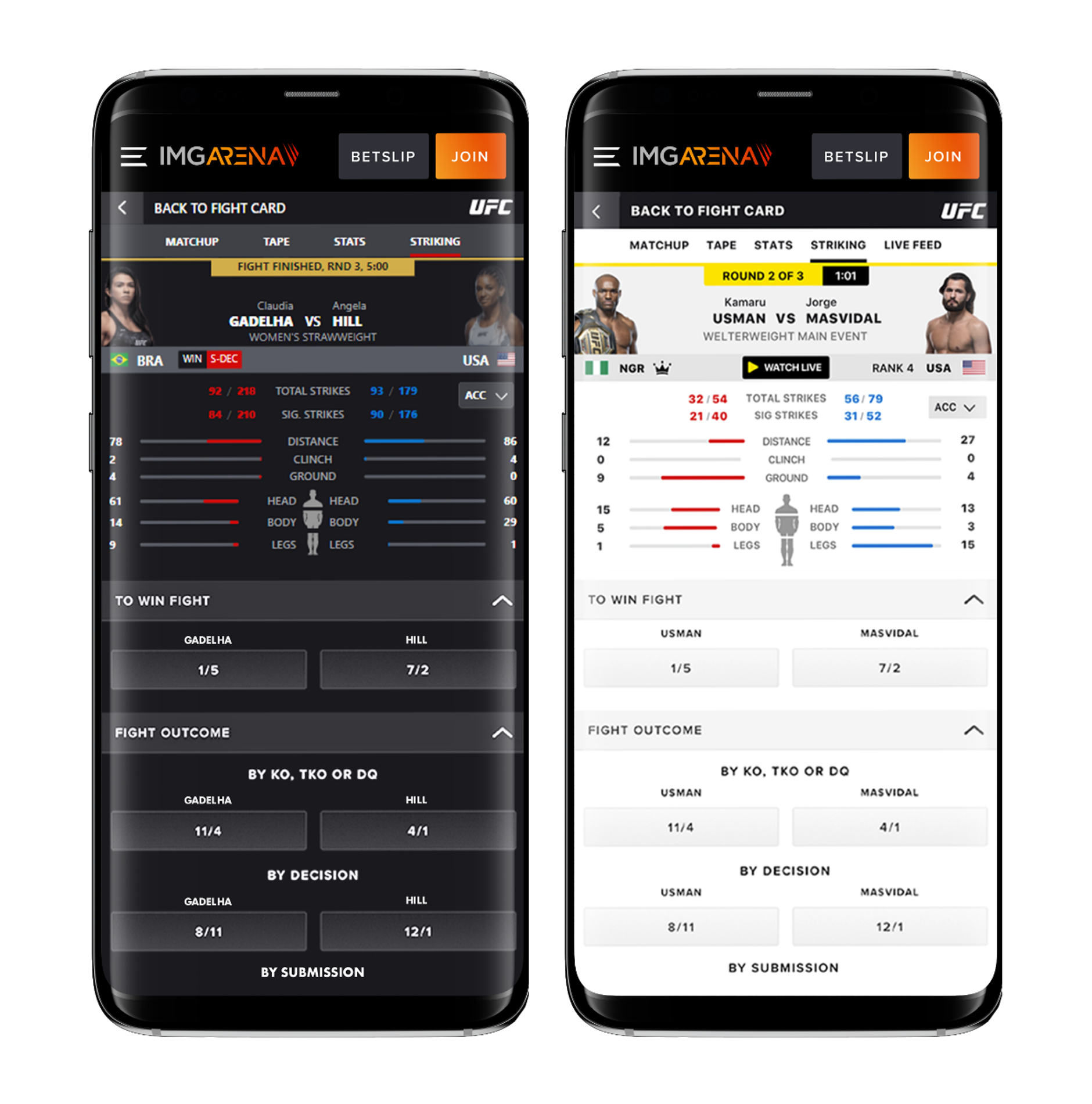 ABOUT THIS ENTRY
The UFC Event Centre is the world's first branded sports betting product. Designed to be an indispensable fight night tool, the UFC Event Centre is one-stop-shop for MMA fans. UFC is one of the fastest growing sports in the world and resonates strongly with the key demographics of global sports betting consumer, it also has no off-season so provides sportsbook operators with year-round content.
Sport, Sports Betting and Entertainment combine as official UFC branding, immersive visuals, live stats and a full trading solution making this a must have for sports betting operators. Updating in real time, the UFC Event Centre is the perfect way to track the momentum of a fight and also further a fans understanding of the sport. Odds and trading are provided by SportCast offering a host of markets and exciting betting products such as BetBuilder, Fighter Props and Pre-Fight markets.
How does this represent "Excellence in Engagement"?
The UFC Event Centre sets a precedent for the industry to follow. The official branding, highly immersive visuals, text commentary and live streaming all within the Event Centre highlight what can be possible within the industry. The product is not only the number one way to follow UFC betting, but also in the wider context of the sport is a product that is the number one place for fans to interact with UFC on a fight night and before. This sets a standard for the industry that the value that can be added to operator websites with content that informs and therefore engages.
Objective: Our objective was to provide a betting solution for UFC, bringing the sport to its global fanbase in a completely new way. We wanted to not only increase handle on UFC for our operator partners, but also bring the sport to a new audience and allow them to engage with the brand. With over 900 million fans worldwide demand for an improved UFC betting offering was clear. We aimed to create a complete solution that would allow fans to enjoy a night of UFC action without ever having to leave an operators domain. UFC looked an ideal acquisition and retention tool for operators and by creating this fan-first solution we can realize this real benefit to our customers.
Strategy & Execution: The product was designed to get fans closer to the octagon. Official UFC branding across the Event Centre immediately allows to enjoy the UFC experience and iconic brand. Official fighter images for every athlete on the UFC roster adds to this and allows fans to resonate further with the brand. Immersive visuals and statistics that update in real time allow fans to track a fight like never before, furthering their understanding of the sport and encouraging engagement. Live text commentary also is another way for fans to follow a fight, tracking the momentum of the contest and highlighting every action point in every round. Live streaming completes the experience for fans giving them a one-stop-shop for UFC entertainment.
In partnership with SportCast we also offer a fully traded solution with BetBuilder, Pre-Fight markets and Fighter prop markets. UFC is a difficult sport to trade and as such this solution further cements this product as a complete betting solution with the fan at the heart of its creation and execution.
Results: "Rush Street Interactive continues to focus on enhancing the betting experience of our customers. The UFC Event Centre is the next generation of fan engagement. The UFC brand is extremely powerful and already resonates strongly with the key demographics of global sports betting consumers. We strongly believe this ground-breaking product will bring greater entertainment-value to our players' betting experience." Richard Schwartz Rush Street Interactive's President.
The UFC Event Centre has proven very popular with our clients and is live with six customers globally. It will go live with another 20 more throughout the next few months. Our customers have been thrilled with the experience and have all seen improvement in their UFC betting revenues.
Dana White, UFC President, called it a 'game-changer for UFC fans'. The UFC fanbase is fiercly loyal to the brand and as such the official nature of the product has been very important in gaining engagement from bettors.