🎉

2022 Shortlist
WELCOME TO NBA LANE
Entrant: NBA
Winner 🏆
Best Integrated Marketing Campaign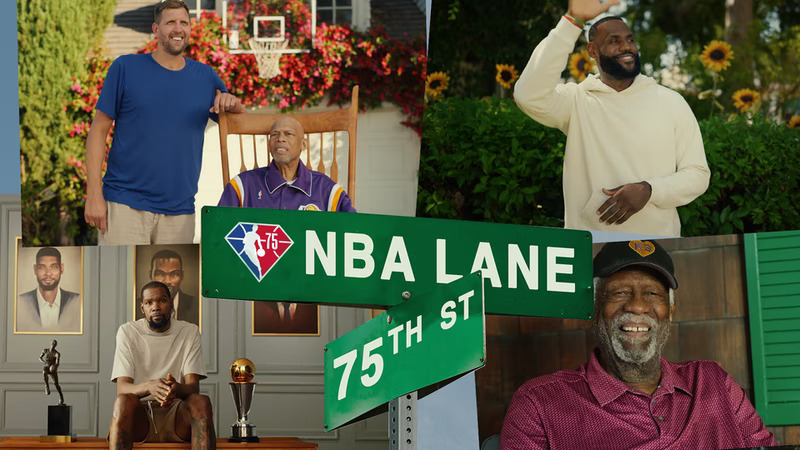 ABOUT THIS ENTRY
In celebration of the NBA's 75th Anniversary Season, the league joined forces with players, legends, celebrities and superfans to build a world that could house the entire vibrant NBA community. Welcome to NBA Lane.
How does this represent "Excellence in Engagement"?
Leading with a social-first release that tipped off launches on traditional media platforms showcased a new strategy for marketing campaigns. This integrated campaign represents how a league-promotional spot can come to life in other ways outside of traditional media. Not only did NBA Lane come to life through unique social media opportunities, it also came to life in the physical world. NBA Lane continued to expand at ComplexCon and at the 2022 NBA All-Star fan experience event - NBA Crossover - giving even more fans a chance to peek into life on the Lane; and continuing to prove out that our idea can grow both online and IRL. The NBA Lane integrated campaign will continue to inspire the strategy for promotion of future campaigns and challenge the industry across all forms of media.
Objective: The NBA is not just a sports league. It is a culture and entertainment force that tells compelling stories every single night. And those stories are shared and reimagined by fans of all ages around the world, and across the broad NBA community. This diverse and dynamic community is what inspired us to compose a short film that highlights what makes the NBA so special. As the NBA tipped off its 75th Anniversary Season, this was the opportunity to tell a story that not only honored where the NBA has been, but celebrated everywhere it is going.
The challenge became - how can we capture the spirit behind 75 years of basketball and honor the history of the league, while also creating excitement for what's to come? The best and most ownable way for the brand to do that was to create a world that housed the why, when, and how the NBA community comes together.
Our objectives were clear - raise awareness for the 75th anniversary, build brand affinity by using both the history and the future outlook of the league, and create a halo-effect around the campaign to boost viewership with both lifelong and casual fans alike.
Strategy & Execution: What better way to capture a vibrant community than a neighborhood? "Welcome to NBA Lane." The world's greatest neighborhood that houses 75 years of basketball culture. NBA Lane houses stories of the past, present, and future in a way that resonates with young, old, hardcore and casual NBA fans who see themselves in this expanding and vibrant community.
NBA Lane allowed a fresh, creative perspective that tapped into the league's authentic crossover with culture and showcased another dimension of the players' personalities. This shift to a narrative-driven short film infused with easter eggs and moments of discovery captured the essence of what has kept the NBA on the forefront of professional sports for 75 years.
We premiered the film, along with behind-the-scenes elements from the shoots, on @NBA social and launched a robust integrated institutional and paid media plan across linear, OLV, digital, OOH and more. 'NBA Lane' came to life through AR effects on Snapchat and Instagram. In conjunction, we developed 'Memory Lane,' a social content franchise celebrating top moments in NBA history from each day throughout the season. And on @NBA Twitter Spaces series "My NBA 75", NBA Legends shared the stories of their careers with fans.
Results: Through a social-first omnichannel release, a wide array of audiences saw themselves within NBA Lane, creating a genuine cultural moment that made a measurable impact — over 92 million views across social and digital channels including on Twitter where it has become the NBA's most-viewed video tweet all season and, with 41M impressions, the NBA's most-seen tweet of all time. This led to an unprecedented 8% jump in the year-over-year TV ratings for tip-off week. Not only did the cast participate in the shoot – they became passionate ambassadors of the film, sharing the film across their platforms, posting special behind-the-scenes moments and reflecting on the honor they felt to represent the NBA.
"Welcome to NBA Lane" generated widespread, positive media coverage that found an audience across every type of media outlet, tipping off with a feature on GMA and stories in The Undefeated, Sports Business Journal, and USA Today, among others. NBA Lane garnered rave reviews with USA Today calling the film "phenomenal", Fast Company calling the piece "epic" and People Magazine noting Michael B. Jordan's strong connection to the game. And most importantly, fans praised the film and celebrated the league, its players and its cultural presence in their lives.