🎉

2022 Shortlist
WWE Next In Line
Entrant: WWE
Winner 🏆
Best NIL Program (Brand, Agency or Tech)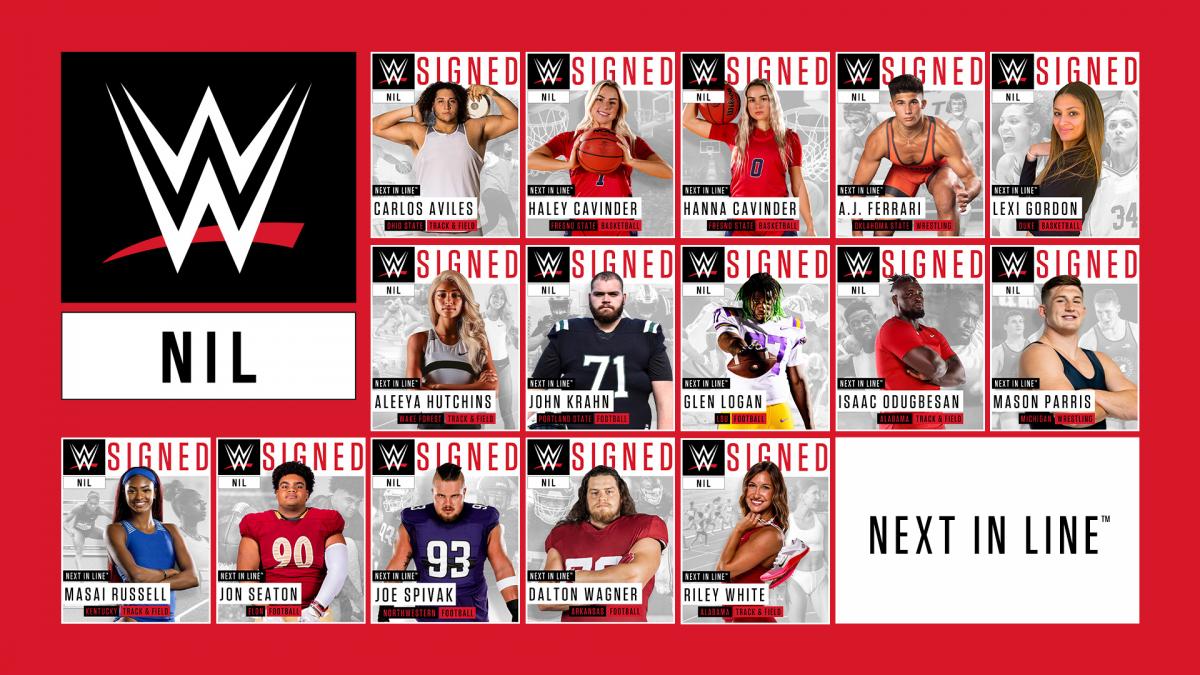 ABOUT THIS ENTRY
Always staying ahead of the curve in the sports industry and continuing to attract elite athletes at all levels across a wide variety of college sports, in December 2021, WWE announced the launch of a groundbreaking NIL program that will provide a clear pathway for collegiate athletics to WWE.
Following a historic new policy by the NCAA effective July 1, 2021, WWE constructed a comprehensive program to recruit and develop potential future WWE Superstars. Dubbed Next In Line, the NIL program aims to enhance the talent development process through collaborative partnerships with college athletes from diverse athletic backgrounds. Next In Line has the potential to be transformative for WWE, this is not a short-term marketing deal, this is a long-term recruiting program, which is why we have strategically reframed the initials NIL to mean "Next In Line."
How does this represent "Excellence in Engagement"?
Next In Line has generated excitement and engagement across college athletes and the entire sports industry.
Speaking about joining WWE's inaugural Next In Line class with her twin sister, Hanna, Fresno State Basketball player and social media sensation (amassing nearly 4 million followers on TikTok) to TIME, Haley Cavinder said, "We definitely didn't grow up wanting to become wrestlers. It just kind of happened. It's right up our alley because it is entertainment. And that's what Hanna and I do on the side."
A lifelong fan of WWE, Northwestern Defensive Lineman, Joe Spivak, told Sports Illustrated, "I got on board fast. I can remember pretending to be John Cena and the Boogeyman in our backyards. I started thinking, 'this could really be perfect,' I just love training and athletics and competition so much and my other love is having a mic. I'm excited to learn from everyone as much as I can so when I get an opportunity to tryout I'm ready to turn heads and let them know they have something special."
Objective: An award-winning global sports entertainment organization that can be seen in more than 1 billion homes worldwide in 30 languages through its weekly television programming, monthly premium live events and social and digital platforms, WWE is renowned for its world class, diverse roster and for creating household names such as The Rock, John Cena, Stone Cold, The Undertaker, Becky Lynch, The Bella Twins, Charlotte Flair and countless others.
In addition to being exceptional athletes, WWE Superstars are charismatic entertainers. They are playing a character for our audience—and it is good versus evil. The connection they make with the audience is the "it" factor that makes a Superstar.
Leading the company's talent efforts, WWE's Executive Vice President, Global Talent Strategy & Development Paul "Triple H" Levesque is revolutionizing the business with his global recruiting strategy and developmental training processes. Always on the search for the next big Superstar, WWE built out its recruiting efforts through Next In Line to find second-to-none athletes and performers both near and far.
Strategy & Execution: As part of Next In Line, all athlete partnerships will have year-round access to the state-of-the-art WWE Performance Center in Orlando, FL. Additionally, they will have access to resources across the organization including brand building, media training, communications, live event promotion, creative writing and community relations. Throughout the course of the partnership, WWE will be able to learn about these individuals—their passions, their skills and more—and for some, this process will result in a WWE contract offer.
In coordination with WWE's NIL strategy, WWE recently announced it will host a multi-day talent tryout, exclusively for current and recently graduated college athletes, as part of WrestleMania Week in Dallas, TX. The three-day event, beginning Wednesday, March 30, will host more than 50 male and female participants with collegiate athletic backgrounds across football, basketball, track and field, wrestling, volleyball, gymnastics, cheer and dance.
Athletes will partake in performance evaluations, individual and group promo evaluations, in-ring technical sessions and sit-down interviews as part of the tryout process. Additionally, current college athletes will participate in assessments as WWE continues its search for the next class of its Next In Line program.
Results: Learning from the best in the industry, the impact of WWE's NIL program will be transformational for these athletes. A unique experience that cannot be duplicated across the sports and entertainment sectors, WWE will help mold the next generation of Superstars that readies NCAA competitors for WWE once their collegiate careers come to a close.
Taking Next In Line to the next level, WWE announced a partnership in March 2022 with INFLCR, a Teamworks product and industry leading brand building, content and NIL business management platform for college athletes, to increase the scope and scale of WWE's NIL program. Through the partnership, WWE will leverage INFLCR's technology and alliances with more than 200 NCAA Division 1 colleges and universities to reach thousands of INFLCR student-athletes looking to monetize their name, image and likeness. Together, WWE and INFLCR will innovate how student-athletes engage with the WWE brand while maintaining their NCAA eligibility.
Additionally, highlighting WWE as a leader in the sports world, the launch of WWE's Next In Line program has attracted global media attention and exposure from outlets including: Sports Business Journal, TIME, Fast Company, NBC Nightly News, Sportico, Forbes, New York Post, ESPN, Sports Illustrated and Bleacher Report.
Production
Credits
Vince McMahon
Chairman & CEO
WWE
Nick Khan
President and Chief Revenue Officer
WWE
Paul Levesque
Executive Vice President, Global Talent Strategy & Development
WWE
James Kimball
Senior Vice President Global Talent Strategy & Development
WWE
Trent Wilfinger
Senior Vice President Talent ID & Development
WWE