🎉

2022 Shortlist
WWE THUNDERDOME
Entrant: WWE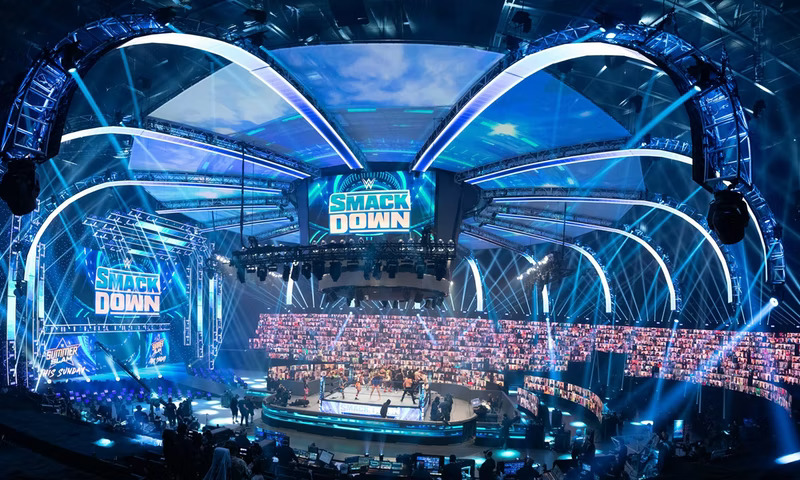 ABOUT THIS ENTRY
With a longstanding history of producing the greatest live spectacles in sports and entertainment, WWE strategically transformed its business model during what was a challenging time in sports and entertainment throughout 2020 and 2021 to be there for the company's staff, fans, performers, shareholders and business partners. Understanding the company had to innovate—and continuing to stay ahead of the curve during these extraordinary times—WWE unveiled WWE ThunderDome. With more than 1,000 fans welcomed back into the arena virtually via proprietary technology provided from The Famous Group, WWE recreated the interactive in-arena atmosphere that has been a staple of its events for decades.
Through Virtual Seat, an immersive real-time, multi-user streaming platform developed by WWE and technology partner, The Famous Group, thousands of fans were brought back into the arena. The Virtual Seat system used proprietary real-time data compression technology to minimize the bandwidth required to send and receive 1,000 simultaneous two-way video streams, delivering an ultra-low latency user experience with unparalleled control, scalability and customization of content. With that low latency critical to delivering the experience, the entire system optimized both web-based video transport and on-premise media server systems, eliminating all possible points of processing overhead, bringing latency down to just milliseconds.
How does this represent "Excellence in Engagement"?
Always on the cutting edge of technology, WWE took lessons learned throughout the pandemic, including how the company leverages AR and VR technology, to continue to take a fan's viewership and engagement to the next level. Today, all of our live broadcasts integrate AR. Roman Reigns, Randy Orton, Charlotte Flair and many other Superstars have augmented reality incorporated into their ring entrances. Additionally, always on the forefront of the latest digital trends, WWE explored innovative ways to engage our fans even further across an array of platforms. At its core, augmented reality tweaks the world around us to make it more spectacular. As Snapchat began to pioneer the AR space, WWE knew we wanted to take that journey with them. In October 2021, WWE launched a new partnership with Snap Inc.'s new global creative studio for branded augmented reality, Arcadia, to deliver the most innovative, impactful and effective AR experiences to WWE's global audience.
Objective: When the pandemic shut down the sports and entertainment world in March 2020, WWE's executive committee successfully led the company to be the only sports and entertainment property at the time to produce ongoing, weekly live events from WWE's training facility in Orlando, FL, without fans, on closed sets and with only essential personnel in attendance.
At the heart of every WWE live event and broadcast experience is the interaction between fans and the Superstars they love—and love to hate. The passion and energy each fan brings with them into the arena elevates every WWE show to a level that hasn't been able to be replicated through a screen—until now. The fans fuel the action in the WWE ring, which in turn further drives their engagement and excitement, both in the arena and for home viewers.
WWE experimented with new ways to add more energy into live TV programming during the COVID pandemic. The company looked at what other leagues were doing and decided to lead with an innovative experience that was right for WWE and its fans.
Strategy & Execution: WWE ThunderDome (launching August 21, 2020 and concluding July 16, 2021 when the company returned to live event touring) was a first-of-its-kind large-scale interactive live platform which audiences had never seen or experienced before. With more than 1,000 fans welcomed back into the arena virtually via proprietary technology provided from The Famous Group, WWE recreated the interactive in-arena atmosphere that has been a staple of its events for decades.
Fans were not only able to see the action, but they were also able to experience it, becoming a part of the show and interacting live with WWE Superstars as if they were there in person. WWE ThunderDome also featured a state-of-the-art set, video boards, pyrotechnics, lasers, cutting-edge graphics and drone cameras to provide viewers with a reimagined live event spectacle. It also allowed the company to keep its production staff employed while furloughs and layoffs were unfortunately ongoing across other businesses in sports and entertainment.
Results: As WWE returned to live event touring with fans in attendance beginning July 16, 2021, WWE ThunderDome allowed the company to never skip a beat and deliver live weekly content in new ways to fans and broadcast partners worldwide. In addition to premium live events, such as SummerSlam, more than 70 primetime episodes were filmed live in WWE ThunderDome and used for Tribute to the Troops annual TV special which honors US servicemen and women and their families and a special two-hour event for its broadcast partners in India.
With nearly 1 million registered fans from 226 countries and territories, the creation of WWE ThunderDome delivered excitement for fans and further solidified WWE as a visionary leader in technology, live event and production.
Production
WWE
Credits
Vince McMahon
Chairman & CEO
WWE
Nick Khan
President & Chief Revenue Officer
WWE
Kevin Dunn
Executive Producer & Chief, Global Television Distribution
WWE
Christopher Kaiser
Executive Vice President Television Operations and Production
WWE