🎉

2022 Shortlist
Yahoo Fantasy Sports
Entrant: Yahoo Sports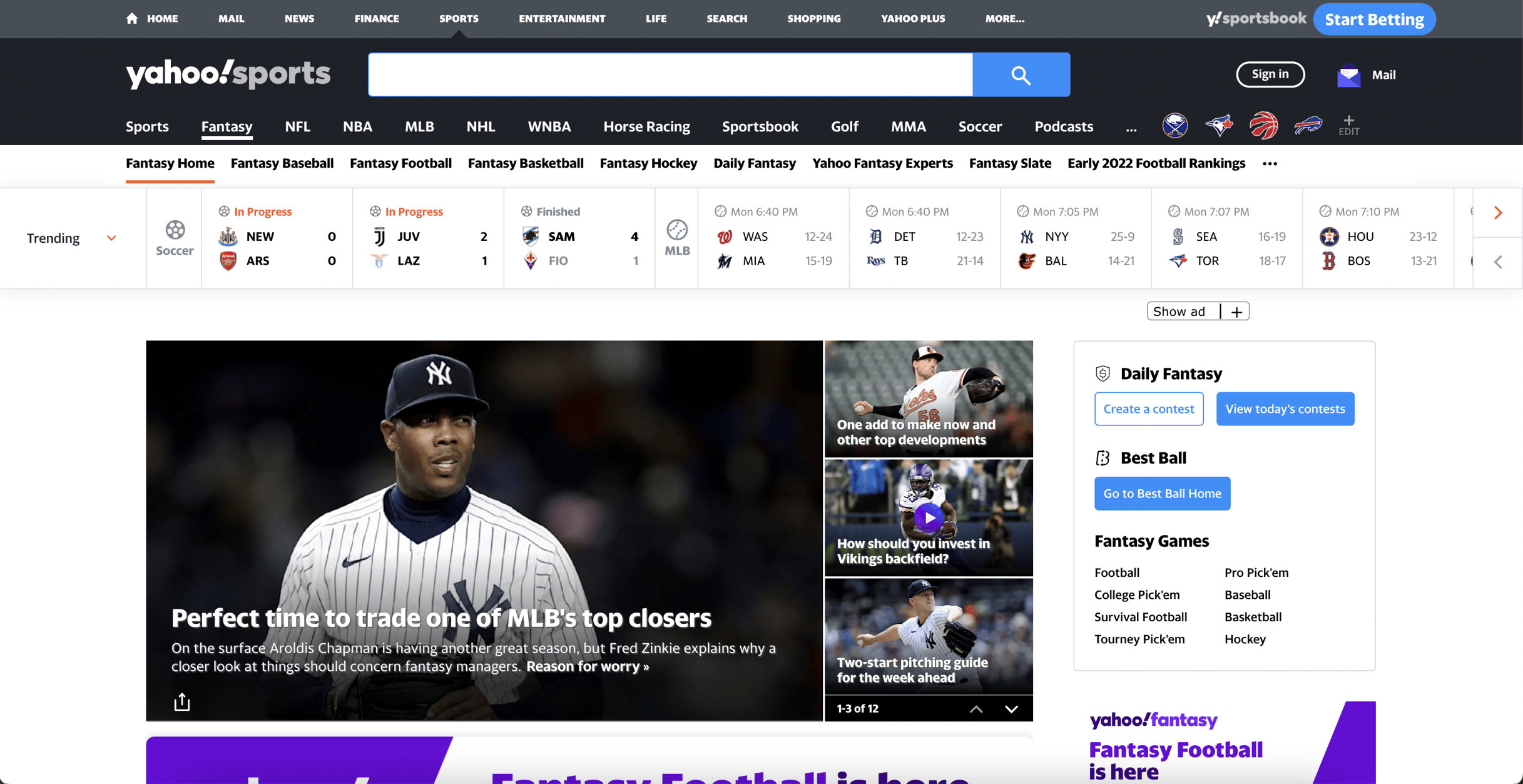 ABOUT THIS ENTRY
Yahoo Sports connects fans to the sports and fantasy games they love most, providing personalized quality content and superior fan experiences every day.
How does this represent "Excellence in Engagement"?
For the first time ever, Yahoo Fantasy players had an opportunity to face off in person as part of an exclusive free Daily Fantasy contest for $200,000 in cash prizes and the title of the Best Yahoo Fantasy Football Player. The Yahoo Fantasy Football Championship brought together 60 top players from around the country for an exclusive weekend at MGM National Harbor Resort & Casino.
The event built on Yahoo's efforts to create a deep community in the fantasy space, leveraging its role as an official Digital Media Sports Partner of MGM Resorts to create a live event experience in an industry recently known for digitally connecting fans.
Objective:
Yahoo Fantasy Sports continued to accelerate as a key player in digital sports media, featuring a unique intersection of content, product, and gaming to super-serve both casual and die-hard sports fans and create a full 360 experience across digital and mobile platforms.
Strategy & Execution:
Yahoo Sports created new experiences and content offerings supporting sports betting and Daily Fantasy Sports (DFS) for fans looking for different ways to get in on the action.
Yahoo Sports implemented "Shark-Free" Daily Fantasy contests, which provide an opportunity for more players to win the biggest cash prizes on a level playing field, including single-game contests and multi-entry contests.
Yahoo Sports launched single-game Daily Fantasy contests as a fun, easy-to-play game format in which rosters are built from the players in a single game - creating the perfect complement for players of our other games that want a little more fantasy action.
Further enhancing the fan and user experience, Yahoo Sports launched Yahoo Fantasy Plus, a premium subscription service (available on mobile and desktop) that provides a series of exclusive tools for fantasy players including access to premium research tools, trade insights, and easier lineup management, and a new "Trade Hub" feature making proposing and completing trades easier.
NFL Live on Yahoo Sports continued to deliver a robust digital lineup of live NFL local and primetime playoff games for free on users' phones and tablets on Yahoo mobile properties including the Yahoo Sports app and Yahoo Fantasy Sports app.
Yahoo Sports also introduced Draft Together, a popular new feature on Yahoo Fantasy that enables fans to draft together while on video chat, that rolled out for Fantasy Football this season. Private leagues with up to 12 teams can use Draft Together on the Yahoo Fantasy mobile app allowing for a fully interactive draft experience.
Results:
Yahoo Fantasy Plus: 90 percent of trialists to date have stayed on as subscribers and over a quarter of Yahoo Fantasy Plus subscribers have two or more fantasy teams. 91 percent of all subscribers are long-running Fantasy players who have managed a league on Yahoo for more than one season.
Through the end of the regular season, NFL Live on Yahoo Sports generated the following YOY increases:



Total minutes watched (33 percent)
Average minute audience (31 percent)
Ad impressions (48 percent)

80+% of total Yahoo Sportsbook users registered with BetMGM are also active in the Yahoo Sports and Yahoo Fantasy Sports apps
Throughout 2021, the ratio of daily active users to monthly active users increased by more than 14 percent for sports betting-related content
The Work: