ABOUT THIS ENTRY
Around the 50th anniversary of Title IX, Ally launched a landmark campaign to promote equity in Women's sports through a commitment to equal spending in men's and women's sports media.
This submission demonstrates how Ally spurred national conversation, supercharged brand growth, and turned the pledge into action through our "Watch to Change" initiative and first-ever "Primetime-ification" of the NWSL Championship game.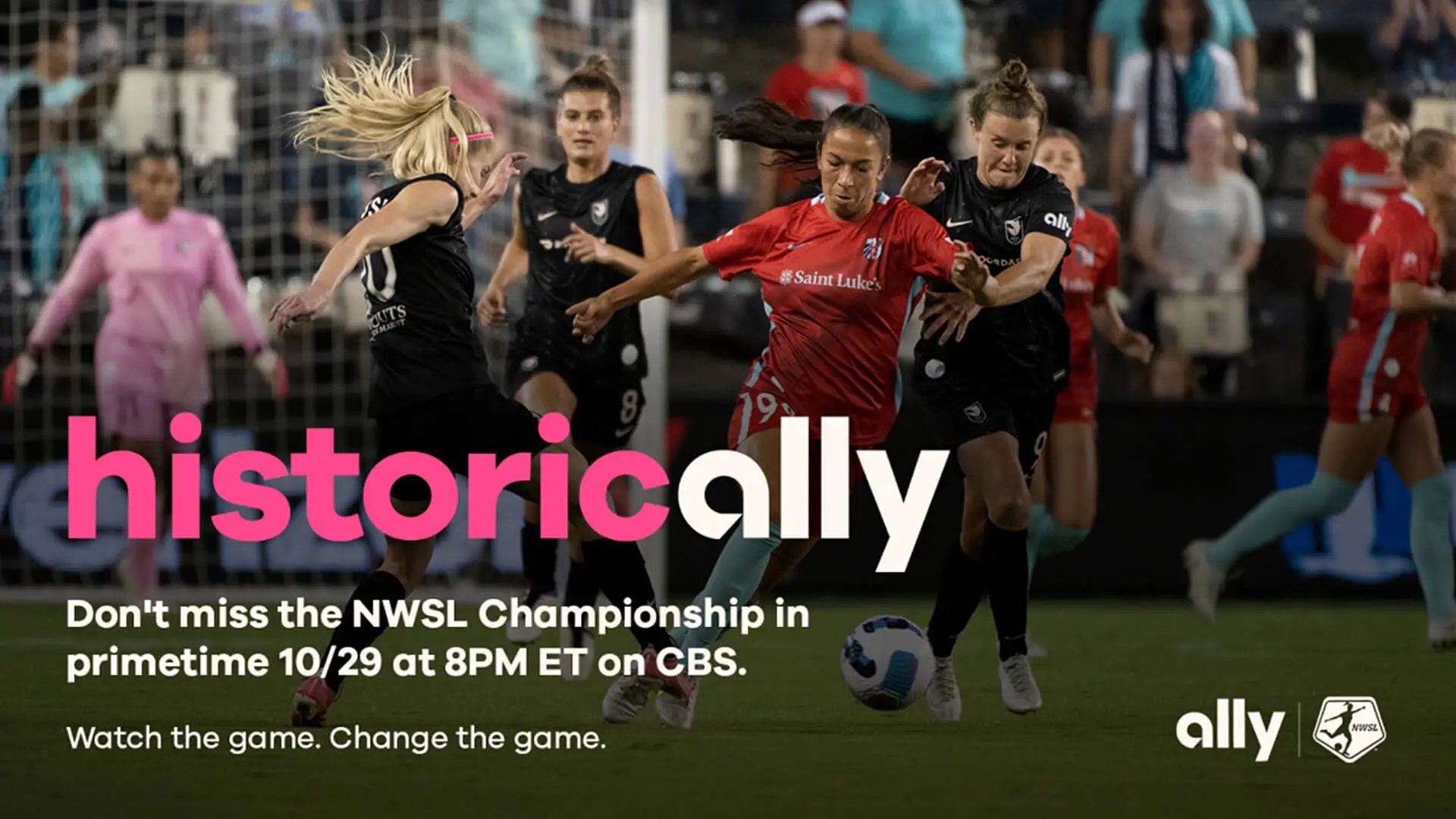 How does this represent "Excellence in Engagement"?
At the start of 2022, women's sports were still receiving the same amount of broadcast coverage they did in the 1980's. Against the backdrop of a male-dominated sports industry that has seen incredible growth in technology and revenues over the past few decades – the current gender equity gap comes painfully into focus.
So how do brands disrupt the status quo?
It requires a bold vision, out-of-the-box thinking, and the courage to make substantial investments in historically underrepresented areas. Ally is leading the charge of big ideas that are driving big results – for business and society as a whole.
Objective
"Less than 10% of sports media coverage is dedicated to women's sports."
For Ally, this data point represents a pressing societal challenge and a salient business opportunity, an opportunity that drove a very specific objective: grow the 10%. This objective not only represents the right thing to do, but it's also good for business. Investing in women's sports provides a platform to grow Ally brand awareness, affinity, and engagement.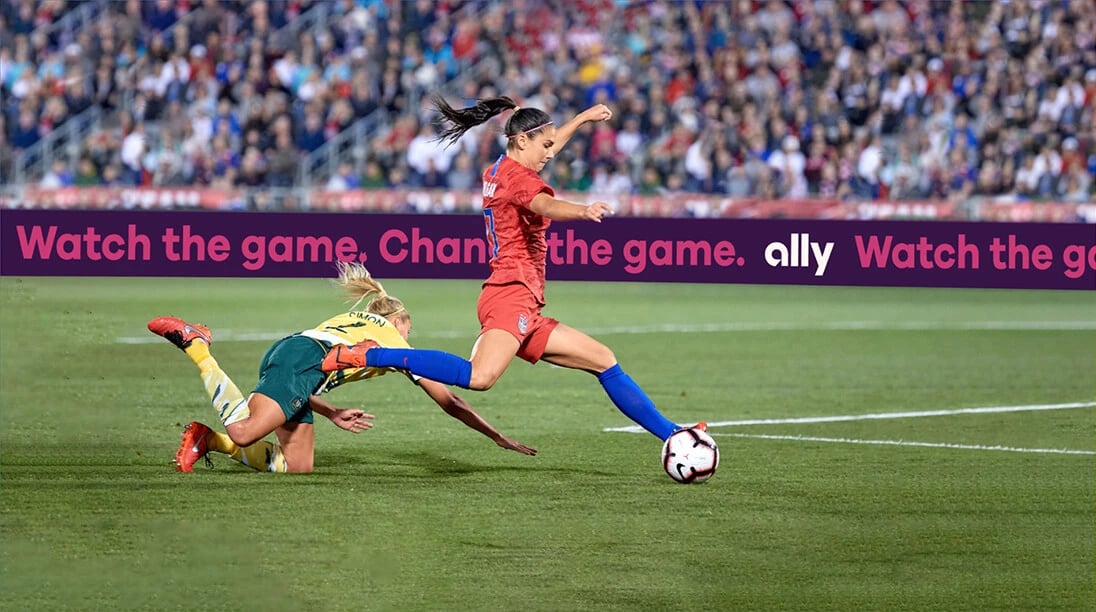 Strategy & Execution
Big challenges require bold and innovative solutions. Ally's partnerships with the National Women's Soccer League (NWSL) and NWSL Player's Association (NWSLPA) are a good start, but more is needed to achieve meaningful, lasting change. Ally identified three key focus areas/insights which helped drive this initiative forward:
Deeds not words.
We can't do it alone.
The time is now.
Our big idea: "The Ally 50/50 Pledge".
At the espnW Summit, Ally made a groundbreaking announcement: committing to equal spending across women's and men's sports media. This was a specific, measurable, and actionable commitment, epitomizing the idea of "deeds over words".
On the 50th anniversary of Title IX, Ally turned this pledge into action by launching a national campaign called "Watch the Game, Change the Game," a call-to-action promoting the idea that visibility = opportunity. The campaign included a new TV spot scaled across broadcast, digital, and social media channels, along with the #WatchToChange hashtag and comprehensive influencer program. We generated massive momentum and had one more major announcement to make.
In partnership with the NWSL and CBS Sports, Ally led the effort to move the NWSL Championship game to "Primetime"—for the first time in history.
Organizations
MKTG
Anomaly
EssenceMediacom
Tier One Partners
Ally
Featured
Ali Krieger
Ashlyn Harris
Trinity Rodman
Brenna Stewart
Ibitjah Muhammad
Hilary Knight
Sarah Fuller
Nate Burleson
Atoya Burleson
Credits
Andrea Brimmer
Chief Marketing & PR Officer
Ally
Bridget Sponsky
Executive Director, Marketing
Ally
Stephanie Papelian
Head of Sports & Entertainment Marketing
Ally
Jill Ellis
Marketing Manager, Sponsorships & Events
Ally
Kari Deneau
Senior Marketing Specialist
Ally
Maggie Meyers
Senior Marketing Specialist
Ally
Marcella Zuhosky
Marketing Specialist
Ally