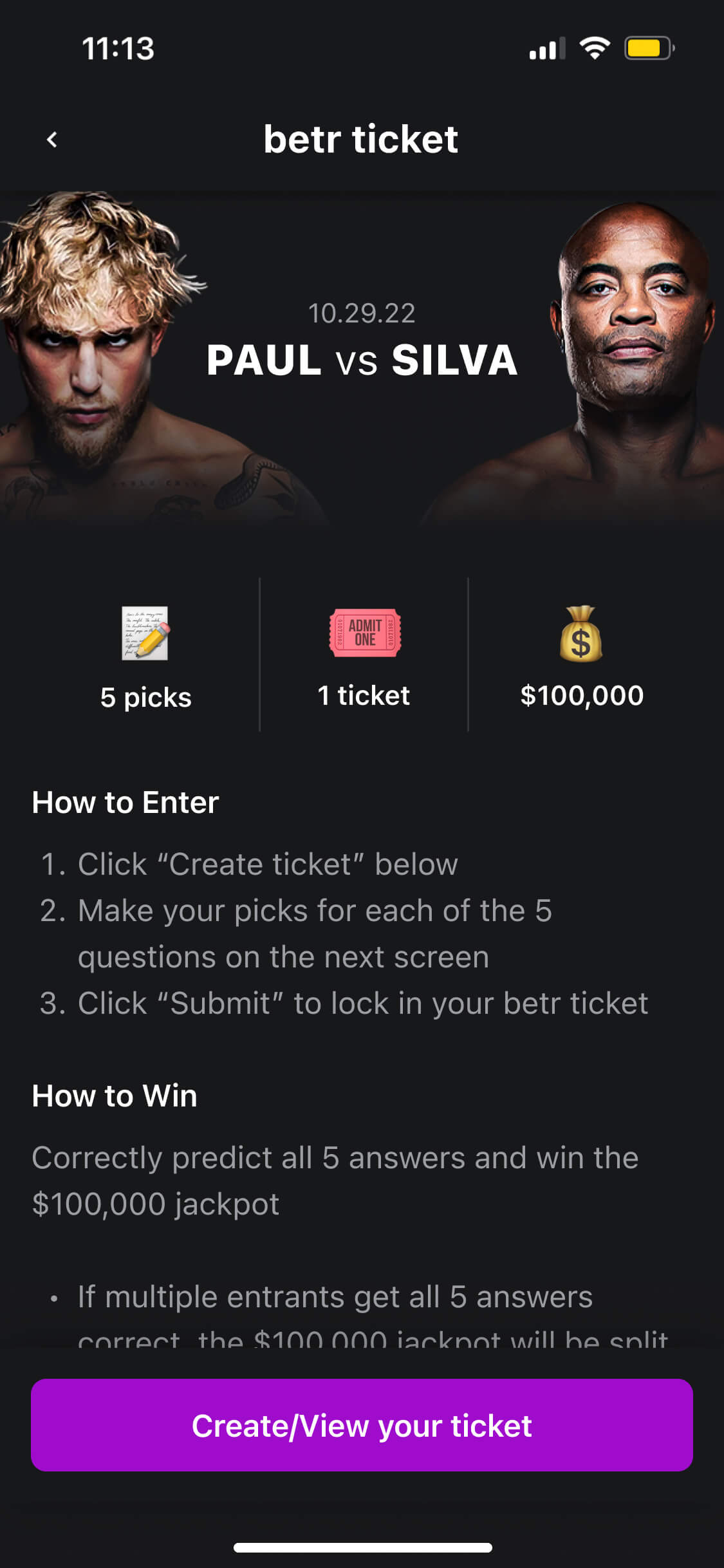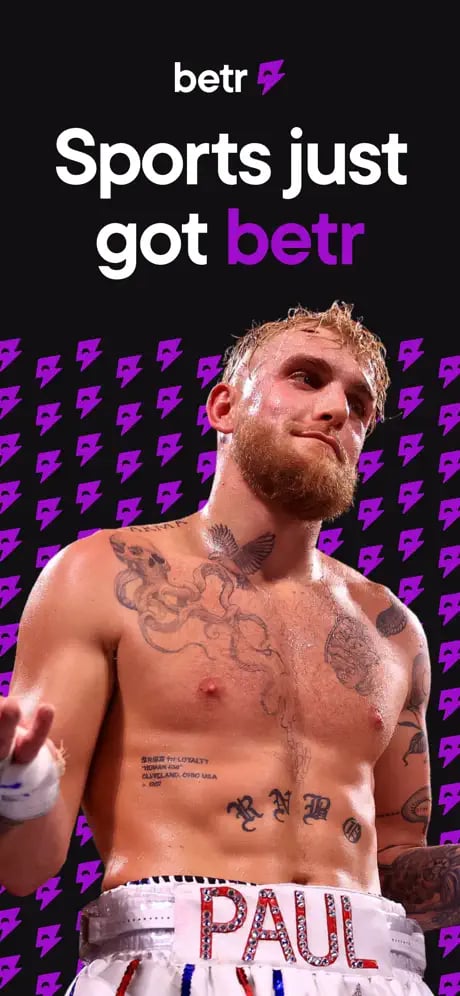 ABOUT THIS ENTRY
Betr is the first microbetting-focused sports betting product that is not only pioneering microbetting technology, but taking it one step further to solve the industry's mobile user experience problem. Microbetting allows users to bet on individual plays – pass or rush in football—an experience that provides near-instant gratification.
Working on the thesis to make every moment of every sporting event an engagement opportunity, Joey Levy, Jake Paul, and the team decided to take advantage of a unique opportunity surrounding Paul's pay-per-view match in October 2022. Not only did Betr become the Official and Exclusive Fantasy Sports and Free to Play Game Partner for Most Valuable Promotions (MVP) Jake "The Problem Child" Paul vs. UFC legend Anderson "The Spider" Silva, the company announced a "Betr Ticket" promotion to allow fans to try and correctly predict five questions on the fight for a chance at $100,000.

How does this represent "Excellence in Engagement"?
Since launch, Betr has significantly beaten all forecasts despite starting the month in a 12-day soft launch phase, having no material advertising (paid ads across media, digital, social), and only offering microbetting (we were live with less than 1% of total betting markets—core markets, parlays, props, etc. are all on the way).
Our user acquisition was more substantial than expected due primarily to conversion from organic/media channels, highlighting the strength of our media-focused customer acquisition strategy. In January alone, we saw a 107% increase in active users wagering (on NFL). These measurables are incredibly insightful when contemplating future campaigns as we now understand the capabilities and reach that campaigns—such as the Paul-Silva—have.
Objective
Betr co-founders Levy and Paul saw a problem with sports betting – a complicated and confusing user experience with numbers and odds that look more like a spreadsheet than a sportsbook. This can turn off the casual bettor who may not understand what a line means for their bet. Given that barrier to entry to the mass consumer market, Betr developed a first-of-its-kind user interface that makes betting clean, simple, and easy to understand for seasoned and first-time bettors. Additionally, with Paul's built-in following, Betr was able to launch with a robust media presence that serves a mass audience.
For Paul's first boxing fight since launching the company, the team wanted to engage with Betr's and Paul's fans during the fight with a free-to-play promotion with a $100,000 prize for entrants who correctly predict these five questions: How many punches will Jake Paul throw; How many punches will Jake Paul land; How many punches will Anderson Silva throw; How many punches will Anderson Silva land; In Which Round Does the Fight End?
Strategy & Execution
Betr launched their company and free-to-play app in August 2022 to allow users to educate themselves on the intricacies of microbetting in a simplified interface that makes betting, in short, Betr. The goal of the Paul-Silva promotion was to drive sign-ups and conversion to Betr's other free-to-play offerings while engaging with fans in innovative and creative ways. Betr accumulated over 33,000 application downloads from the promotion alone for our free-to-play version. Microbetting is A uniquely compatible fit with U.S. Sports.
The stop-and-start cadence of U.S. sports(pitches & at-bats for MLB, plays &m; drives for NFL, etc.), frequent scoring occurrences, and widespread speculation over what superstar players will do next (Will Steph Curry hit his next three-pointer?) are ideal for microbetting. Betr is focused on the 95% of casual sports fans underserved by the current incumbents of legacy sportsbooks.
Organizations
Athletes & Creators
Credits
Mike Denevi
Head of Media
Betr Holdings, Inc.
Harrison Powers
Media Operations Associate
Betr Holdings, Inc.
Joey Levy
Founder & CEO
Betr Holdings, Inc.