ABOUT THIS ENTRY
The BigDraft22.com website was targeted to reach sports fans in the urban centers of the United States. Big Brothers Big Sisters and the NFL's Inspire Change initiative teamed up with RedPeg Marketing to reach and recruit men—specifically men of color—to become Bigs (one-to-one mentors) in their communities.
How does this represent "Excellence in Engagement"?
This year's campaign harnessed the power of storytelling around the important topic of youth mentorship. It's proven that combining accessible design with compelling, powerful content can generate results that help grow our communities.
Furthermore, it lays a foundation upon which sports organizations can partner with community impact organizations to deepen their connections in their markets and beyond in an authentic way.

More than ever, this year's Big Draft educated, connected, and empowered people around the United States to step up in their communities and devote time to local youth. Inspiring that level of human commitment at scale is the ultimate engagement of sports fans and goes far beyond any KPI or metric.
Objective
We reached our objective of recruiting men to become Bigs through an easy-to-use signup process complemented by NFL influencer-driven content.
To demonstrate the power of mentorship and its impact on America's youth, we told the story of Alabama cornerback Joshua Jobe and his lifelong relationship with his Big Brother, Matt. Ultimately, this site served as a home base and landing page for all of Big Brothers Big Sisters' outreach surrounding their annual Big Draft campaign.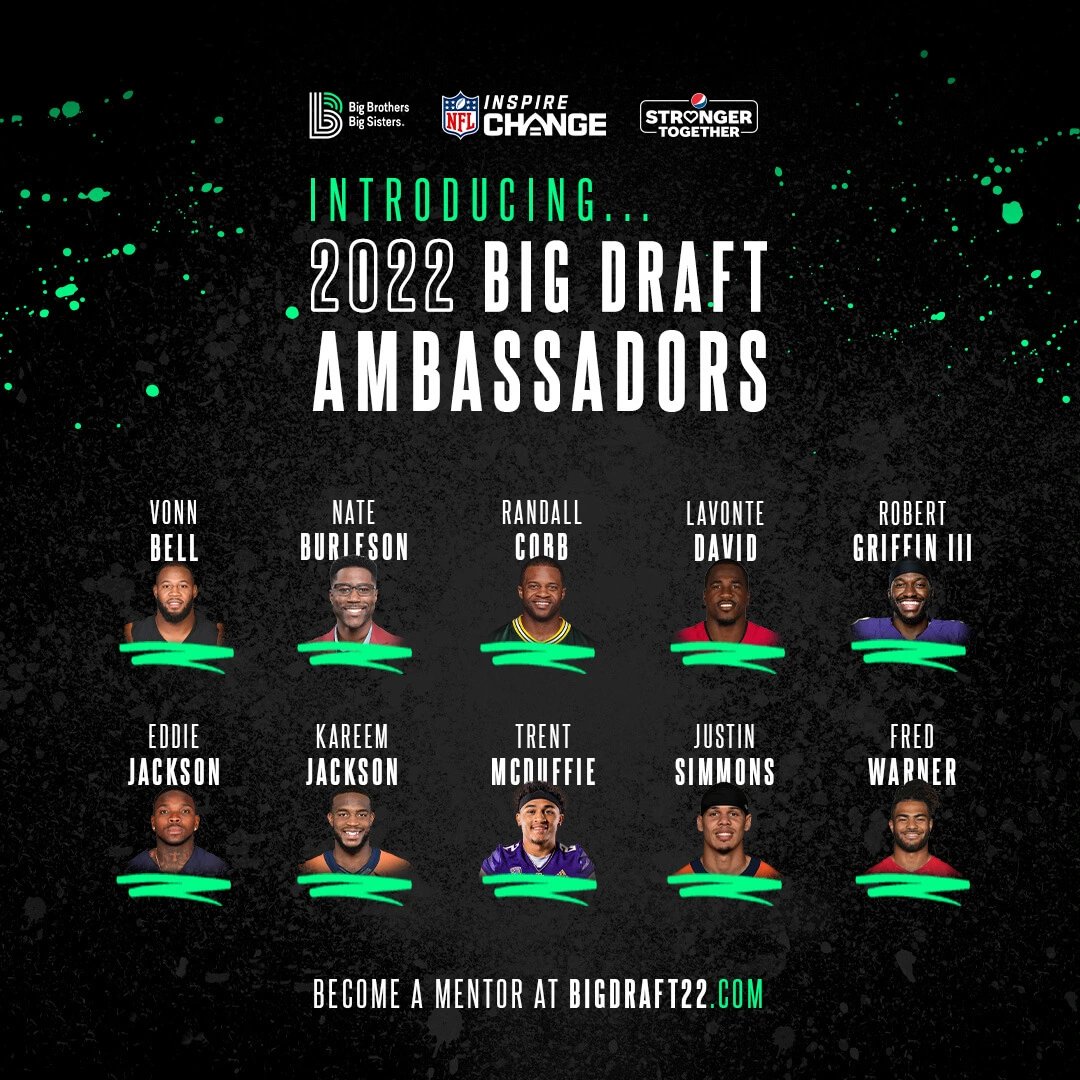 Strategy & Execution
We designed and built BigDraft22.com to reach and recruit men—specifically men of color—to become Bigs (one-to-one mentors) in their communities. To drive sign-ups and engagement, RedPeg created the NFL Big Ambassador Locker Room sponsored by Pepsi's Stronger Together initiative. Overall, our role included the development of a comprehensive digital playbook outlining SEO, email, and social strategy for local agencies and Bigs to promote the program and drive traffic to the platform. We also managed all influencer relations and content creation, designing social and email graphics used across local and national BBBS channels.
The critical 'north star' in our design and communication throughout this campaign was focusing on one touchpoint to be inspired and one click to act. All messaging led to an easy-to-use, straightforward interface that emphasized signing up to receive information on how to become a mentor in local communities. Knowing the shortening attention span of our target, we focused on impactful influencer content that could grab attention, be concise, and get prospective mentors the information they needed without friction.
Organizations
RedPeg Marketing
Big Brothers Big Sisters
Dalex Design
NFL
Pepsi
Credits
Chris Gehring
Digital and Social Strategist
RedPeg Marketing
Krista Olson
Vice President, Marketing & Digital Strategy
RedPeg Marketing
Adam Vasallo
Chief Marketing Officer
Big Brothers Big Sisters
Claire Selius
Creative & Content Producer
Big Brothers Big Sisters
Kittrina Thompson
Director, Integrated Marketing
Big Brothers Big Sisters
Bobby Davenport
Chief Executive Officer
Dalex Design