ABOUT THIS ENTRY
An innovative example of how Playfly is approaching the new era of collegiate athletics and MMR with ideas that support all stakeholders, Campus Cast Live was created and quickly brought to life on the campus of Michigan State.
Marking the first-ever instance of an MMR company hiring student-athletes it represents in the era of NIL, Playfly launched the student-athlete-hosted second-screen experience that ran simultaneously to the NCAA men's basketball tournament. Hosted by Spartan football stars Payton Thorne (QB) and Jayden Reed (WR), the pair provided live commentary via Michigan State's Spartan Media Network Facebook Page as the men's basketball team chased a national championship.
The social cast drew attention from advertisers, locking in seven brand integrations (Buick, Mcdonald's, and numerous East Lansing-local businesses) before the first edition even aired. The concept was celebrated as a true 'triple win' where student-athletes, brand partners, and fans all benefited from a single effort.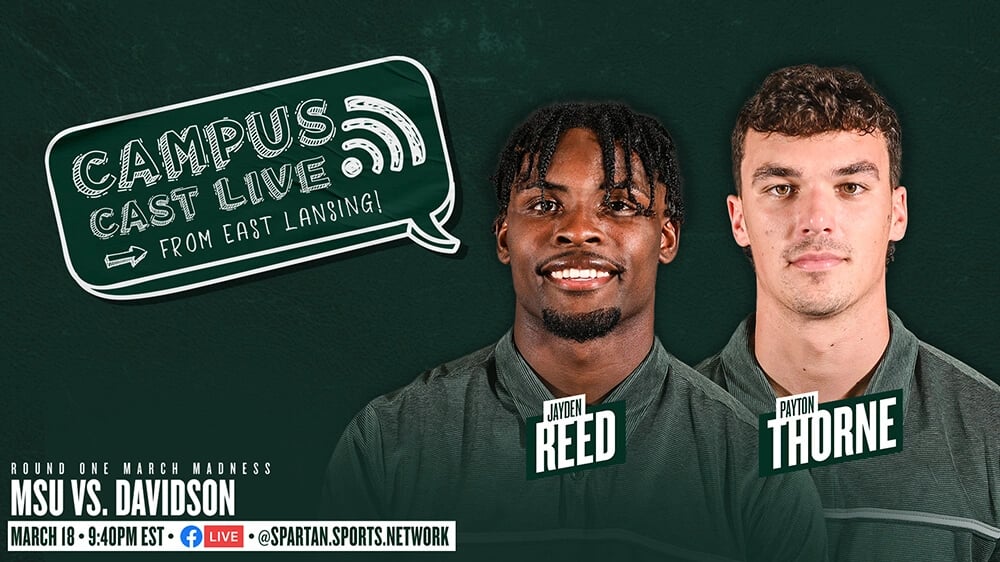 How does this represent "Excellence in Engagement"?
The NIL landscape across collegiate athletics continues to face unanswered questions, yet Campus Cast Live stands as a proof point that there is space within NIL for wins across the board. Looking through the traditional engagement lens, the second-screen experience that stars popular student-athletes is providing additional, unique content to fans who are seeking more content than ever from their favorite teams.
Looking at NIL concepts and engagement, a second screen experience such as this opens up a host of new sponsorable inventory and in turn, new revenue streams for athletic departments. From the eyes of the student-athlete, not only is this a straight-forward opportunity to earn money utilizing their name, image and likeness, it's an opportunity to gain real, career-building experience in the media and broadcasting space.
Ultimately, Campus Cast Live proved that NIL can be more than brand ambassador programs and social media content. There is room for programs that leverage NIL for the benefit of all parties as the landscape continues to evolve.
Objective
Playfly Sports set out to create a meaningful and highly-engaging NIL opportunity that was both scalable across its network of MMR properties and beyond. When considering what would make a truly sustainable and holistically beneficial NIL program, President of Playfly Sports Properties sought to achieve simultaneous wins for the student-athletes, primarily, the fans, and brand partners.
Additionally, Playfly was hoping to create a concept that allowed for student-athletes to receive payment for their name, image, and likeness while creating compelling content for fans and leveraging that interest with meaningful sponsor integration.
The broad concepting led to a final objective of creating a live, second-screen experience that would feature paid student-athletes as hosts and commentators as other teams from their university competed in regular-season or championship-level games. Loosely inspired by the recently popular Manning Cast, the live stream would feature student-athletes' reactions and thoughts to games and competitions and ideally include special guest interviews and sponsor integrations.

Strategy & Execution
Identified two notable football athletes in Payton Thorne and Jayden Reed. Both student-athletes held strong credentials and favor among Michigan State fans. As a bonus, the pair played high school football together, creating natural chemistry between the two.
The live stream aired simultaneously to the NCAA men's basketball tournament where the Michigan State Spartans advanced to the second round before suffering a loss to Duke.
Playfly leaned on live stream expertise from its internal esports operators, landing on Facebook Live as the chosen broadcast platform. The show ran on Michigan State's Spartan Media Network Page.
The Playfly team fielded sponsor interest from both local and national brands, including Buick and McDonalds.
Graduate Hotel, a hotel chain centered around college towns with a location in East Lansing, signed on to play host to the social cast, serving as the visual backdrop and production hub for the activation.
Playfly's internal creative agency, Playfly Creates, developed and implemented a complete branding and graphics package for Campus Cast Live which can be tailored to any university's brand guidelines for future usage. To differentiate, Michigan State's installment was formally dubbed Campus Cast Live: East Lansing Edition.
Organizations
Playfly Sports
Michigan State University Athletics
Credits
Christy Hedgpeth
President, Playfly Sports Properties
Playfly Sports
Kris Kassel
SVP, Growth & Innovation
Playfly Sports
Curtis Winger
VP, Operations
Playfly Esports
Michael Galante
SVP, Playfly Creates
Playfly Sports
Brett Sowell
Director, Digital Strategy & Monetization
Playfly Sports
Steve Klein
General Sales Manager, Michigan State Sports Properties
Playfly Sports
Mike Zaretti
Sr. Director, Business Development, Michigan State Sports Properties
Playfly Sports
Lauren Capone
Director, Communications
Playfly Sports