ABOUT THIS ENTRY
The Chicago Bulls partner with Anheuser Busch as the Official Domestic Beer to reach fans at the intersection of being healthy, active, and social and prove that it's only worth it if you enjoy it.
How does this represent "Excellence in Engagement"?
We do not think about checking the boxes on a list of assets for Anheuser Busch. Instead, we are always thinking about how we leverage existing assets, shift them, or creative new ones that will turn into platforms and campaigns.
Because of our agency approach, when certain elements, like game entitlements, weren't helping us reach our three goals, we changed them, and now focus on experiential engagements, earned media opportunities, and sponsored or bespoke events.
There is almost nothing defined or required by the NBA calendar that we have to do with Anheuser Busch, and only activations that we want to do that help us collectively develop our brands and grow and excite our fanbase. Because of this flexibility and trust, we are able to jump on earned media moments and count on Anheuser Busch to support anything we want to do or try that aligns with their goals.
We've never been satisfied with one activation and always look to continue building together with another new beer, another collaboration, or a bigger event, consistently raising the bar for engagement and earned exposure.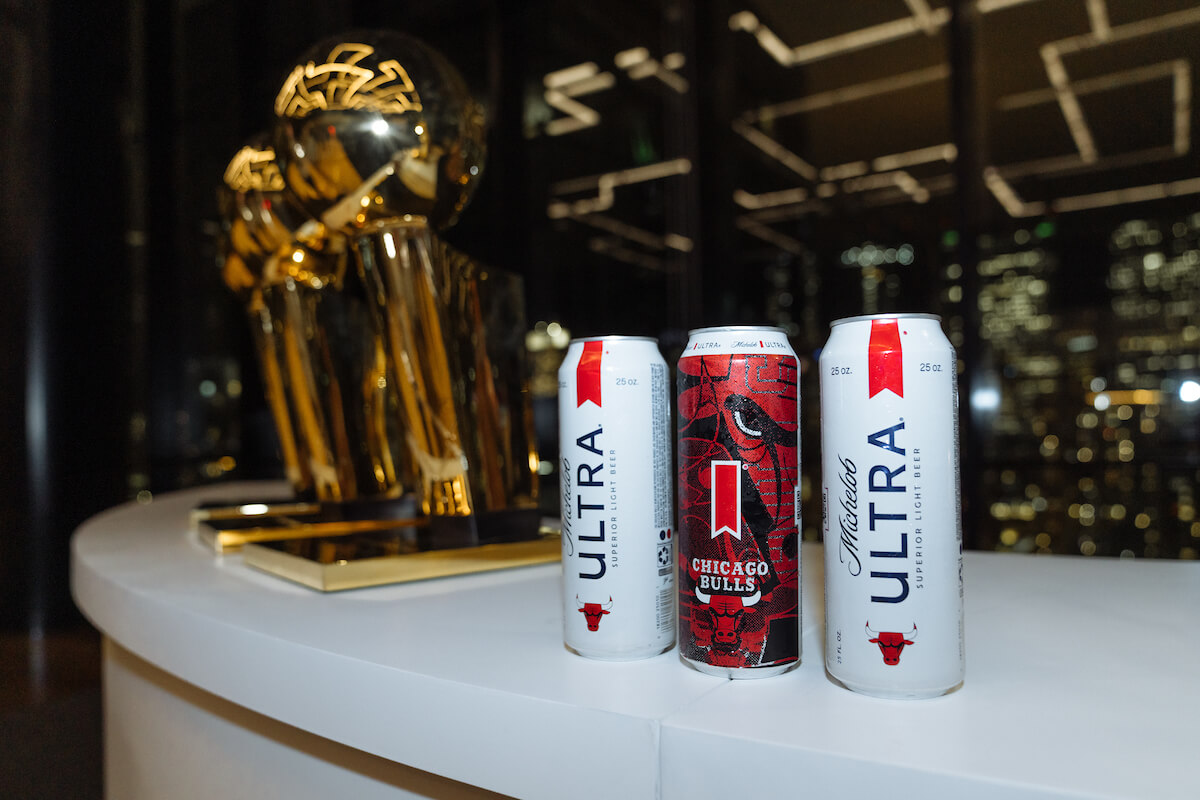 Objective
Anheuser Busch aims to create a winning brand by not just reaching but truly resonating with consumers. That means being in the right place, at the right time, with the right message. Together with Anheuser Busch, we set out to craft that place, time, and message that resonates with Bulls fans and beer drinkers.
We wanted to answer three questions:
How can we break through with a multicultural consumer segment at the intersection of being healthy, active and social?
What are the moments in which fans show up and what premium experiences will excite them?
How do we convey that it's only worth it if you enjoy it?
Those objectives led us to three unique goals:
Integrate Michelob ULTRA and Goose Island into our Bulls eco-system through our game days, in-market, at retail, and on social media
Further establish their role in NBA Culture – Align with fashion, music, and entertainment, launch unique products and experiences
Elevate the exclusive platforms only they can execute –ULTRA Courtside, ULTRA Drip, ULTRA Movement, Goose Island Bulls City 312.
Strategy & Execution
To develop our partnership activation strategy, we brought together experts from different disciplines at the Bulls to brainstorm what would engage our fans and accomplish each of our goals. This "agency approach" to partnership has allowed us to turn Anheuser Busch's contractual assets into impactful platforms and campaigns that support both partnership objectives and Bulls marketing objectives.
Each execution is designed to engage our fans where they are with what they like while capitalizing on the big moments and premium envy-driving experiences for which fans show up. Our activations with Anheuser Busch are ubiquitous spanning in-game, on-premise, experiential engagement, social content, influencer amplification, and even local product licensing, all rolling up to one of our 3 goals, with clear KPIs. 2022-2023 activation highlights include:
Organizations
Chicago Bulls
Anheuser-Busch
Goose Island Beer Co.
Lakeshore Beverage
160over90
Credits
Megan Donovan
VP, Partnership Marketing
Chicago Bulls
Jamie Litoff
Director, Partnership Marketing
Chicago Bulls
Abbe Gahart
Sr. Account Executive, Partnership Marketing
Chicago Bulls
Laniesa Shafer
Manager, Partnership Marketing
Chicago Bulls
David Obajtek
Manager, Sports Marketing & Partnerships
Anheuser Busch
Dylan Ruby
Director, Sports Marketing & Partnerships - Michelob ULTRA
Anheuser Busch
Graham Squires
Senior Brand Manager
Goose Island Beer Co.
TJ Annerino
Sr. Director of Marketing
Goose Island Beer Co.