2023 Nominee ✨
Best Integrated Marketing Campaign
ABOUT THIS ENTRY
The New Jersey Devils launched the franchise's first-ever Third Jersey with a truly integrated, layered, and immersive marketing strategy and execution that saw the brand reach new heights. The design of the first new uniform in team history, led by The GOAT, Martin Brodeur, was packed with intricate details – from the striping and necktie, right down to the amount of games in which the team wore it – everything had a meaning, and everything had a story. These stories came to life in every asset and promotion.

From innovative teases and influencer engagement to experiences and actually creating a viral sensation, the organization did a jersey release like few others have in sports.
How does this represent "Excellence in Engagement"?
Nearly 20,000,000 million social media impressions tied to Third Jersey-related content alone, serving as the team's most impactful marketing campaign to-date and helped win the NHL's Stanley Award for Best Marketing Campaign for the 2021-22 season.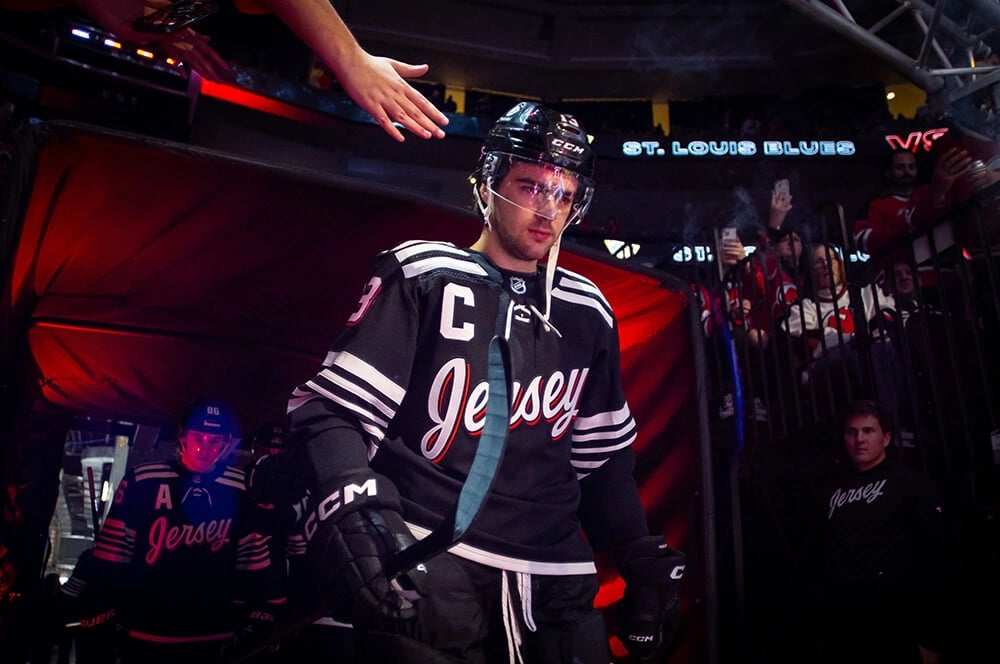 Objective
Primary Objectives:
Ticket Sales
Partnership Activation
Fan Base Development
TV/Radio Tune In
Marketing/Brand Awareness
Social Impact/Community Development
Social Media Engagement
Objectives/Measurement Metrics to Determine Success: This program was launched with three goals in mind:
Brand Evolvement: In the 40-years history of the Devils in New Jersey, there has really been one mark and uniform: The horned and tailed NJ encapsulated with a circle. While there have been subtle variations of it in color, size, angles, etc., the team has never truly had additional marks, or a uniform that was red or white. The goal here was to evolve the brand's IP, by creating a modern, fashion-forward look, that still connected with the people of New Jersey.
Social Media Impact: The Devils have carefully and meticulously crafted and social voice, tone and presence that symbolizes all things Jersey. This new uniform was an opportunity to utilize that presence to continue to enhance traffic to our platforms and grow our audiences.
Community Impact: This uniform was for and about the people of New Jersey. Therefore, it was imperative to include and support the local community through this Third Jersey program.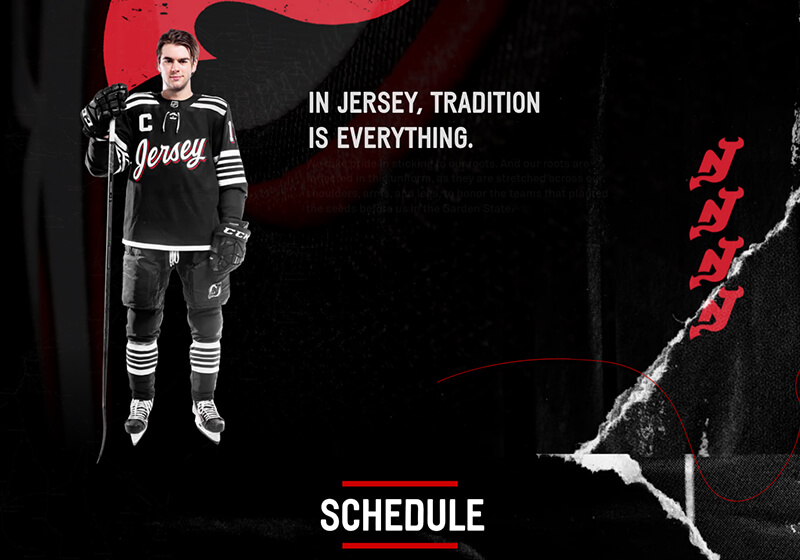 Strategy & Execution
At the MB30 Golf Invitation hosted by Martin Brodeur, the Devils teased design elements.
AR posters placed throughout key areas of New Jersey, that when scanned showcased a date and the Third Jersey striping.
The Devils dropped a video, voiced by NJ-native Patrick Warburton, known as the most-famous Devils fan from his role as David Puddy on Seinfeld, to reveal the jersey.
Some fans had some fun and joked about the word "Jersey" being placed on a jersey. Some jokingly asked if the team would put "Hat" on a hat. We responded on social media in real time with a mock-up of the concept and teased about doing it. Three days later, on Black Friday, we put the real thing up for sale, with money going to charity (the Devils Youth Foundation). They sold out in less than 30 minutes.
Partnered with local youth organization Dirty Soles to create custom-painted sneakers for a variety of NJ-native celebrities, personalities and athletes. Dirty Soles is a Black-owned business that teaches kids the art of shoe-making.
Packaged custom sneakers, Third Jerseys and personalized letters to send to NJ-connected celebrities and athletes.
Bryce Salvador wore it on a float in the Macy's Thanksgiving Parade.