2023 Nominee ✨
Best Engagement Through Esports & Gaming
Best New Fan Experience
ABOUT THIS ENTRY
District E Powered by Ticketmaster is the new flagship venue for esports in the Mid-Atlantic. The venue features nearly 14,000 square feet of live-event theater space offering a 365-day-a-year, series of immersive experiences in esports, music, event programming, and community events—along with pre-and post-event activations for fans attending Capitals and Wizards games or concert events.
This space intimately hosts hundreds of fans, offers an extraordinary culinary experience, and is conveniently located adjacent to Capital One Arena at Gallery Place in downtown Washington D.C.
The venue creates a best-in-class competition and training venue for Monumental esports franchises including Wizards District Gaming, Caps Gaming, and Team Liquid with the multipurpose MedStar Wizards District Gaming Studio.
Additionally, the space and all of its capabilities serve as a catalyst to foster the amateur gaming community in the Greater Washington Metropolitan region and attract a growing influencer streaming community through its state-of-the-art streaming pods.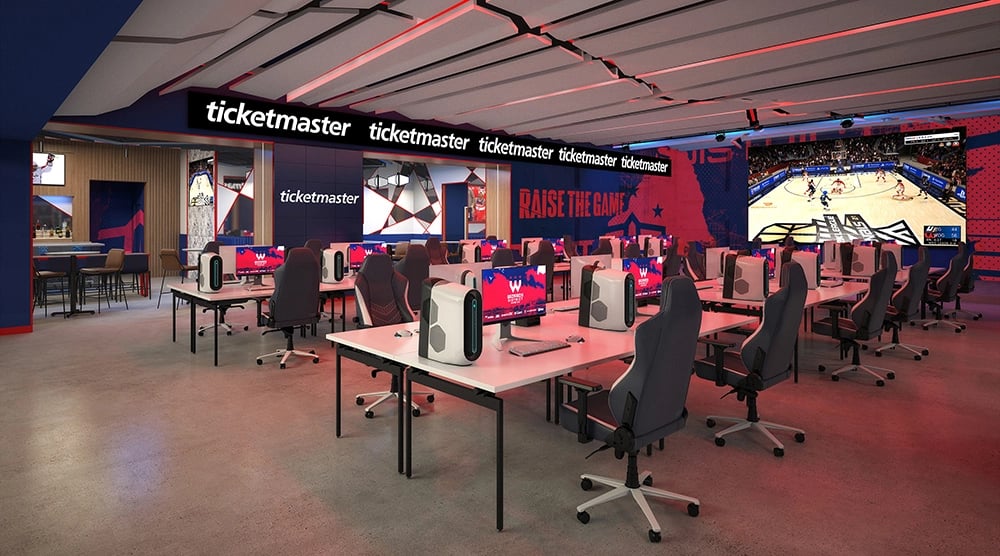 How does this represent "Excellence in Engagement"?
With this first-of-its-kind venue in the Mid-Atlantic, District E meets the modern sports fan at their level: casual fans & gamers finding their level of interest or engaged and experienced gamers—or anything in between. Monumental Sports is taking advantage of the increased digitization of the fan experience (smartphones, social media, push notifications, streaming, betting, etc.) and creating a tailored experience to meet fans at the level of sophistication where they are most comfortable.
District E offers a new avenue to explore for novice esports fans and a new destination for experts to add to their knowledge and experiences in gaming. In either case, fans that visit District E are immersed in esports and entertainment in a way that the industry has never seen. It taps into the wide-scale, international appeal of esports, localizes the approach, and offers more access.
Objective
District E was created to offer an esports-centric venue that serves as a rallying point for the gaming community in this region as a direct response to the rapid rise in popularity of esports and the growing audience for gaming in general.
The space also allows Monumental and its teams to extend their game day activities from Wizards and Capitals nights at Capital One Arena with pre-and post-event programming available just a few steps away at District E. Sports fans of all kinds want and will invest in different opportunities to experience the sports they love in person.
This is proven at every professional sporting venue on a nightly basis, and Monumental has applied it to its esports verticals by building a place for esports and gaming fans to intersect with traditional sports fans over their love of in-person entertainment.
As the esports industry continues to grow, District E will serve this hybrid mix of fans.
Strategy & Execution
In just over a year, Monumental brought together the best in the business to launch this extraordinary effort and help scale the esports industry in D.C. The design team, Architecture, Incorporated, designed a modern, technology-forward, and cutting-edge aesthetic, without intimidating casual fans. And they accentuated all of the facets of the space that players and streamers need to be successful—for amateurs and professionals alike.
In addition to esports and traditional sports iconography adorning the walls, the venue and its different sections include 30+ state-of-the-art gaming stations, over 1,000 square feet of LED displays, large digital screens on the walls of the restaurant, competition studio and training facilities, individual streaming pods, lounges with sleek and inviting furniture and a gaming-themed restaurant and bar operated by Aramark—all reflecting an emphasis on reaching the modern sports fan.
Organizations
Monumental Sports & Entertainment
Credits
Zach Leonsis
President of Media & New Enterprises
Monumental Sports & Entertainment